The Epic JBL PartyBox 1000 Is An Absolute Awesome Show Stopper
Prices pulled from the Amazon Product Advertising API on:
Product prices and availability are accurate as of the date/time indicated and are subject to change. Any price and availability information displayed on [relevant Amazon Site(s), as applicable] at the time of purchase will apply to the purchase of this product.
Product 1: JBL Signature Sound offers unprecedented performance and an authentic audio experiences you will remember for your party

Product 1: The full panel lighting effect creates a captivating light show to astound your crowd with a lasting visual experience.

Product 1: Wireless Bluetooth Streaming

Product 1: DJ launchpad allows you to play drums, keyboard and piano, record and loop on the fly

Product 2: 240 watts of powerful JBL pro sound

Product 2: Mesmerize your crowd with a dazzling, dynamic light show that dances to the beat with subtle pulsing and powerful strobing effects

Product 2: Long lasting sound with 18 hours of music-blasting battery life

Product 2: Crafted with ipx4 splash proof protection, the JBL party box 310 keeps the music going — rain or shine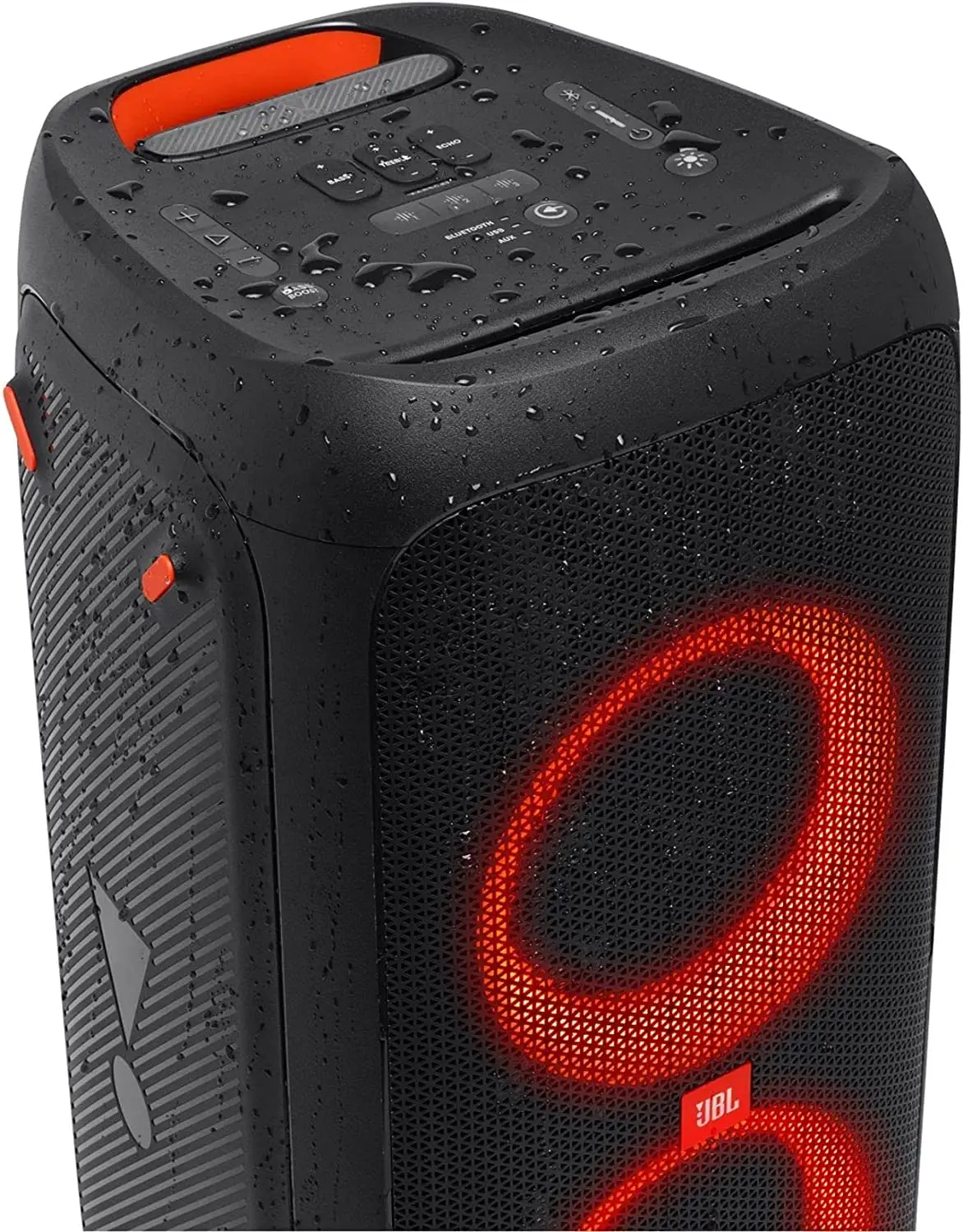 The niche genre of "party speakers" often gets a bad rap for being toys with gimmicky features and subpar sound. So what happens when a pro-audio company, like JBL, goes all-in on über-party speakers with a huge and gorgeous sound, an undeniably eye-catching light display, and the largest array of interactive extra features? You get the JBL PartyBox 1000. It's a room-booming behemoth with connectivity for Bluetooth, USB, and multiple types of analog audio inputs. At $1,299, it's a prosumer party speaker worthy of a professional party-thrower's consideration.
Design
At first glance, the PartyBox 1000 cuts an imposing figure at 41.3-inches tall, 15.6-inches wide, and 15.3-inches deep, with connectivity that towers above the average party speaker. Weighing in at 76.5 pounds, it has two rugged wheels at the bottom and a handle at the top for tilting it back and rolling it into the ideal party position. Fortunately, all that mass is not just for show. The JBL PartyBox 1000 is truly a powerful PA on wheels—you push it, it pushes air. Its loudspeaker configuration includes a rear-ported 12-inch subwoofer, two 7-inch mid-frequency drivers, and a high-frequency tweeter; together, they deliver a combined 1,100W of power. (What to know more about each component? Check out our primer on what makes up a speaker.)
Some of its features are just for show, but in a good way. A full-color, dynamic light show spans the front panel of the PartyBox, behind the grated metal enclosure. Otherwise, a large rectangular cuboid with rounded corners, the PartyBox 1000's light show gives it an immediately distinctive look. If you like electric, vivid colors writhing along to music, it will appeal to you. The light show also includes six mini strobe lights along the side of the enclosure. If you're photosensitive—or you just don't like the lights—you can turn them completely off.
The JBL PartyBox 1000's extended legs with rubber feet at the bottom keep it very stable on flat surfaces. It also has four rubber feet on each of its sides, either for setting the speaker on its side (likely during transportation) or to protect against whatever objects you wedge it between.
Key features of the JBL PartyBox 1000
Despite the many included bells and whistles (or rather, airhorns), the JBL PartyBox 1000's big, luxurious sound is its star attraction. Its 1,100W output is enough to (quite literally) blow your hair back if you crank it to its extremes. Using it as the monitor for my weekly DJ livestreams, where I like the volume loud and the bass stomach-shaking, it had all the power necessary and then some. There was no sign that the speaker would give out before my eardrums would. A single PartyBox 1000 easily filled up an entire one-bedroom loft condominium with plenty of Saturday-night, neighbor-unfriendly volume. Stringing two of them together could threaten to turn even the biggest backyard barbecue into a block party.
The PartyBox 1000's huge sound is generally a good thing, but when connected to Bluetooth devices, there's a small problem arriving at the right volume level. Using the top-panel "+" and "-" volume buttons when connected to Bluetooth resulted in sizable jumps in volume; it was often hard to achieve the perfect level. It would be too quiet, and then the next interval up was too loud. However, when playing music from USB, Line-In, or Aux inputs, the up and down volume intervals were much smaller and easy to dial in.

What separates a party speaker from just a regular ol' speaker? Not just a "fun" (a touch more treble- and bass-rich) sound. In this case, it's a pack of interactive add-ons that vary in their degree of novelty and frivolity.
For instance, the JBL Party Box 1000 has a grid of 16 backlit pads on the top panel. The cluster looks similar to the drum pads found on many professional electronic instruments, such as the Akai MPC samplers. A top-panel button toggles between the pad modes: drums (yellow lights), synthesizer (green), piano (blue), DJ sound effects (magenta). You can play these by themselves or along with the music. The piano and synth pads play single-notes or chords all in the same key; the drums provide a variety of kick, snare, tom, and cymbal sounds; and the sound effects include different vocals, record scratching sounds, and others like the ubiquitous airhorn (bwah-bwah-bwaaaaah!). With a USB drive connected, there's also a red-lit pad mode, which loads the first 16 audio files (alphabetically and MP3 format only) to the pads.
Made for durability rather than sensitivity, the pads are not as responsive as most of those on the aforementioned production tools, but there is a way to record patterns with them on the PartyBox. You press the record button, play a pattern, and press record again to loop what you played. You can repeat that process to layer up to 8 recorded tracks, using any of the onboard or USB sounds. This was fun to mess around with and if you can get the rather tricky timing of the recording down, you could make beats and patterns to go over the music or to accompany you while singing or playing guitar. A final feature lets the pads cycle the speaker's light colors and patterns.
Yet there's one more party favor included: an Air Gesture Wristband that anyone can wear like a watch to control certain aspects of the JBL Party Box 1000. When turned on, the battery-powered wristband syncs to the speaker and lights up in the same color as the speaker's light show. Then the wearers can rotate their wrist clockwise or counterclockwise to change the light show's pattern; clap twice to play sound effect 1; or shake their wrist four times to play sound effect 2. The sound effects played are from the currently selected pad mode.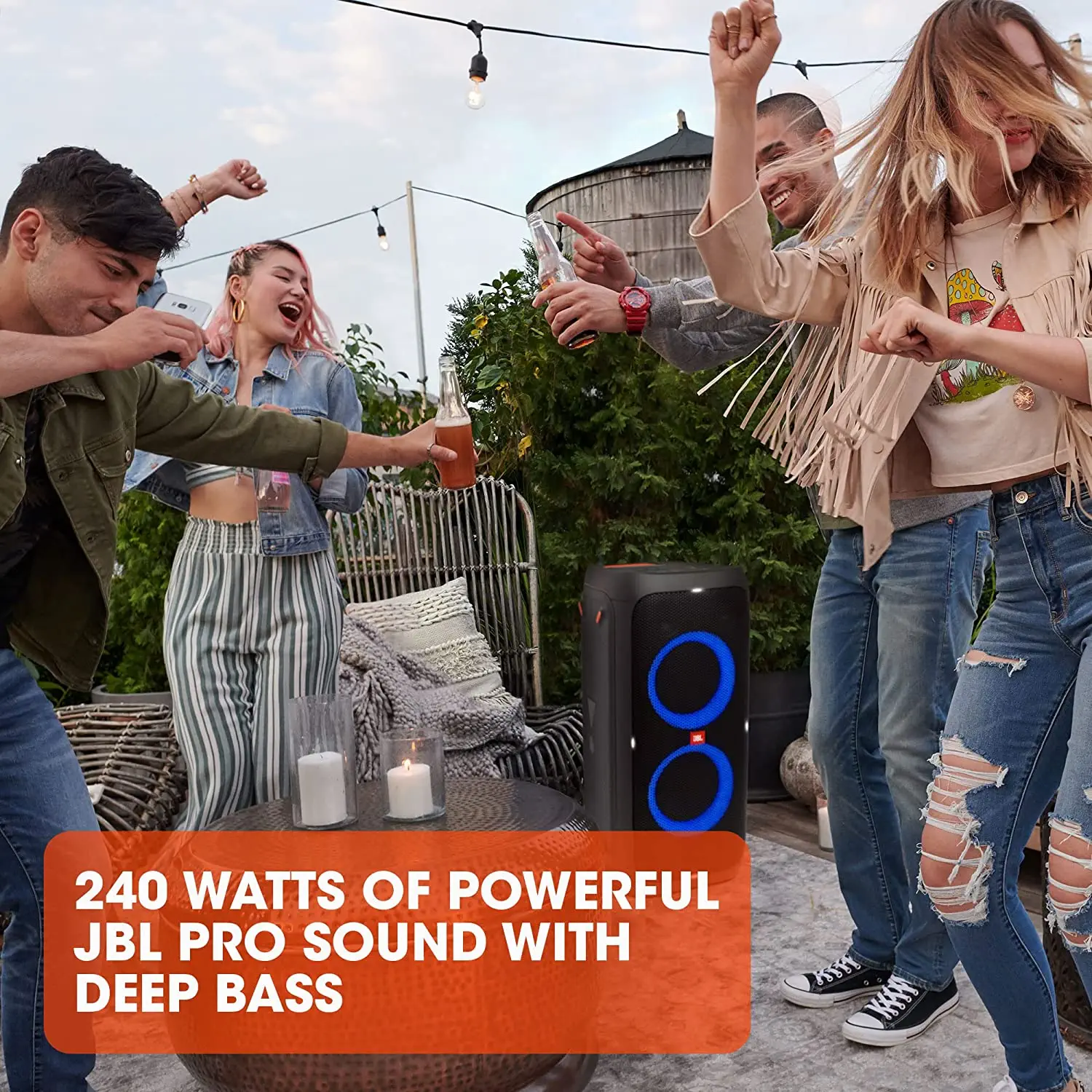 TFB Latest Posts
---
---