Epic Watermelon Keg – Serve Refreshing Beverages Out Of A Melon.
At your next outdoor function, wow your guests with the Watermelon Keg. The tapping system transforms any melon into a drink-dispensing keg. Simply cut off the top and bottom of your watermelon, hollow it out, bore a hole with the included coring tool, and tap the melon. Then fill with your beverage of choice and enjoy! Watermelons are an ideal way to serve cold drinks like lemonade or cocktails and wine. A watermelon keg makes a great addition to parties, picnics, and BBQs.
Features & Specs
Includes keg tap, coring tool, and instructions
Keg tap material: plastic with silicone seal
Coring tool material: metal with plastic accents
Epic Watermelon Keg – Video
Fun In The Sun
"How cute!" "So fun!" "It really feels like summer!" These are just a few of the comments you'll hear at your next backyard barbeque when you serve a cold drink from a Watermelon Keg.With this tap, you can convert a summertime fruit into a functional centerpiece that dispenses lemonade, punch, sangria (or any tasty beverage!) and will have all your guests talking.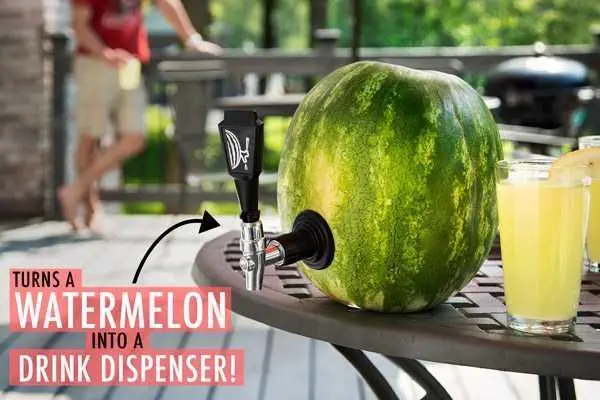 Plug And Chug
Tapping your melon is simple: remove the flesh from the inside, use the included coring tool to bore a hole through the wall, and attach the faucet. Then fill your new container with your favorite drink and enjoy!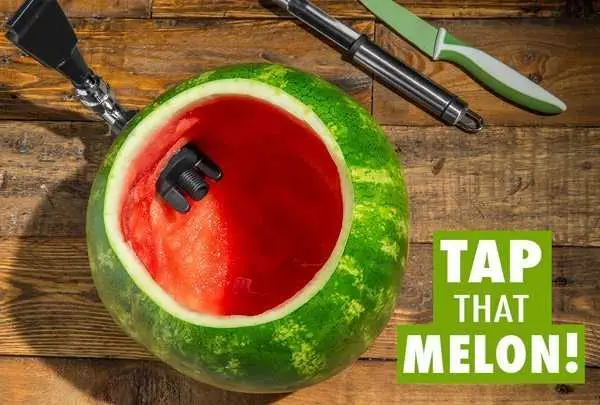 Pours As Easily As It Goes Down
When you tap your melon with this kit, your drink will flow from the spout as easily as water from a pitcher.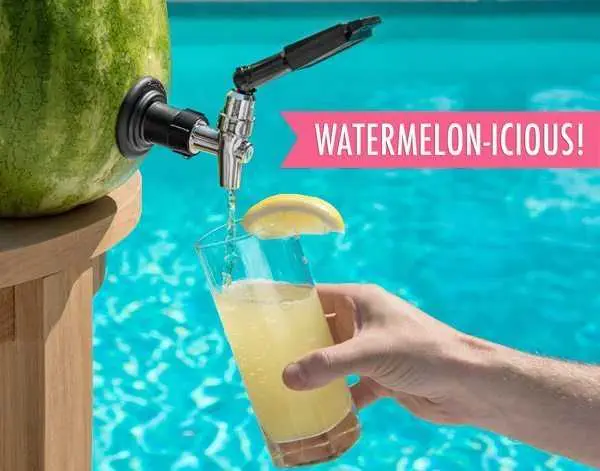 BYOW (Bring Your Own Watermelon)
The Watermelon Keg Tapping Kit includes detailed instructions to walk you through the process of converting a melon into a beverage dispenser, a coring tool to make a right-sized hole, a ready-to-pour tap, and a locking nut to keep the tap secured to the wall of the watermelon.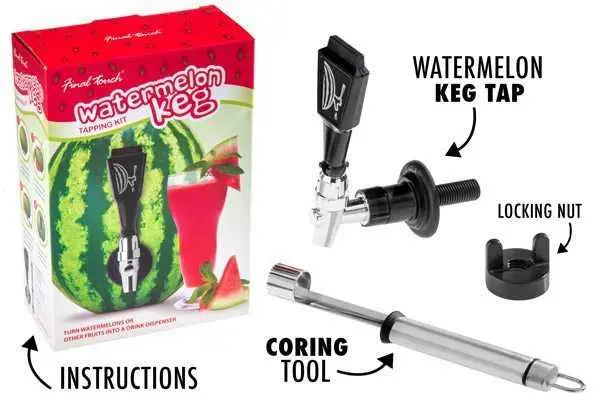 Question: Can I just jab this into the side of the watermelon and pour out watermelon juice?
Answer: Unfortunately, no, since watermelons aren't just a rind brimming with liquid juice. But if you remove the watermelon flesh and blend and strain it, you can pour the no-pulp juice back into the Watermelon Keg for a delicious and refreshing drink!
Question: Does it work with other fruits?
Answer: Watermelons make great kegs because they're large enough to hold a lot of liquid when hollowed out and because they have a wall strong enough to tap. Pumpkins also work really well. If you find another melon that meets the same criteria, try it out and let us know how it goes!
Question: What kind of drinks can I put in it?
Answer: The Watermelon Keg does a wonderful job at dispensing juices, punches, soft drinks, cocktails, and water—just about any beverage you can think of! As long as you use a free-flowing liquid, the sky's the limit. Just make sure there are no solids to clog the tap.
TFB Latest Posts
---
---