Any Batman fan who loves to golf will definitely appreciate the Gotham Golf Cart.
The Gotham Golf Cart was inspired by the Tumbler from the Dark Knight movies. This bad boy comes with six tires that are perfectly safe for the course and is powered by a six horsepower electric go cart engine. This golf cart even comes with a four link rear end and leather seats. You can get this HERE, don't worry it's only around $29,000. Now all you need are a few Dark Knight golf balls
. Think this golf cart is crazy? Wait until you see Bubba's Jetpack.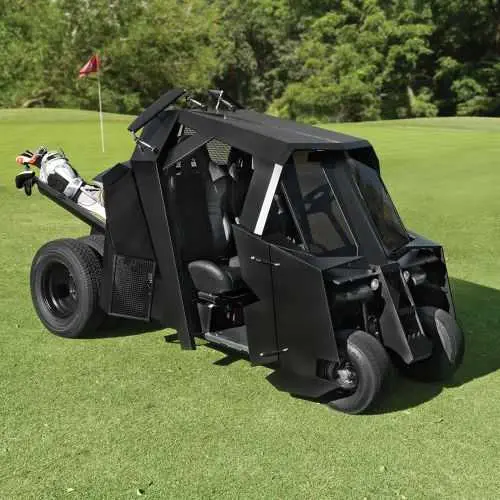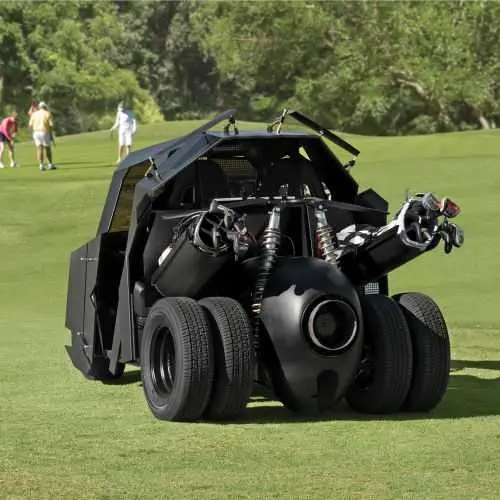 This is the golf cart inspired by the Tumbler, the vehicle ridden by the iconic caped superhero from the 2005-2012 Dark Knight movie series. Deftly avoiding sand traps and water hazards as ably as its movie-screen progenitor avoided villains, the cart rolls on six course-friendly tires—the rear four are smaller 28″ versions of the originals from the movie vehicle. Powered by a 6-horsepower, battery-powered electric go-cart motor, the cart can reach 38 mph for quick follow-up shots or to retrieve an errant Bat-slice. Its sleek, all-black alloy body replicates the movie vehicle's rear afterburner while its twin aerodynamic wings fold around the passenger compartment to protect occupants from incoming golf balls. Its 4-link rear suspension provides a smooth ride over fairways, rough, and paths, while rear disc brakes provide confident stops. With adjustable leather seats, cup holders, iPad stand, and lights. Special conditions and guarantee limitations apply; please call 1-800-227-3528. 102″ L x 66″ W x 60″ H. (1,400 lbs.)
TFB Latest Posts
---
---