Nearly everyone in North America is limiting their social contact due to the coronavirus, and while you work at home, you may want something to break the monotony. Why not take the opportunity to add a new streaming service and get rid of that pesky cable bill? Services like Sling TV and Hulu are a perfect way to add new forms of entertainment for yourself and your family, plus get rid of an expensive cable bill.
What is Sling TV?
Sling TV is a way to stream the live TV you already know and love, but without the high cable bill. It's a streaming service that offers popular live channels plus a huge library of on-demand content. So if you're stuck in the house with the kids, you could use Sling TV to pull up episodes of their favorite shows like Spongebob Squarepants, My Little Pony, or Teen Titans. Plus, Sling TV has sports, talk shows, lifestyle content, and much more. You can use a variety of streaming devices like Roku, Apple TV, Amazon Fire TV, and Xbox One to stream, or a mobile device. It's the perfect way to kill boredom during the COVID-19 quarantine. If you want a way to keep your kids entertained and not break the bank so you can get some work done, read on to see how to kill your cable bill, maximize your entertainment, and get Sling TV today.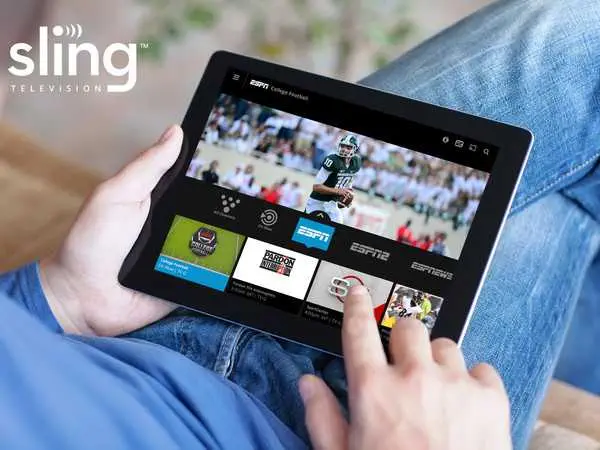 How Much Does Sling TV Cost?
Sling TV actually comes in three different package options so you can pick the one that works for you. With a price tag of $20-$35 a month, the Sling TV cost is significantly less than the typical average cable bill of $107 a month. That's a savings of over $50 a month, or $600 a year!
Sling Orange comes with ESPN, ESPN 2, ESPN 3, Disney Channel, Comedy Central, TNT, Lifetime, and more.
Sling Blue: Sling Blue is a good sports fan's package. It offers NBC Sports, NFL Network, Stadium,and FS1, plus additional channels like all major news networks (CNN, Fox, MSNBC)
You can also opt to combine Sling Orange and Sling Blue for less than $40 a month. So a ton of channels, all of the sports you could dream of, and all for less than the average cable bill! Best of all, Sling TV is contract-free. You just sign up, and start streaming. It's as easy as 1-2-3, stream.
Sling Blue also lets you watch on up to 3 devices at a time. That means your kids can have Nick on in the living room, your teen can be watching MTV in the bedroom, and the family room can feature your ESPN highlights.
Personalizing Your Streaming with Sling TV Extras
The cool thing about Sling TV is it lets you customize your experience exactly how you want it. Whether you want even more sports, TV in Espanol, classic films, or the ability to DVR your favorite show, Sling TV has an option for you.
Check out some of the Sling TV extras available:
Hollywood Extra

: Reelz and HDNet, indie film darlings on SundanceTV, and classics on TCM.

Heartland

: All of the outdoor sporting content from RFD TV, Sportsman, Destination America, and Outdoor Channel.

Lifestyle

– DIY Network, We, The Cooking Channel, and other home and life content await.

News

– Get news from around the world up-to-the-minute with RT America, News 18, BBC World News, and Newsmax.

Cloud DVR

– 10 hours of free Cloud DVR, record up to 50 hours of content, record multiple shows at once.
There are also extras for local channels, Spanish language TV, and children's television. You can keep the whole family happy and streaming. Don't worry, Sling TV will let you watch premium cable channels like Showtime and Starz. They're also available as an add-on, and feature HD quality, all commercial-free.
Technical Specs for Sling TV
You'll need a few things to enjoy Sling TV.
A minimum of 5 megabits per second internet, though 25 mbps is recommended

Compatible device from Apple, Google Chrome, Amazon, Roku, or Android
If you can connect it to the internet — smartphone, gaming console, tablet — it will probably work with your device. Sling offers web streaming through your favorite browser on your laptop as well, so you can always have your favorite content, even when your kids are taking up the TVs in the house.
Special Offers for Sling TV
For a limited time, Sling TV is offering a free Amazon Fire TV Stick but you have to act now! Find the offer here.
Read enough? You can sign up for Sling TV today and get started watching all of your favorite channels, plus kick your cable company to the curb. Start watching now!
What About Hulu?
Now if you really want to give your family some great streaming options, but you're not really into live TV, there's also Hulu. It's a great companion to Sling TV but also works well enough on its own.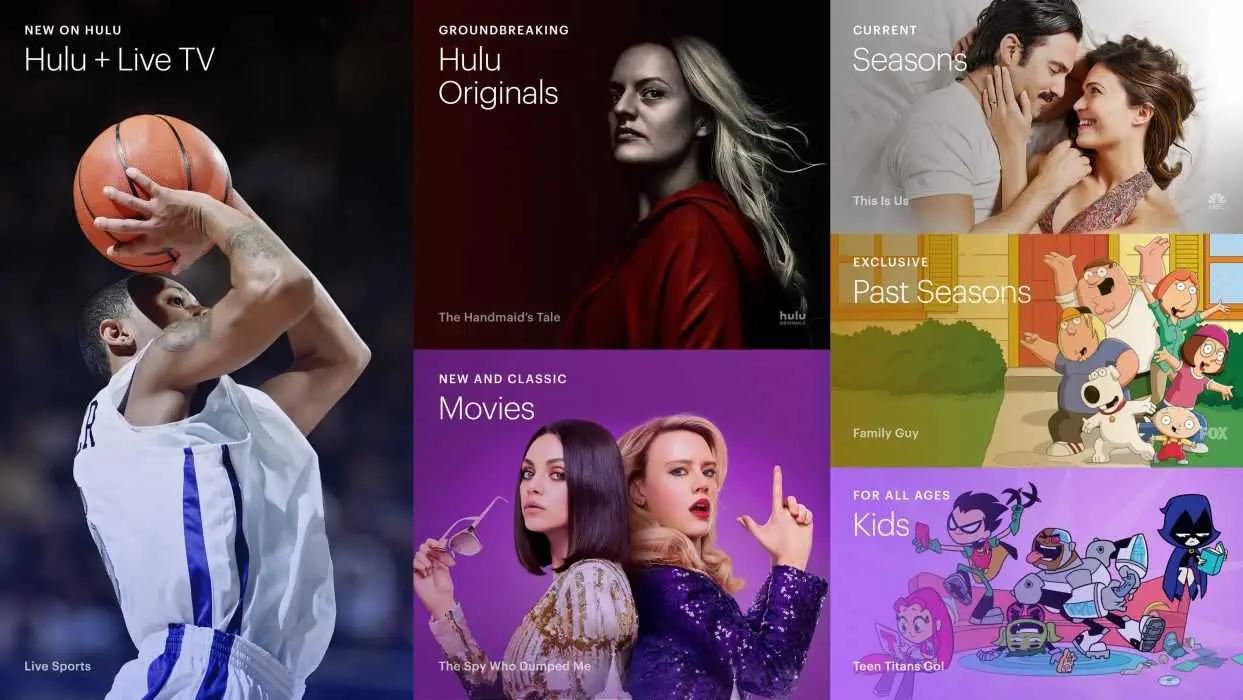 What is Hulu?
There's another streaming service that can also help you kill the cable bill. Have you heard of Hulu? Hulu is a subscription based tv-on-demand service that offers great options for the whole family. It's an ideal supplement to Netflix, especially since it offers an abundance of family-friendly movies, horror flicks, reality shows, and other fare.
Hulu can offer on-demand programming from its large library, with shows from networks like ABC, NBC, and FOX, so if you miss Family Guy, Grey's Anatomy, or Brooklyn-99, the next day you can pull it up and watch it. It's also the exclusive streaming home of Bob's Burgers, so if you want to binge the entire series to-date, you have to sign up for Hulu.
What Does Hulu Cost?
Hulu has several options for service.
$5.99

Hulu on-demand content – occasional ads.

$11.99

Hulu No Ads

$54.99

Hulu + Live TV – Hulu with over 60 live and on-demand channels, with ads

$60.99

Hulu No Ads + Live TV No Ads
Remember how we said the average cable bill is around $107 a month? Even the biggest Hulu package doesn't come close! The Hulu + Live TV package lets you get all of your favorite live TV channels, plus gives you the ability to pull up content on-demand. It also comes with DVR with over 50 hours of cloud-based recording.
You can watch all of the big games, see breaking news, and stream tons of kid-friendly content.
What is Hulu Original Content and Movies?
Unlike Sling TV, Hulu has tons of original content. It's the home of the widely-popular The Handmaid's Tale, plus dramas like series like 11.22.63, The Path, Chance, Reprisal, and Little Fires Everywhere. Comedies like Pen15, Shrill, Four Weddings and a Funeral, and High Fidelity are also here. Plus, thanks to the recent Disney-FOX merger, FX content is exclusively on Hulu. So the new seasons of Fargo, and upcoming FX TV like Miss America, Devs, and Old Man will premiere on Hulu right after airing on FX and FXX. There's also full seasons of past and current FX shows including Fargo, Better Things, It's Always Sunny in Philadelphia, and more.
Hulu is the home for over 2,000 films in a variety of categories. You'll find recent releases, old favorites, and classics mixed in the library. Movies on Hulu include as of March 2020, Ma, John Wick 3, Missing Link, Spider-Man: Far From Home, and others. There's even a bunch of Disney movies including Hercules, Pocahontas, Air Bud and the Mighty Ducks.
If you're looking at spending hours at home and want a never-ending library of things to watch, Hulu is just the ticket. If you miss HBO, Showtime, or Starz, no worry. Hulu features add-on premium channels so you won't miss any Outlander or Curb Your Enthusiasm.
Streaming Devices for Hulu
Like Sling TV, Hulu is compatible for a number of streaming devices. If you have any of the following, it's likely compatible.
Auto Amazon Links: No products found.
Android tablets or smartphones

Smart TVs: select models of LG and Android TVs

Roku boxes, soundbars or sticks

Google Chromecast

iPhones and iPods

Amazon Echo Show

Nintendo Switch

Playstation 3 or 4

VIZIO SmartCast TV
The Cost of Subscribing to Hulu AND Sling TV is Less Than a Cable Bill
If you were to get Hulu with ads for $5.99 a month and then use Sling TV for $20 a month, you'd still pay less than $50 a month for thousands of shows and movies on-demand, plus live TV. Even the most expensive Hulu package plus Sling is less than $100 a month. Sound like what you need during a quarantine? Sign for for both today with the links below, and enjoy no long-term commitment, no extra fees, and instant activation!
Also, Don't forget to check out our review of AT&T TV Now streaming service.
TFB Latest Posts
---
---