Jeep fans meet the Jeep Wrangler Trailcat 2017 Concept Edition.
Although I am a fan of the Jeep Wrangler series automobiles, the Trailcat 2017 Concept Edition didn't woo me much. Despite its flashy green decals that impressed quite a bunch of journalists during the Utah Easter Safari car fest to the extent that all they could repeatedly say was, "Wow, this cat's got some serious claws," it was a bit of a disappointment to me.
Luckily, I heard from a couple of reliable sources that Jeep wouldn't be proceeding with the dealership distribution (* more details later in this article) because of some hitches that could pose a serious problem for hardcore Jeep fans around the world. Read on…
Pros:
V-8 Supercharged Hellcat Engine with 707 Hp for serious off-road driving.
Customized interiors in honor of Jeep's 50th Anniversary.
Six Speed Manual Transmission
39.5 Inch Krawler Tires – Additional 12 Inch Wheelbase
Off-road/On Road ABS Antilock Braking System
From a fundamentalist's perspective, I can certainly appreciate Jeep's effort into staying true to the WWII origins. The Trailcat is another impressive addition to the family – especially to the long line of limited edition cars that are remnants of the World War era. In addition to the visual appeal, the "go anywhere" Jeep mentality is pushed to the limit.
For instance, the electronically disconnected front roll bar, extra tire width, more ground clearance and rigid wheelbase are the kinds of traits that boost the Trailcat 2017's ability to overcome a variety of terrain obstacles. However, there are some technical issues which only a real Jeep loyalist can spot.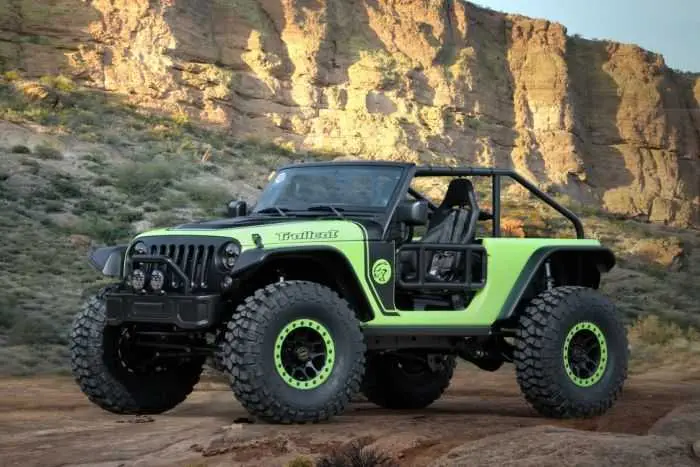 Cons:
Jeep correspondents have not tested the car for top speed. They don't like to admit it, but some clues suggest that this little kitty is prone to gear oil leakage, and shattered bell housing. Wouldn't want to piss off journalists now, would they? Therefore, during expos and events, this car wasn't bullied enough like other Jeep models usually are.
That being the case, there is also the issue of Full/Empty fuel pump. Sounds strange, I know – but the Trailcat Wrangler 2017 has a bit of trouble with fuel dissipation. Sometimes if the gas tank is not full to a certain level, the car may not even start.
You don't have to take my word for it; Andrew Collins had a similar experience when he was reviewing this car very recently. In closing remarks, Collins also went as far as to say that beyond the visuals, the Trailcat is nothing more than a green penis pump, but then again, British journalists have a rather dry sense of humor.
Anyhow, it is a nice show car and that's about the extent of it. I am sure. Jeep will be taking some revisions into account to come up with a tougher, meaner Wrangler eventually. For now, we can only wait and see how it all goes in their production centers.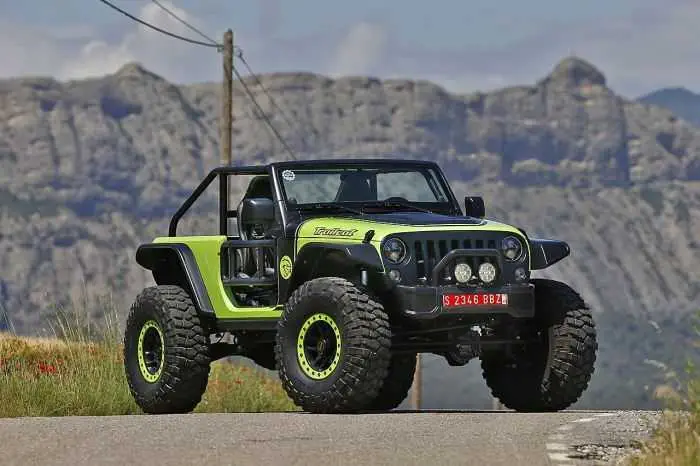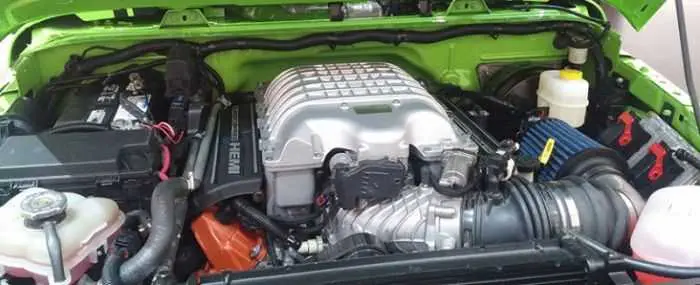 TFB Latest Posts
---
---