The ManCan is a portable beer keg style growler that will keep your beer fresh where ever you might take it.
Prices pulled from the Amazon Product Advertising API on:
Product prices and availability are accurate as of the date/time indicated and are subject to change. Any price and availability information displayed on [relevant Amazon Site(s), as applicable] at the time of purchase will apply to the purchase of this product.
It's called drinking beer with style – that's what the boys at ManCan are preaching these days. The company offers a huge assortment of manliest beer kegs, accessories and dispensers that go beyond the occasional college dorm use. With a ManCan Keg or Growler in your life, you are looking at a stainless-steel grade product with enough tech gimmick to keep your beer cold and carbonated until the last effin' glass.
ManCan admits to changing their customers' lifestyle. The company released their products through crowdfunding at Kickstarter. They had a nice pitch, some strong leads and luck factor going on. But one thing which brought this project to life was the community's love for beer. Everyone wants a beer dispenser at their homes that churns out brewery standard beer, and that too in cold as ice form. You do like a cold one, don't you?
So instead of going to the brewery every time you need a glass full of sweet bubbly beer, the brewery has been brought to your home. Reminds me of David Vs. Goliath in some weird way. Anyhow, let's take a look at some of the products that this great company is famous for.
https://www.youtube.com/watch?v=GZP_quI2kc8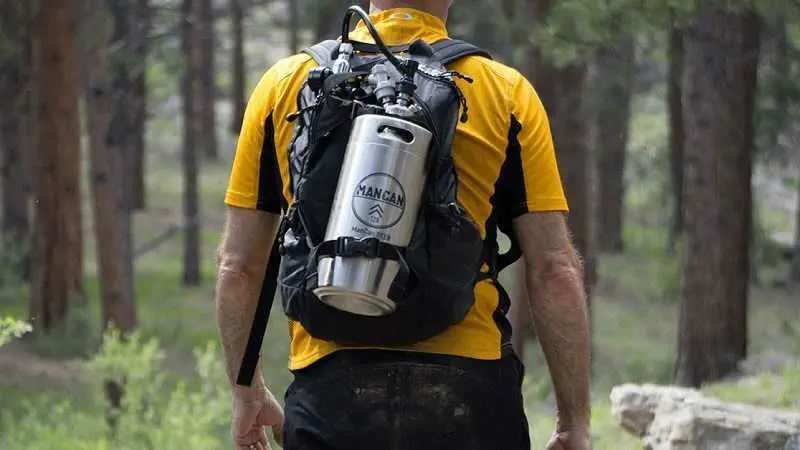 Buy on Amazon
ManCan Stainless Steel Beer Keg/ Dispenser:
Despite its small size, the ManCan Beer Dispenser boasts of a 128 Oz. storage capacity. Think of pouring 11 bottles of beer in it, and keeping the keg stored in your fridge door shelves. Due to the height factor, the ManCan Mini Keg Beer Dispense may require from you to remove the top shelf in your fridge door, but it is worth it. They made the diameter in such a way that it won't have any adjustment issues in a wide range of refrigerator units.
As far as the price goes, the Keg comes in at $200. This is a steal if you ask me because I have seen many beer dispensers that are twice as expensive, and yet they don't offer the same level of service. Fortunately, with ManCan Growlers and Beer Kegs, you don't have to worry about drinking all the beer in one sitting. You can even take gulps and sips, and still leave the product to take care of the carbonate levels. The beer simply doesn't lose its frizz right away.
ManCan Beer Growlers:
Growlers are small, and they often don't work as advertised. The ManCan team engineered the growlers' manufacturing in such a way that they come with double layered insulated jacket. It means that your beer will not get hot as it is normally expected. These growlers are dispensable, and come at a very affordable price.
The best thing is that they are not going to degass your beer instantly. You will still be able to drink your way to the end without smacking lips in despair. I wouldn't advise storing the beer on a half-filled tank for long because carbonation levels naturally wear off after some time. Regardless, the ManCan Growlers are
cheap and an effective solution to any get-together event where there's going to be a lot of beer and booze involved.
ManCan Beer Dispensers:
Another one of the marvelous creation by ManCan nerds is the beer dispenser. These dispensers are a great way of serving beer at regulated levels. To stay true to their predecessor products, these dispensers come with classy names. Think of Commodore 64, or the Commodore 128 – except for the fact that 64. and 128. are capacity indicators. The tubing is designed to support ManCan products mostly; you may have trouble using these dispensers and flex tap systems with other kegs.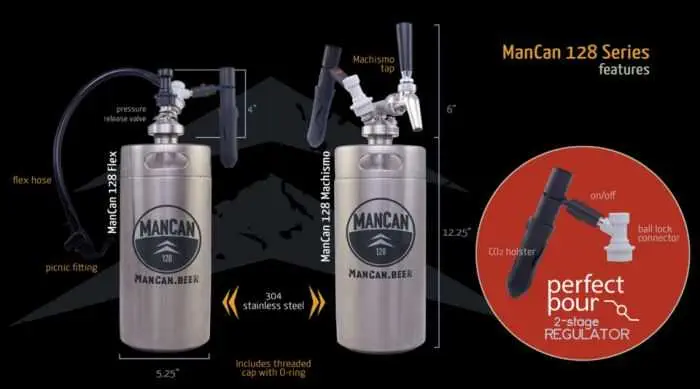 So, What's the Catch?
Some people are complaining about parts coming off, regulators not working and vice versa. You get the picture here, don't you? ManCan beer accessories come at a very affordable price, which may take a toll on the durability aspect. But that's not the alarming part here. I found out that some douchebags are producing replica products that resemble ManCan in every possible way.
As a matter of fact, there are Chinese beer dispensers that are identical to the official ManCan inventory. Besides the obvious logo difference, the Chinese dispensers are practically ruining ManCan reputation. Many customers are under the impression that the original U.S. company is not creating authentic products, which is not true because they have their labor outsourced to a reliable channel.
I am not advocating for ManCan. I am just stating what was obvious to me, or something that was part of my experience when trying out their beer kegs, dispensers and flex tap models. Regardless, your experience may be different, or you might like some other beer dispensers with better results. However, just to be on the safe side, don't forget to check what verified reviewers are saying about ManCan products at Amazon, eBay and other websites.
Buy on Amazon
TFB Latest Posts
---
---