Meet The Super Six – The Six Door Ford F-550 Heavy D And DieselSellerz SEMA 2015 Build
By now you have all seen the show Diesel Brothers and have probably seen the Super Six. Well if by some chance you have been living under a rock and have never seen the Super Six F-550 – here it is. After this check out the Mega Ram Runner.
Meet The Super Six – The Six Door Ford F-550 Heavy D And DieselSellerz SEMA 2015 Build
We're here with Dave Sparks. Could you tell us what we have got behind us here? Dave: Yeah, absolutely. It's what we call the Super Six. It's a 2008 Ford F-550 that we've stretched into a six-door. We've added another set of axles, we swapped out the…actually the entire drivetrain for military components, and it's rated at 90,000 pounds. So, it's military-grade everything, independent suspension all the way around. It's got six-wheel steering, it's on airbag suspension, and it's pretty awesome.
SUPER SIX – 6x6x6 MONSTER Diesel!!
SEMA sets the standard for impressive, and HEAVY D (a.k.a. Dave Sparks from Discovery Channels new show "Diesel Brothers") did not fail to deliver! This BEAST has THREE drive axles, and incorporates steering into all SIX wheels! Trying to stay on par with the MEGA RAM RUNNER they built last year, these guys have done it again with over a FOOT of suspension travel and up to 30 degrees of REAR steering, there isn't much this truck can't do! We'd love to take this thing on a test drive!
Huge 6-Door Ford Truck By DieselSellerz With Buggy oO top – 2015 Sema Motor Show
"SUPER SIX" VS PLATINUM666 TUG OF WAR
https://www.youtube.com/watch?v=dQ5q-rHQ-WE
First things first credit for this video and the build of these TITANS goes to Heavy D Sparks and the muscle over at diesel sellerz and diesel power gear. The same guys who bring you the built diesel giveaway. Please go check them out they do awesome things for people. Chance to win a fully built diesel. The things dreams are made of!!!!!!! These guys truly are amazing!!!!!!!!!! Thank you!!!!!!!!!!!!!!!
DieselSellerz.com Patriot rear wheel steering Ford at SEMA 2015 parade heavy d cruise super duty
Dieselsellerz.com unveil their collaboration with fusion bumpers at the end of the SEMA show 2015 car show. This rear wheel steering ford beast shut the show down.
SUPER SIX 6.4 POWERSTROKE MONSTROSITY BUILT BY HEAVY D
https://www.youtube.com/watch?v=M3Kd5_1sKqo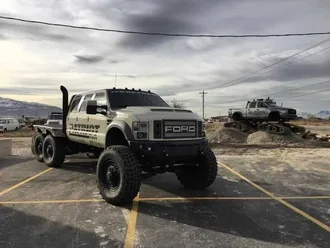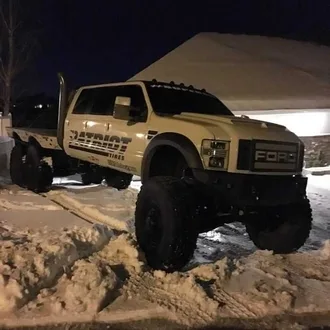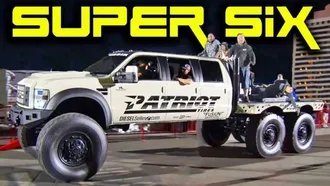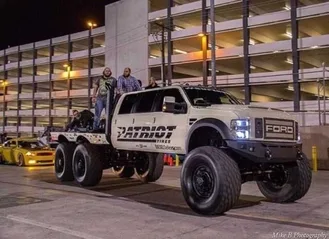 Follow Me On Google+
TFB Latest Posts
---
---