The 8GB Kindle Oasis is Simply Magnificent
Prices pulled from the Amazon Product Advertising API on:
Product prices and availability are accurate as of the date/time indicated and are subject to change. Any price and availability information displayed on [relevant Amazon Site(s), as applicable] at the time of purchase will apply to the purchase of this product.
Our best 7″, 300ppi flush-front Paperwhite display

Adjustable warm light to shift screen shade from white to amber

Waterproof (IPX8) so you can read in the bath or by the pool

Thin and light ergonomic design with page turn buttons

Reads like real paper with the latest e-ink technology for fast page turns

Instant access to millions of books and newspapers.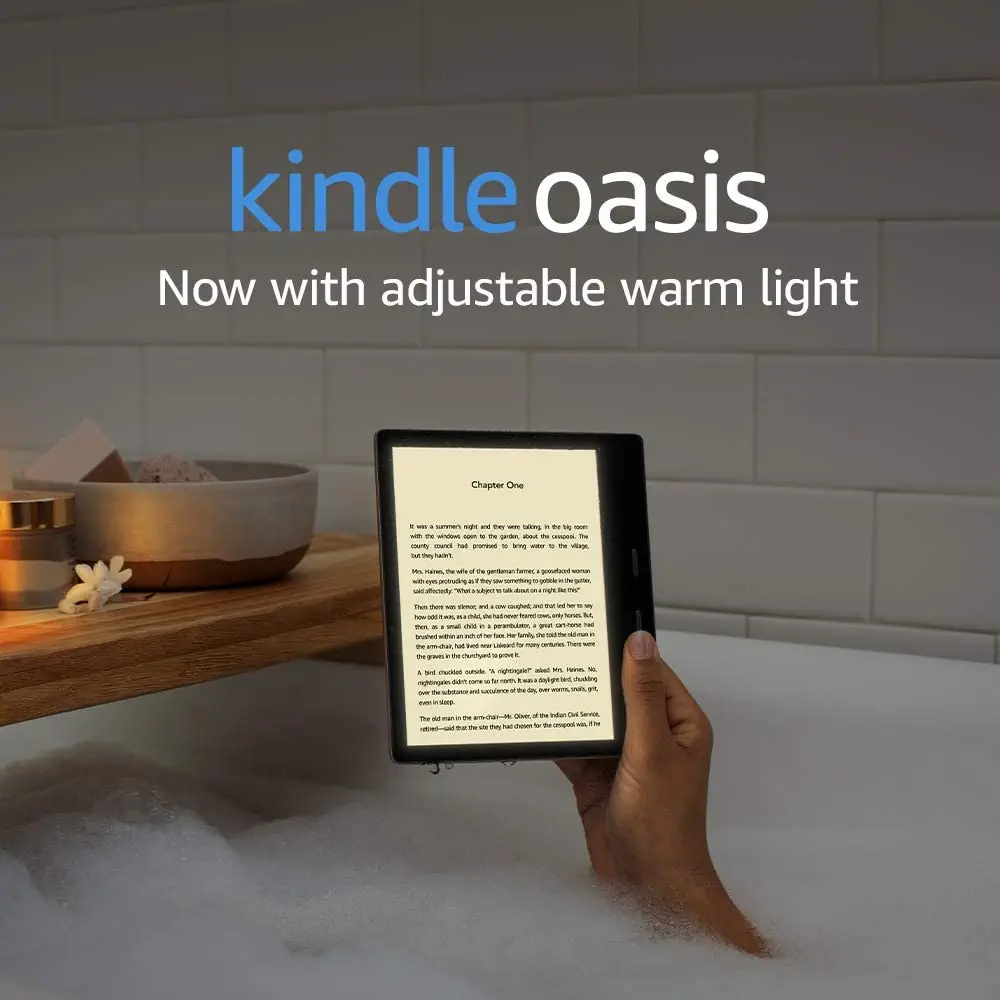 If you're looking for a premium e-reader, you're almost certainly looking at Amazon's Kindle Oasis (or the Kobo Forma, but that doesn't have the name recognition of Amazon's Kindle range, which is synonymous with e-readers).
The Kindle Oasis devices are Amazon's top-of-the-line e-readers, and the most recent one is this 2019 model.
In Amazon's hierarchy, the base Amazon Kindle sits as the most affordable device, with its basic screen, limited storage space, and few features, and the Kindle Paperwhite bumps up the screen resolution and storage space and adds a few tricks like waterproofing. This Oasis is technically the top Kindle, though the Kindle Paperwhite Signature Edition has lots of its features and is two years newer.
With display features including adaptable brightness, impressive backlighting, and in this latest model a warmth setting to reduce eye strain, the Kindle Oasis line is for people who want the most luxurious reading experience, at a price point to match. But is that price tag really justified for a device that's a relatively minor step above the Kindle Paperwhite?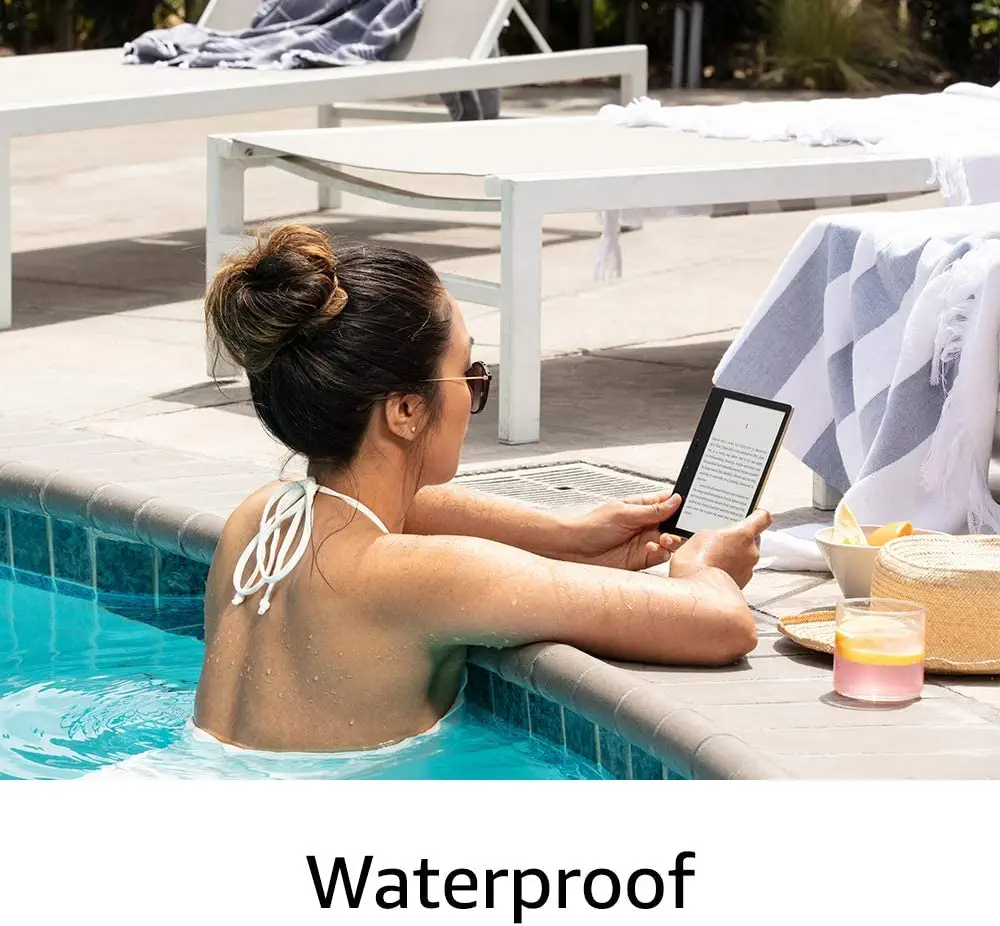 Design
The Amazon Kindle Oasis (2019) doesn't follow the mini-tablet design of most e-readers – one-half of the device is noticeably thicker than the other, which gives you a ridge down the back so that it's easier to hold (in theory).
In practice, we found the ridge wasn't quite thick enough to offer a comfortable hold – at 8.4mm thick, it's only 5mm thicker than the 3.4mm of the main body, which doesn't provide a deep enough ridge to really get your fingers into. We found the Kindle Oasis a little hard to hold when only using this ridge, so we wouldn't recommend it depending on what position you like to sit in to read.
The Kindle Oasis (2019)'s other dimensions are 159 x 141mm, so it wouldn't be big compared to a tablet, but its display is bigger than those of the other Kindles – more on the display later.
One of the more 'premium' features of the device is the metal build, which you won't find in other Kindles. This makes it feel hardier, which offsets the fact the 3.4mm part of the device, and it's relatively lightweight at 188g, can make it feel a little delicate – the overall effect is a device that looks and feels sleek.
The device is also water resistant, with its IPX8 rating meaning that in theory, it can survive being immersed in two meters of water for a whole hour. We can't imagine that you'd want to take it underwater for that long, but it'll certainly be fine if you accidentally drop it in the bath while reading, or get it splashed here and there
Something a little less premium is the micro USB charging port, as most tablets and smartphones have done away with it in favor of USB-C, which is faster for charging. You're not going to be using that much power with an e-reader, so it's not a huge issue, but we could do without the inconvenience of swapping out the charging cables we use for the rest of our devices.
There's no 3.5mm headphone jack either, nor loudspeakers, so if you want to listen to audiobooks you're going to need to use Bluetooth headphones or speakers.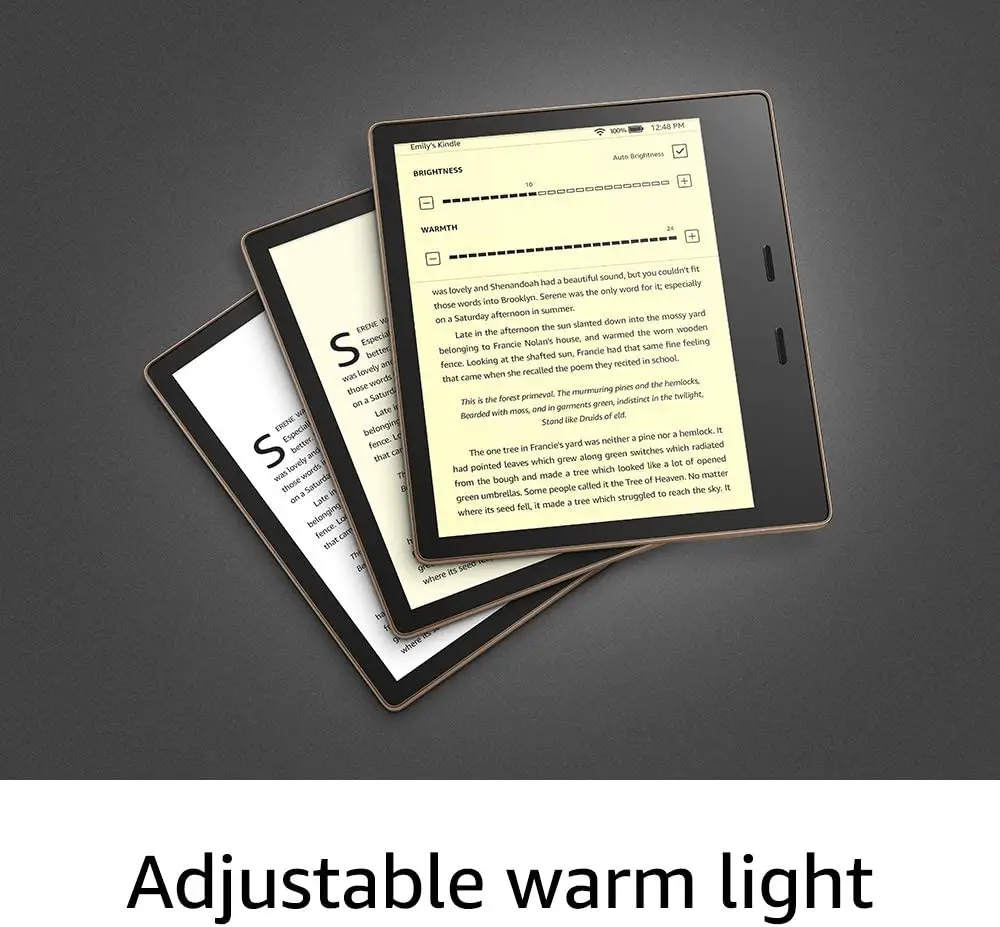 Display
The display is where you're seeing the main improvements on the Amazon Kindle Oasis (2019), as there are quite a few additions and changes that improve its quality, and the reading experience.
The display is 7 inches diagonally, which is bigger than the 6-inch screens in the Kindle and Kindle Paperwhite, so you can fit more words or comic book frames on the screen at once, and it's also higher quality, with 300 pixels per inch, so content looks good too.
This screen is backlit by 25 LEDs, a big jump over the 12 LEDs in the 2017 Kindle Oasis, and you can see the different – max brightness is really high, so you can read in a variety of situations, and there's better contrast between light and dark, which makes comic books, in particular, more vivid.
TFB Latest Posts
---
---