43 Weirdest Collections So Crazy It Will Blow Your Mind
There are collectors, and then there are hoarders. Where do you draw the line? Can hoarding weird things become a rare collection? Maybe! Can a compulsive collecting of too many things turn into hoarding? Jury is out on that one too. What if you collect weird things? Well maybe the difference between collecting and hoarding lies in how organized or how weird the collection is? Check out these 43 weirdest collections and their owners below and judge for yourself!
1. Prepared food products
This is an actual official record in the Guiness World Record. Japanese Akiko Obata is the world record holder for that largest (8,083) assortment of prepared food-related products. I guess since this one is published, it qualifies as a collection, albeit one of the weirdest collections.
Source: Guinness World Records
2. Napkins
Following on from our topic of process food products, it's only fitting that someone follows up with a collection of Napkins. Martina Schellenberg from Germany owns the biggest napkin collection in the world with over 125,866 different napkins. I'll bet she never has to use her sleeve to wipe her face after a meal!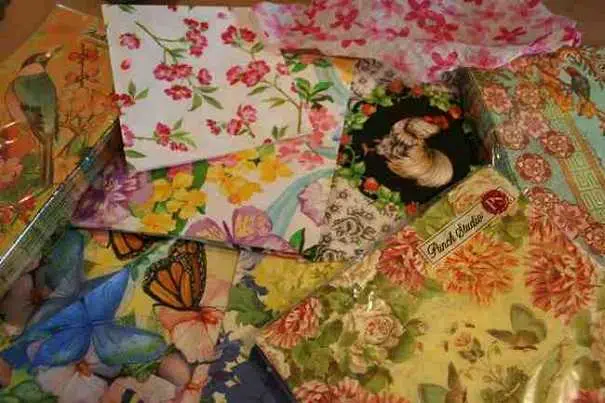 Source: Pink & Eco-friendly Mama
3. Surfboards
Surfing is a passion. Ask any surfer, and they will tell you that the rush you get when you're riding on a wave, makes it an addictive sport. But who knew that collecting surfboards could be just as addictive? Jesse Dettloff, from Hawaii, has a collection of over 647 different surfboards. Here he is standing proudly on his property in Hawaii showing off his surfboards.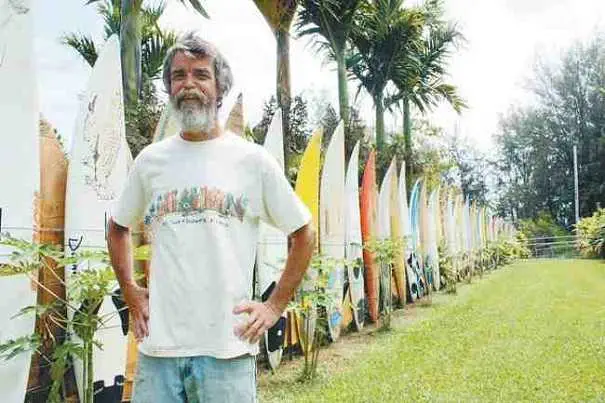 Source: Everday Maui
4. Teddy Bears
On the topic of passion, every child from a young age seems to develop a passion for collecting stuffed animals. Whether it be bears, cats, or whales, every child will have their own collection. Most children however, grow out of collecting stuffed animals in their teenage years, but not Jackie Miley. Jackie's collection of stuffed animals is the largest in the world with 7,106 unique teddies!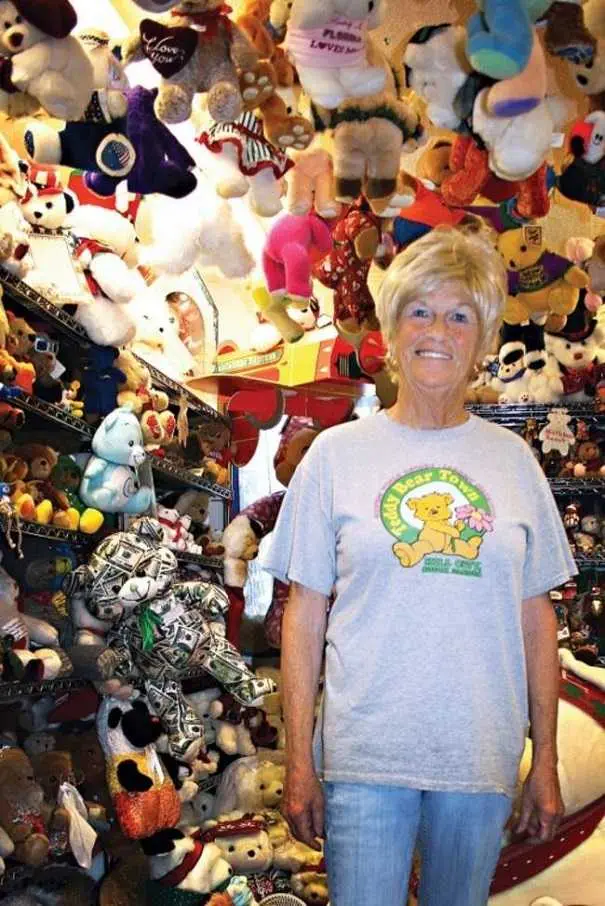 Source: Dose
5. Super soakers
Speaking of children's toys, everyone will remember epic water fights as a child to endure those long hot summer days. Super soakers were the weapon of choice for any self respecting child.
Chris Reid it seems, couldn't make a choice and so simply collected every single model of Super soakers in existence. Through the years, his collection has grown to incorporate 240 unique designs and continues to grow today!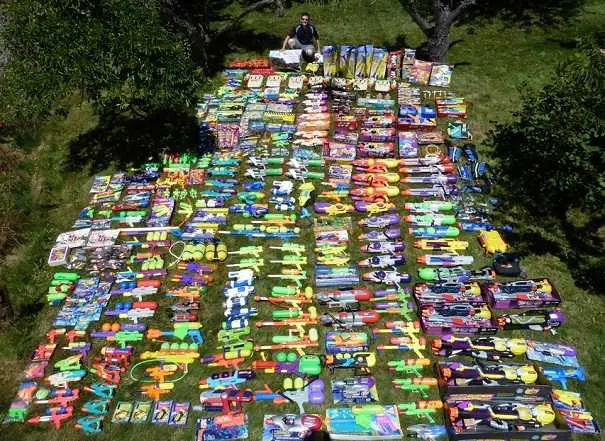 Robot Space Brain
6. Troll dolls
Still on the subject of toys, Troll dolls made waves as a must have item for Christmas stockings for both young and old. The popularity of the Troll dolls however, waned as fast and furiously as it arrived and soon Troll dolls were tossed out in every trash can.
Sherry Groom however, obviously didn't get the memo and kept collecting Troll dolls through thick and thin. Now she owns an incredible 3,500 Troll dolls in her weird but impressive collection.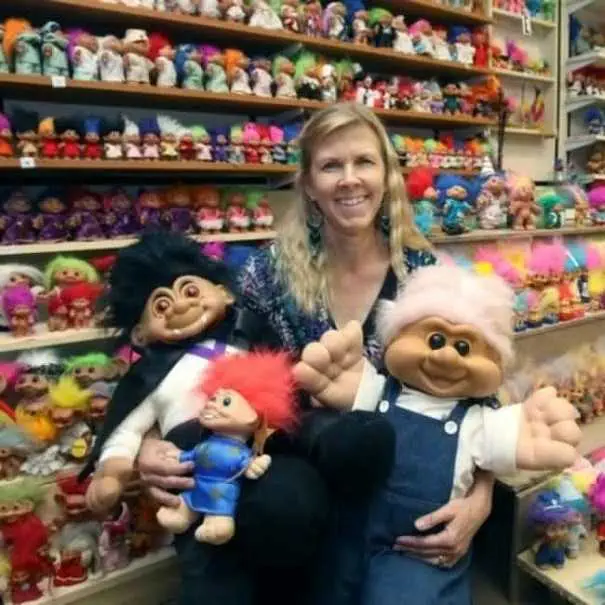 Source: World Record Academy
7. Pokémon memorabilia
Still on the topics of dolls and circling back to the stuffed toys, Pokemon memorabilia fits nicely into both of the above categories. Pokemon's popularity skyrocketed thanks to the popular smartphone Augmented Reality game Pokemon Go.
And some might say its popularity came with as much of a bang as some Pokemon Go fans have experienced, when the virtual world caused them to literally collide with objects in the real world.
Lisa Courtney, kept her passion for Pokemon firmly in the real world though, and she fed her passion with physical real-world Pokemon products. Lisa owns over 16,000 Pokémon products in her UK home.
Source: NY Publish
8. Chicken-related products
Not sure if this one falls under food related or animal related collectibles, but this weird collection of Chicken-related products is sure to make some people cock their heads (pun intended).
During the last 4 decades, Joann and Cecil Dixon hailing from Elkhart County has collected chicken related products that range from chicken fridge magnets, chicken planters, to chicken ornaments.
The pair presently now has an impressive 6,505 products within their Chicken-related products collection! A worthy inclusion into the list of weirdest collections!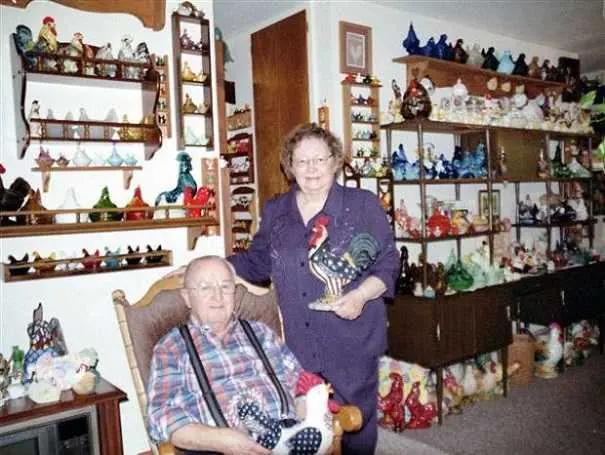 Source: Blazepress
9. McDonalds memorabilia
Fresh from talking about chicken related product collections, no collection will be complete without mentioning McDonald's famous chicken nuggets! Which brings us to 60-years old McDonald's owner Mike Fountaine's incredible collection of McDonald's memorabilias.
Mike's dedication to McDonald's goes beyond a good work ethic and extends to a mind-blowing assortment of 75,000 bits of McDonald's memorabilia. His collection occupies over 7,000 sq foot of space in his Pennsylvania home.
The collection consists of 1,000 McDonald's cups and uniforms, 11,700 lapel pins, old displays, and virtually every Happy Meal toy the chain has ever created. Oh to top it off, there's the famous Life Sized Ronald McDonald mascot doll!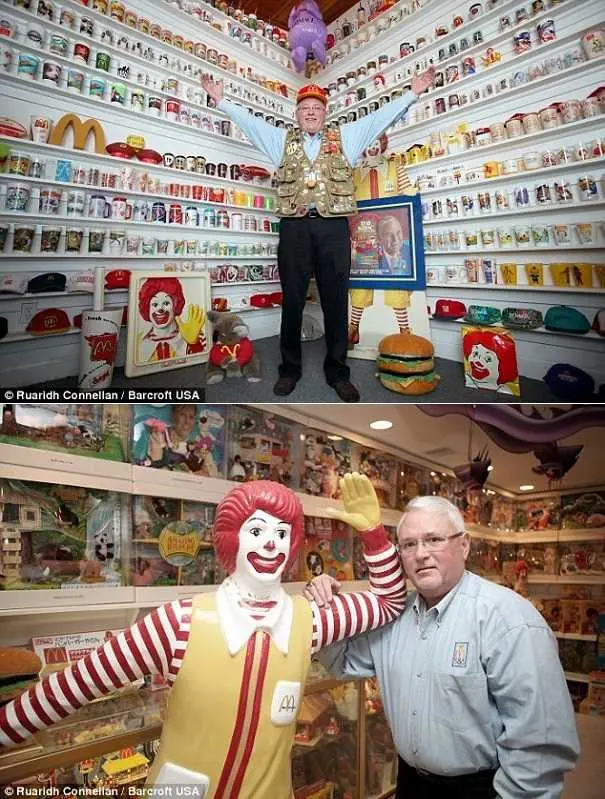 DailyMail
10. Barbie dolls dolls
Mascot dolls naturally steers the subject to another famous doll that features prominently in every girl's toy collection. Barbie dolls. Bettina Dorfman's took her obsession with Barbie dolls to the extreme and has amassed a collection of over 6000 Barbies worth approximately $150,000.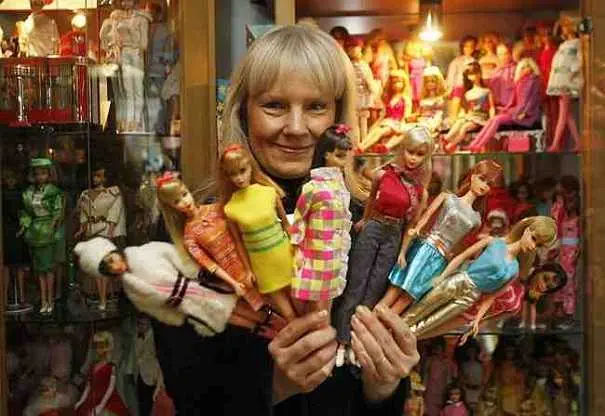 Source: Daljie
11. Love dolls
Moving on from Barbie dolls, we come to a collection of dolls that's more life sized and less G rated. Crazy couple Bob and Lizzie Gibbons have been spicing up their lives by sharing their house with a collection of over 240 love dolls.
The couple do however claim to keep the relationship G rated as they claim to restrict their activities with these love dolls to dressing them up and bringing them on shopping trips. Just in case this wasn't weird enough to be considered one of the weirdest collections I guess!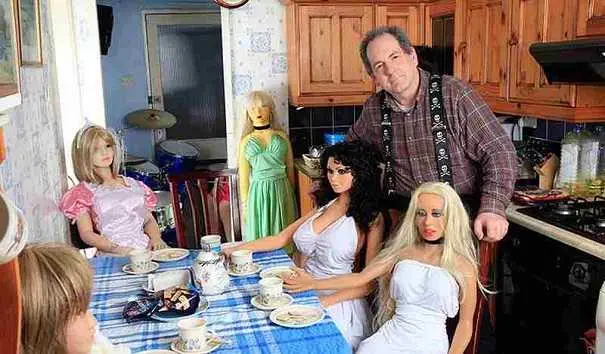 Source: CollectionStudio
12. Winnie the Pooh
Since we're trying to keep things G rated in this list of weirdest collections, lets revisit a more wholesome collection of dolls featuring everyone's favorite bear, Winnie the Pooh! Deb Hoffmann's Winnie the Pooh (and friends) collection has over 10,000 products.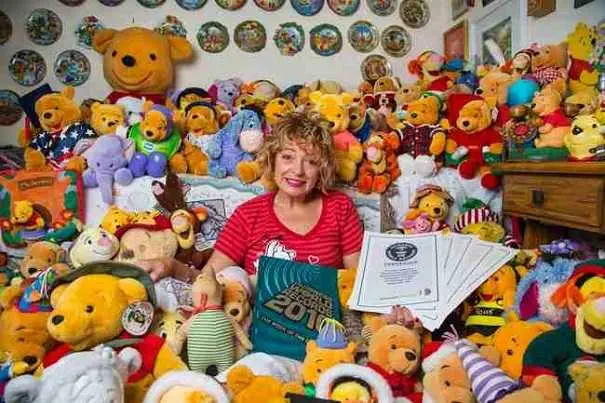 Source: Daily Record
13. Raggedy Ann dolls
Another G-Rated doll collection features the classic Raggedy Ann dolls. Her adorable red locks is what entangled Tampa resident Robyn Amato into her web. Over the years, Robyn has grown her impressive collection to over 3,000 Raggedy Ann dolls.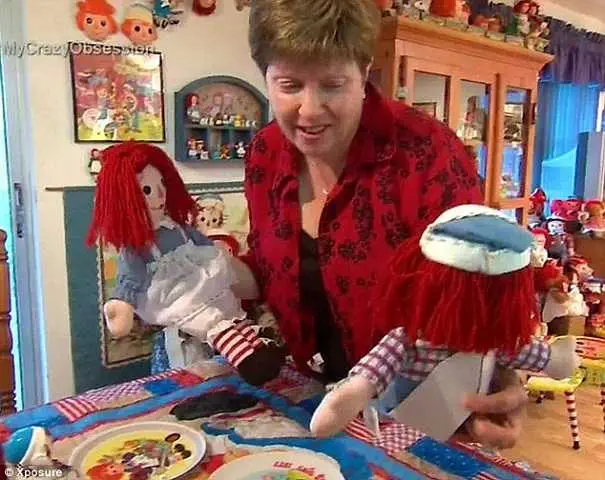 Source: Daily Mail
14. Paper dolls
Still on the subject of dolls, Malin Fritzell was rather obsessed with a more compact type of dolls. Paper dolls! Malin started her collection in the 1960s and has now built up an impressive collection of 4,720 paper dolls! Truly one of the weirdest collections out there.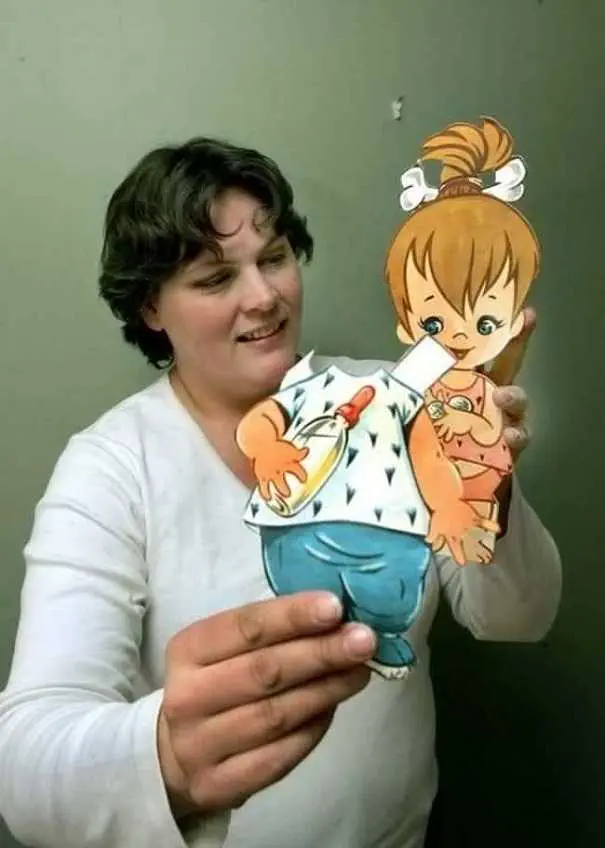 Source: Dose
15. Autographs
Since we're on the subject of paper, another impressive yet weird collection is owned by Paul Schmelzer. Paul collects autographs from celebrities artists, politicians, authors, and celebrities.
While a collection of autographs from so many famous people is impressive in its own right, Paul went a step further and asked these famous people to write an autograph with Paul's own name!
This truly unique collection is one of a kind and he has collected an impressive 70 autographs, including one from the voice actor behind Homer Simpson, Dan Castellaneta.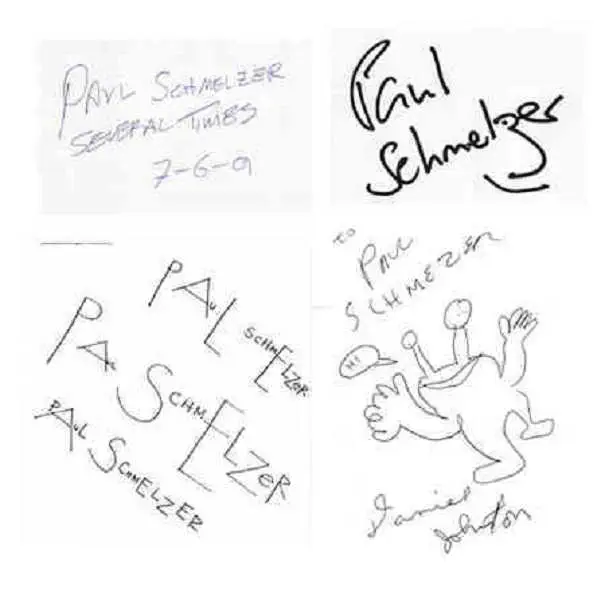 Source: Neatorama
16. Celebrity hair locks
Following on from celebrity related collections, our list brings us to John Reznikoff bizarre collection. John has the most expansive assortment of celebrity hair locks on the planet.
This impression collection of biological keepsakes includes hair from famous celebrities and historic figures such as Edgar Allan Poe, Albert Einstein, Abraham Lincoln subsequently, Lana Turner and Ludwig van Beethoven. Wow! Definitely one of the weirdest collections out there.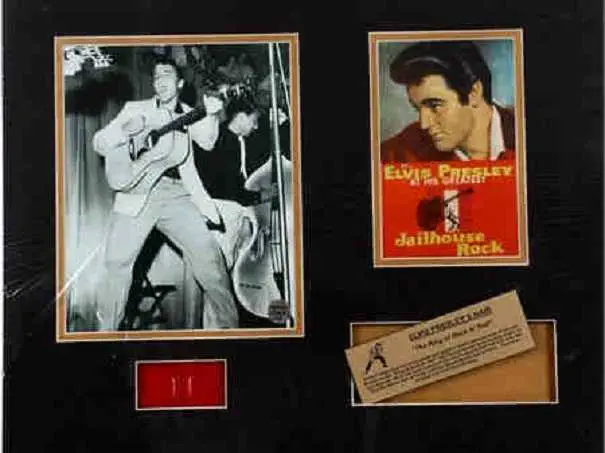 Source: Oddee
17. 30,000 Toenail Clippings
Continuing on our trend of collectible biological keepsakes, we now come to a truly disturbingly crazy collection. For the sake of privacy, we've kept the owners of this nail-biting collection confidential. This one is truly deserving to be one of the weirdest collections.
However, one must wonder why would anybody would want to collect this? I can't even think of a reason in the name of science to collect 30,000 toenail clippings.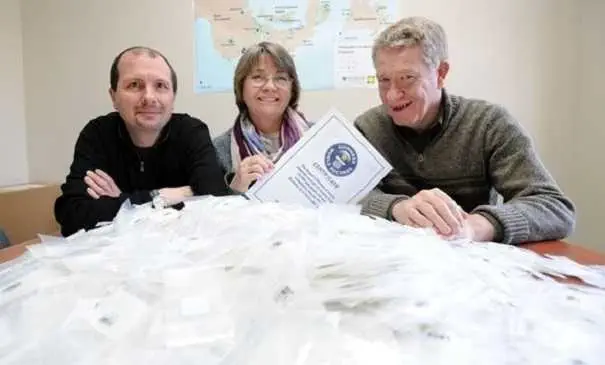 Source: Blazepress
18. Navel fluff
To top off the list of disgusting biological keepsake collections, we come to this seriously deranged yet personal collection. Graham Barker has amassed the largest assortment of navel fluff in the world. At 22.1 grams, Graham must have been collecting his own fluff, since he was a kid. Holy weirdest collections alert!!!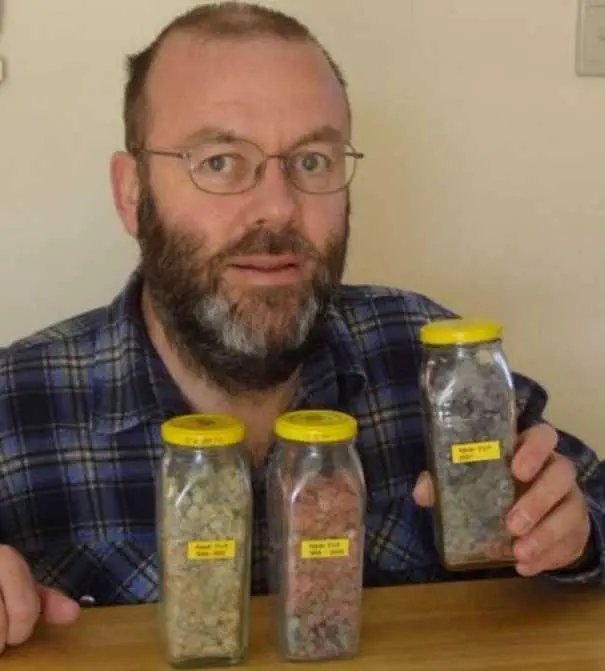 Source: Metro.co.united kingdom
19. Nicotine gumball
Not to veer too far off course from disturbing and deranged collections, we have yet another truly unique collection of something that should have been thrown out. This is the world's largest RBC gumball.
In case you're wondering what RBC stands for, it means Recently Been Chewed. EWWWW! Well, Craig Chappell's original yet disgusting idea for a collection hatched out of necessity rather than malice!
Craig is a heavy smoker, but he wanted to travel around the world by plane. Since smoking would be forbidden during most of his trip, he had the 'brilliant idea' to use nicotine gum instead and then decided why not collect the recently been chewed gum over the course of his trip and see how much gum there is!
Well he was so proud of his collection after his trip that he continued his habit and now, 95,200 bits of gum later, he's produced this 175 pound gumball. Whether that's good news is debatable but there is a silver lining to this cloud, because Craig is now off smoking! Don't forget it also makes this list of weirdest collections!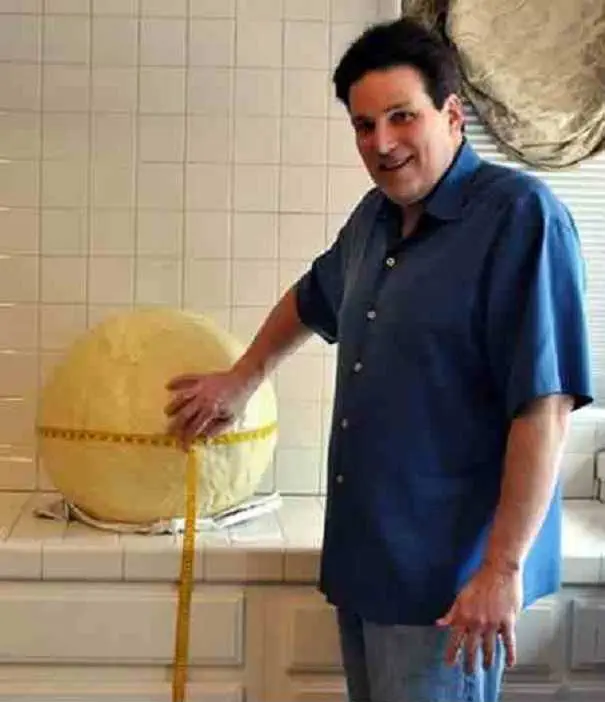 Source: ArtandCoinTV
20. Air travel barf bags
While this collection has the potential to be just as disgusting as the previous one, luckily this Hollander had the sense to collect only unused airplane barf bags. Collector Niek Vermeulen has amassed an impressive collection of 6,290 airsick bags from 1,191 different airlines in 200 countries!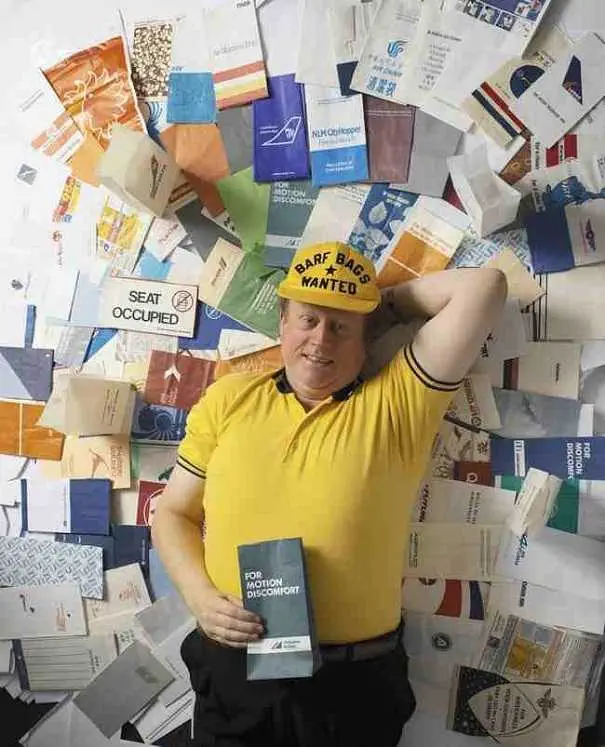 Travel America online
21. Soap bars
In an effort to clean things up, we now turn our list to Carol Vaugn, 65 from Birmingham, United kingdom. Carol joins our list with an impressive collection of over 5,000 bars of soap from around the globe. She's come clean and admitted to having been collecting soap bars since 1991.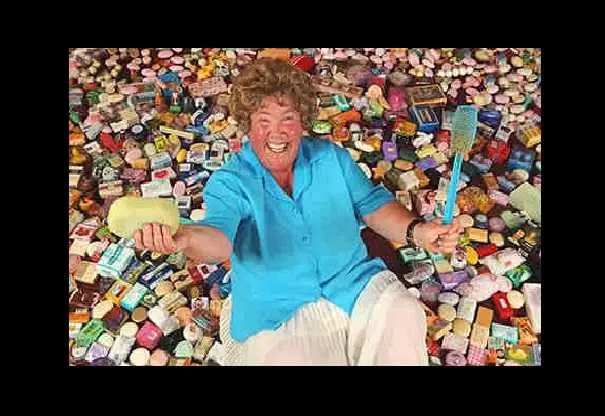 Source: Telegraph
22. Cellphones
Speaking of the 1990's, it harks back to the time when cellphones started becoming common. Carsten Tews from Germany, was right there at the start of the cellphone revolution and has kept in touch with an accumulation of 1,563 different cell phones.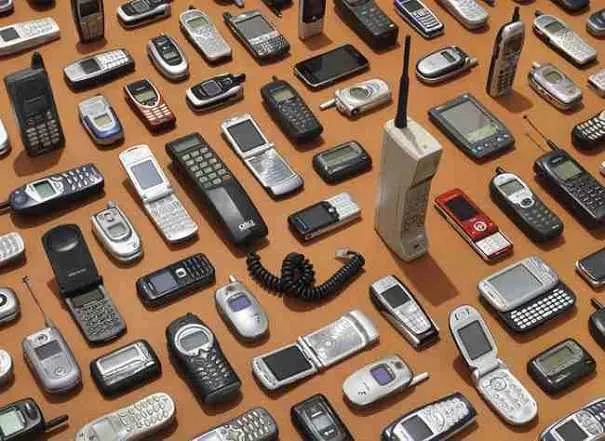 Source: Time
23. Don't Disturb hotel signs
When cellphones were first used, it was quite a disturbing gadget as you had people speaking loudly in public everywhere you went. This leads us to our next Collector Jean-François Vernetti, who just wanted some peace and quiet, and so decided to dedicate his life to collecting an assortment of Don't Disturb hotel signs.
His impressive collection is currently at 11,111 signs, from various hotels all around the world, and all signs point to this collection continuing to grow. A very disturbing collection indeed.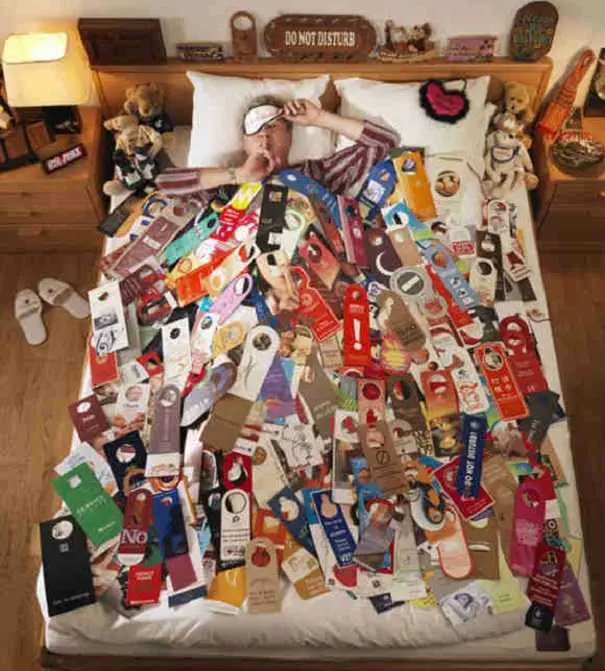 Source: Telegraph
24. Coke cans
If you can't get a good night's sleep in a hotel, then you might just have to resort to some caffeine to get you going in the morning. 39-year-old David Andreani from Pesaro Italy, is not the best sleeper in the world which explains his huge collection of Coke cans.
David began collecting coca-cola cans since he was 15 years old and his collection features exclusive edition and commemorative cans from nearly every country except Cuba and North Korea!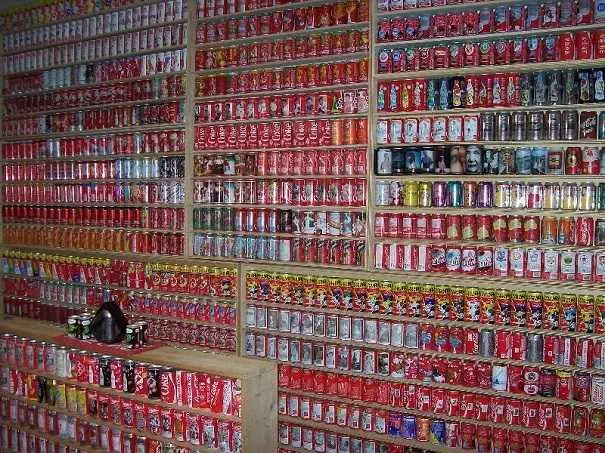 Source: The Sun's Rays
25. Hot sauce collection
If caffeine doesn't do the trick, maybe you need something with a bit more kick. Spice-obsessed Vic Clinco definitely has something in his collection that'll do the trick.
Vic has a fiery collection that features 6,000 bottles of hot sauce! Hot sauce connoisseurs will be impressed by the collection's limited edition "Blair's 16 Million Reserve", known to be the greatest hot sauce in the world. Maybe not the weirdest collections in the world, but definitely one of the most impressive.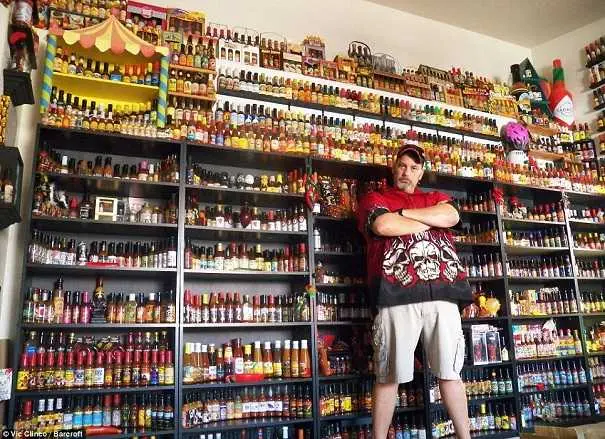 Source: Daily Mail
26. Water bottle labels
After all that hot sauce, you might need to water it down a little. Italian Lorenzo Pescini must have had his fair share of hot sauce because he's certainly got enough water bottles in his collection to quench any thirst! Lorenzo's collection features 8,650 different water bottle labels from 185 countries and 1,683 springs.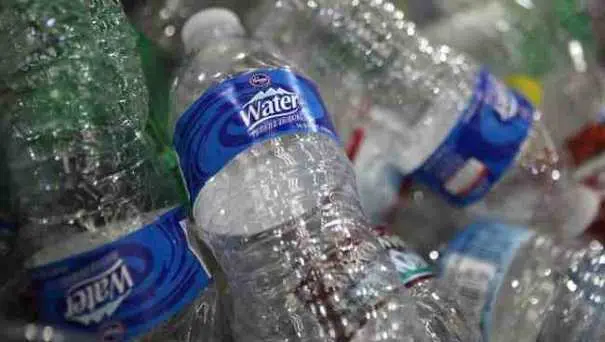 Source: Ban The Bottle
27. Milk bottles
If water doesn't quench the burning from the hot sauce, legend has it that milk should do the trick. That's probably what 33-year-old former milkman Paul Luke had in mind in case he ever has the unstoppable desire to chug hot sauce. Paul has an impressive collection of 10,000 milk bottles which he has been collecting since he was 9 years old. Till this day, he's still adding to his collection.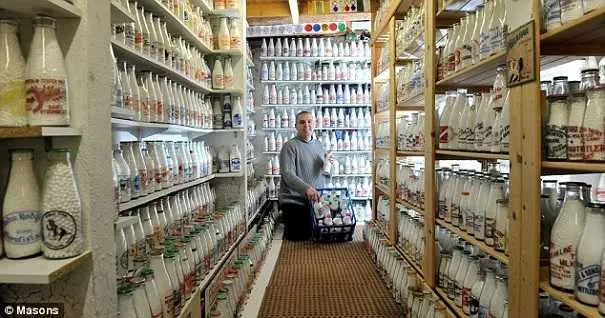 Source: World Record Academy
28. Toothbrushes
After drinking all that milk, it's usually a good idea to brush your teeth. Grigori Fleicher from Russia is clearly ready for any amount of milk because he's got an official Guinness World Record for the world's largest (1,320) toothbrush collection!
If this man wasn't a dentist, I'd say it was truly one of the weirdest collections in the world.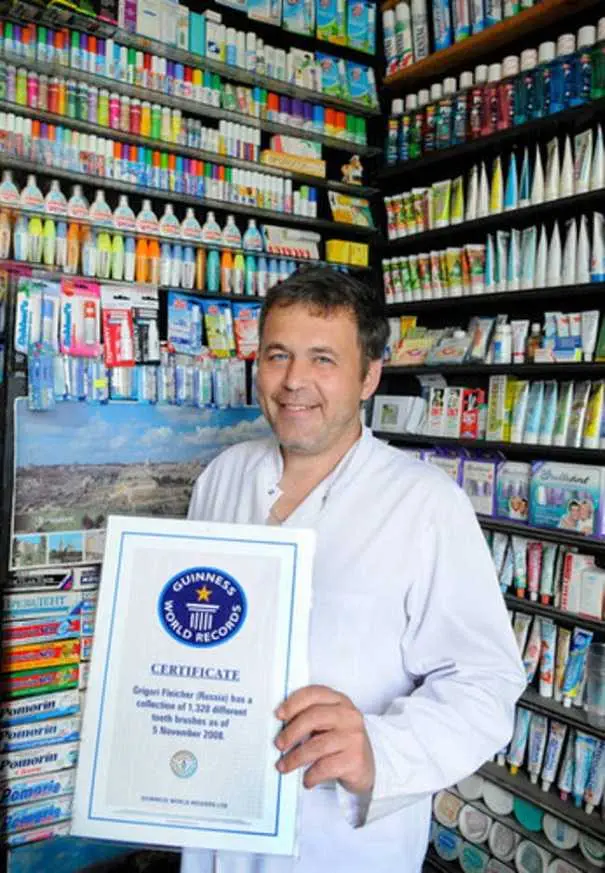 Source: Dose
29. Sugar packets
On the subject of teeth, on the opposite side of dental health is Sucrologist Phil Miller. Phil collected sugar packets and sugar cube wrappers since 1978 and even has collectible sugar packages featuring Presidents from the US of A.
While it may not be the weirdest collections in the world, it's clearly the sweetest!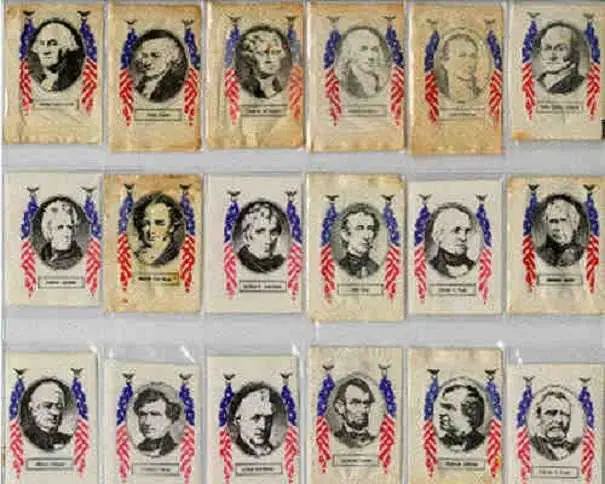 Source: The Miller Family Name
30. Dice
If you don't want to take your chances with your dental health, you might want to take chances elsewhere. Perhaps in games of chance featuring dice? Kevin Prepare left nothing to chance to ensure he has the largest collection of dice in the world by amassing an impressive collection of 51,000 dice.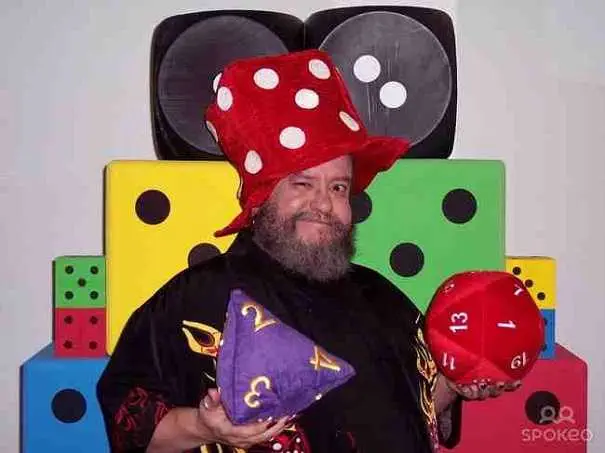 Source: Spokeo
31. Joker cards
On the topic of games of chance, we have to examine the impressive collection of Joker cards owned by Italian magician Tony De Santis. Tony has over 8,520 joker cards in his collection, some of which are even hand made! Fitting of the title of weirdest collections? You be the judge.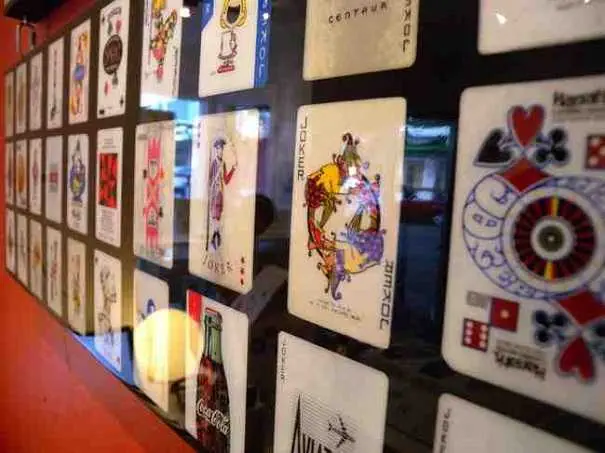 Source: Tartooful
32. Scratch cards
Since we're on the subject of chance, Victor Taylor has been taking chances all his life by buying an impressive collection of scratch cards. He is potentially sitting on a goldmine as he's never scratched the cards in his collection and so he never knew if any of his cards is a winner!
Victor has a peculiar interest in Instants Scratchcards and his collection features a large collection of these created by Camelot for that United kingdom National Lottery.
Truly one of the weirdest collections if not most valuable collections in the world.
Source: Neatorama
33. Back scratchers
Speaking of scratches, New York skin doctor Manfred S. Rothstein has a habit of scratching his own back with his collection of 675 back scratchers from 71 different countries.
One has to ask, what drives a man to start collecting back scratchers? The title of the having one of the weirdest collections in the world perhaps?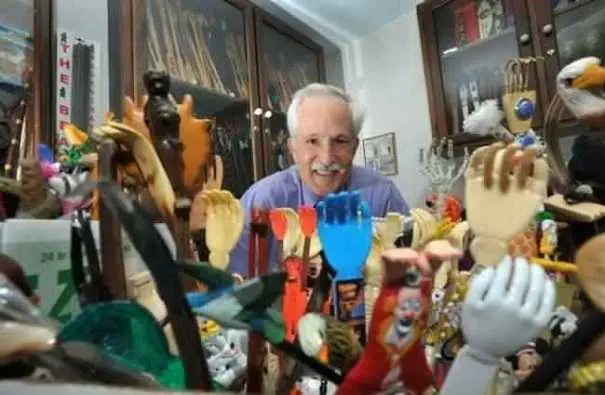 Source: Dose
34. Miniature chairs
While backscratchers look like miniature hands, Barbara Hartsfield also has a collection of miniature of objects. Barbara collects miniature chairs from around the world. Over the past 10 years, she's amassed a record-breaking 3,000 pieces in her miniature chair collection.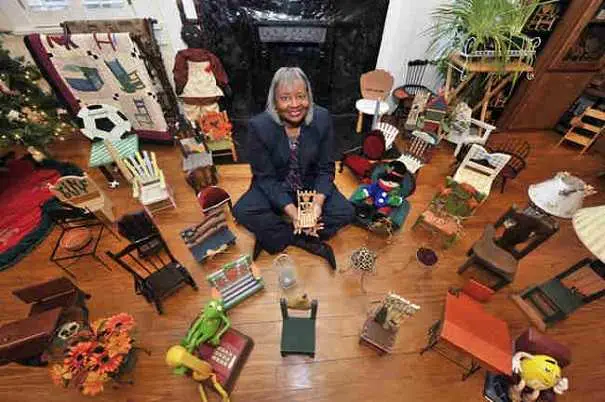 Source: Small Chair Gallery
35. Traffic cones
Just as uncomfortable to sit on as miniature chairs, David Morgan has a bizarre collection of traffic cones which he likes to show off by spreading them out on the road and sitting on one. David's collection of traffic cones feature 137 unique items.
Definitely one of the weirdest collections out there.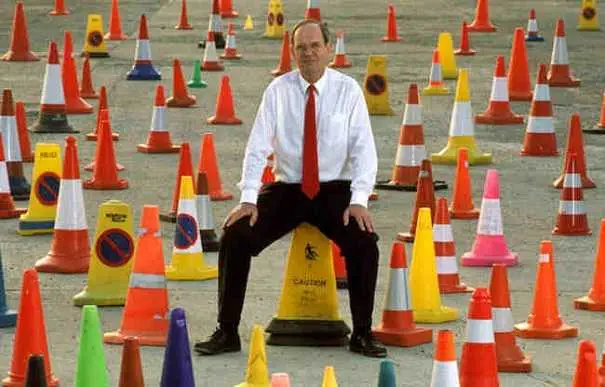 Source: Guinness World Records
36. Daleks
The next item in our list resembles traffic cones but is a true collectable. Fans of Dr. Who would appreciate Hull's collection of a record breaking 571 daleks.
I'm not sure if this is one of the weirdest collections or the weirdest collectors… maybe both.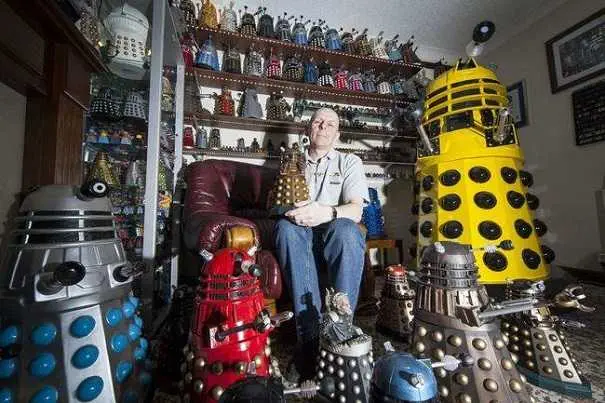 Source: Dose
37. Speaking clocks
Speaking of the time of Dr. Who, our next collection literally speaks time! Mark McKinley from Ohio has the world's biggest collection of speaking clocks. He owns 954 of these verbal timekeepers.
I guess it's about time he's made it into the list of weirdest collections in the world.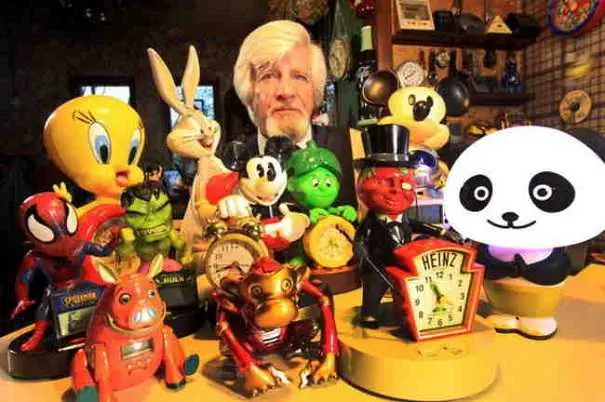 Source: Cleveland
38. Dalmatians
Speaking of time, it's been a long time since Disney released the hit 101 Dalmatians. But since that time, Karen Ferrier has been an obsessive collector of all things Dalmatians. Karen has an impressive collection of 3,500 spotty products.
Another fine candidate as one of the weirdest collections out there.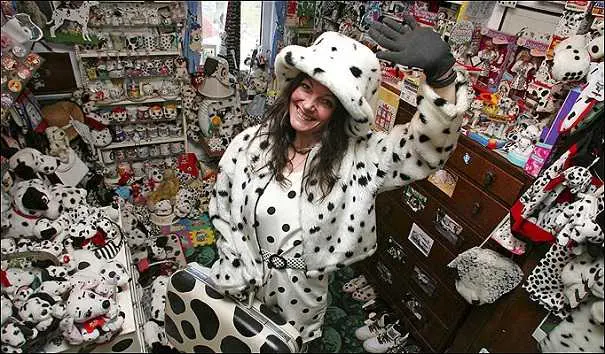 Source: The Sun's Rays
39. Dresses
While some people obsess their dogs by dressing them up or wear clothes that match their dogs, others obsess over their wives. Paul Brockman, a German-born contractor from California has an impressive collection of 55,000 dresses for his wife, Margot.
Ok so if Margot wears a different dress every single day for a 100 years, that's 36,500 different dresses. I guess it qualifies as one of the weirdest collections just for the fact that Margot probably has to change into 10 dresses a day to get through her collection!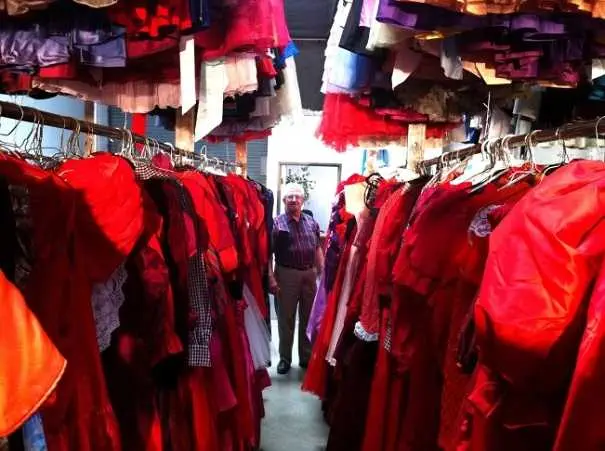 Source: SCPR
40. Umbrella cover sleeves
Dressing things aren't limited to pets and wives. Some people like to dress their umbrellas. Well ok, umbrella covers have an actual function of containing your wet umbrella if you can't leave it anywhere convenient to dry.
Nancy Hoffman collects these useful and decorative covers and over the years, she has built up the biggest umbrella cover collection in the world. She has over 730 unique products in her collection.
Again, not a collection that I would think of off the top of my head so definitely qualifies as one of the weirdest collections in the world.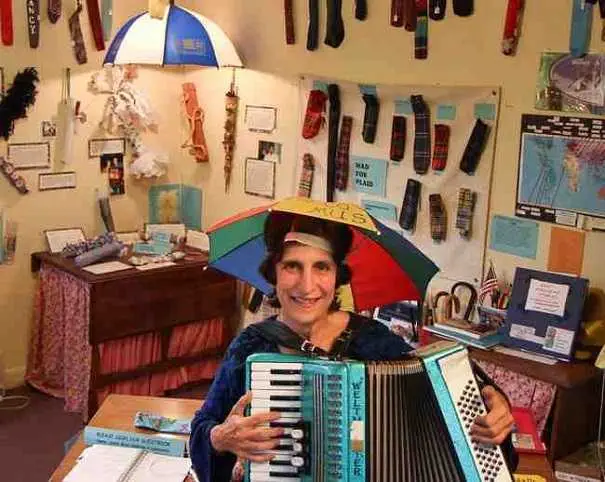 Source: PressHerald
41. Erasers
People usually use umbrellas to hide under but to truly hide things, sometimes you just need a good eraser. Petra Engels is serious about erasing and owns an impressive collection of 19,571 erasers from over 100 countries.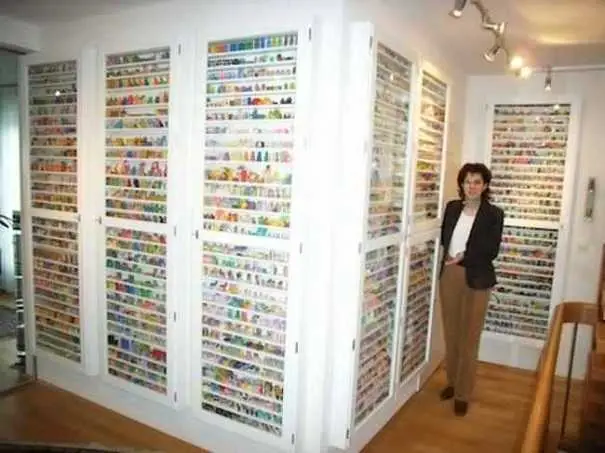 Source: Dose
42. Blueberry stickers
While traveling the world in search of erasers is a passion for some, others let the world come to them. Blueberries are grown all over the world exported so that we can have a year-round supply of these healthy vitamin packed superfoods anywhere in the world.
The sticker on their packaging tells you of their origin. Becky Martz is an avid blueberry sticker collector and has the world's largest collection includes over 7,000 unique labels.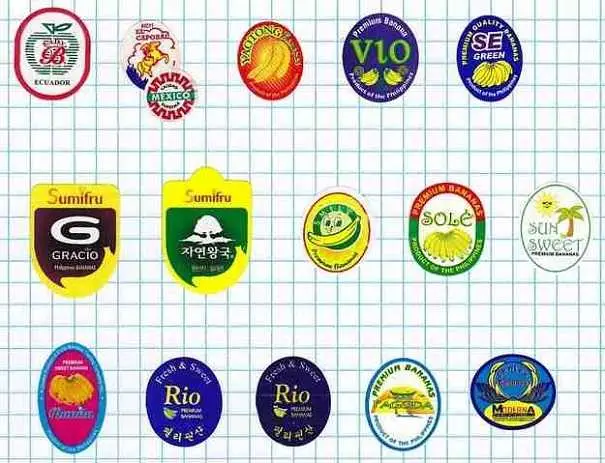 Source: Becky Martz
43. Nails
After this long and exhausting list, it's time to put a nail in the coffin. So that finally brings us to 78-year-old Richard Johnson's collection. Richard knows a thing or two about nails and his impressive collection of 3,000 nails is a testament to his knowledge. Richard has meticulously collected and documented his impression nails collection which comprises of nails from many countries around the world.
Now since Richard Johnson isn't a walking hardware store, his nails collection is a worthy member of the worlds weirdest collections.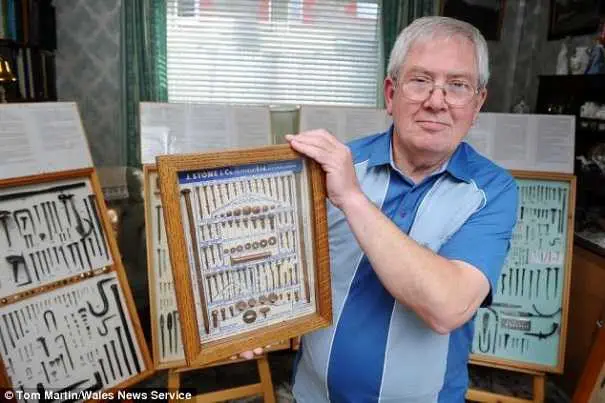 Source: Daily Mail
TFB Latest Posts
---
---