Molecular Gastronomy Kit 2 Deep Dive into Your Cooking
Prices pulled from the Amazon Product Advertising API on:
Product prices and availability are accurate as of the date/time indicated and are subject to change. Any price and availability information displayed on [relevant Amazon Site(s), as applicable] at the time of purchase will apply to the purchase of this product.
Foodies, take notice. The trend of molecular gastronomy, or deconstructed food, can now be done in your own kitchen. You could pay $100 or more for a night at the local molecular gastronomy restaurant, or you could get the Molecular Gastronomy Kit-Cuisine, now $49.95 on UncommonGoods. The kit is an infusion of chemistry, food and art to make something delish and aesthetically-pleasing.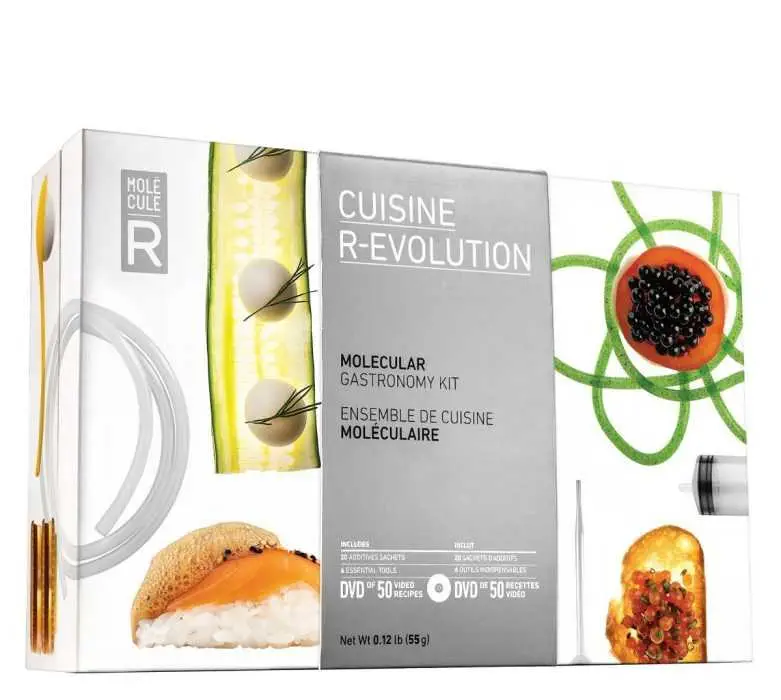 What is molecular gastronomy? Simply put: "Molecular gastronomy is a sub-discipline of food science that seeks to investigate the physical and chemical transformations of ingredients that occur in cooking."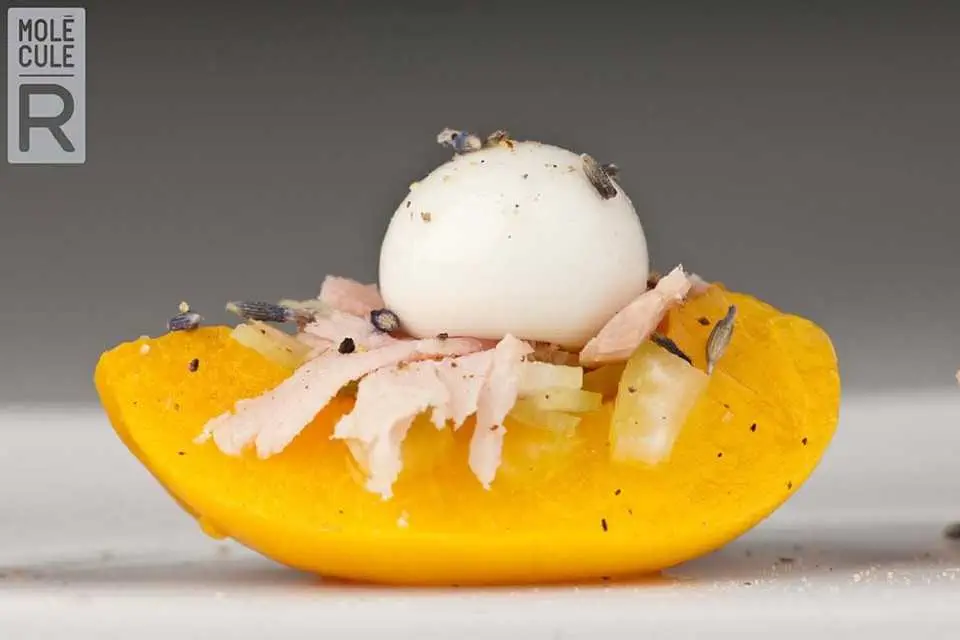 The kit will let you make your kitchen into a food laboratory where you can break down food into new exciting ways. If you're worried about not being savvy enough in the kitchen, don't worry, because the kit includes an instructional DVD for the recipes. There's 50 recipes demonstrated on the DVD and inside the box are 20 sachets of 4 food additives. You can spring for this kit at $49.00 or get the fully-illustrated book for $65.00 along with everything else.
"Turn your kitchen into a food laboratory with this how-to kit that teaches you how to transform liquids, like honey, into jelly-like cubes, gelify chopped produce into flavor-packed beads, or even morph melted chocolate into a delicate powder or spaghetti-like strands. You're only limited by your imagination! So go ahead, play with your food!"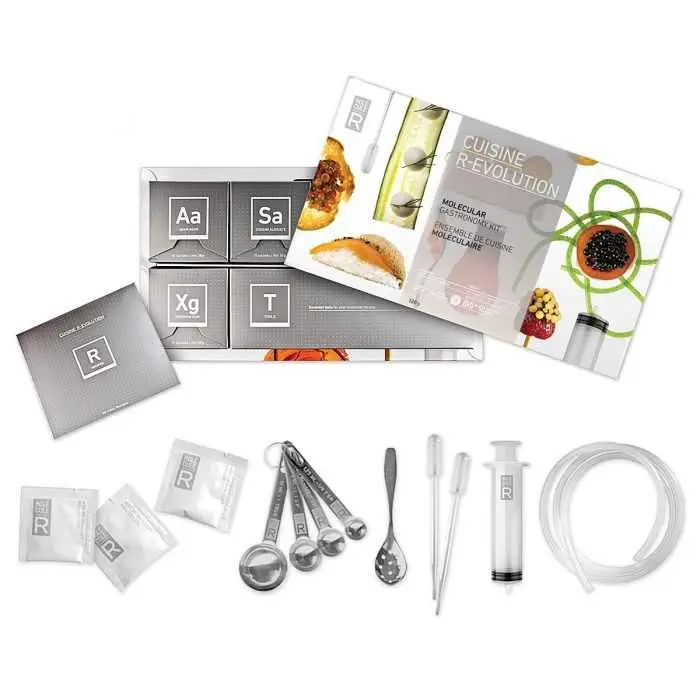 Most of the recipes don't take that long, and using this kit would make a fun dinner party option. Along with the DVD, sachets and book (if purchased), you'll find 1 slotted spoon, 3 pipettes, 1 measuring spoon, 1 silicone mold, 1 food grade syringe, and 2 silicone tubes for use in the recipes. Even if you don't have any fancy cooking equipment, you should be able to do everything with a blender and or egg beater.
The whole kit comes in a beautiful box and the book is high-quality, with plenty of pictures to help you along the way. Even if you don't opt for the book, the DVD is informative and will help even the the beginner cook. One sachet = one recipe, and you get the following:
– Calcium Lactate (five 5g sachets)
– Sodium Alginate (five 2g sachets)
– Soy Lecithin Deoiled (five 2g sachets)
– Agar Agar (five 2g sachets)
Don't worry about running out, either, as you can buy refills from the Molecular-R company. Everything comes pre-measured to take guesswork out, and the kit's vendor, Uncommon Goods, has stated that the kit is cruelty-free, nut-free and sugar-free, so those with special dietary needs don't have to worry.
You should have a blast and a delicious time putting together all the meals for this kit, and will likely wow some friends and family with your kitchen prowess. The kit's maker also molecular mixology kits so you can try your hand at deconstructing and transforming drinks like cosmos and margaritas.
TFB Latest Posts
---
---