Conqueror UEV 490 ATV Camper Promises the Ultimate Off-Road Exploration Experience
Off road trips aren't fun if you are driving in a cheap camper. The bumps and potholes are not the real concern here, think about all your things flying around in the back while you are busy driving, or, parking at a suitable spot. All thanks to Conqueror Australia, their latest UEV 490 model promises aesthetic military looks and a luxuriously comfortable experience at the cost of a huge price tag. If you are willing to buy this camper from an investment point of view, your money won't be going to waste.
Speaking of UEV 490's price, Conqueror Australia has not disclosed an exact figure. They invite everyone to contact the company representatives directly for details on prices. It is more likely that they are looking to entertain serious buyers only. It is a good thing, because a lot of people just ask the price and never show up for any follow-ups.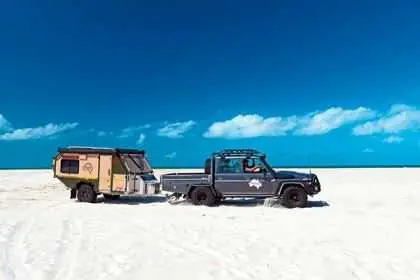 The UEV 490 is not the Australian company's first rodeo. Their base model was known as UEV-360, which was introduced in excess of a $29,000 range. It had all the basic necessities that a budget conscious camper could look for, but the UEV-490 is an entirely different story. This beauty weighs in at around 2,900 Lbs., which ensures easy traction and agility across a variety of rough terrains.
Closer inspection at the camper revealed a ready-made arrangement for kitchen, full spread beds, a mini bar, dedicated water storage system, military rip canvas and galvanized body parts. The chassis itself is dipped in hot galvanized solution to guarantee a long lasting lifetime performance. Furthermore, UEV 490 stretches over 16F X 6.5F dimensions to help support compatibility with any range of vehicles without taking a toll on the engine in question.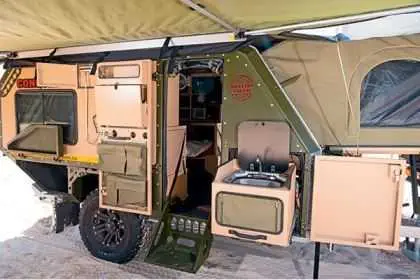 You can go through the specs in details at the Conqueror Australia website, but what's more important is that this camper has its own electric brakes and suspension system. For those of you who are familiar with off road campers, you know that the lack of brakes and suspension poses a huge risk to whoever who's driving and his family as well. There have been an awful lot of camper accidents in the past, which is why Conqueror decided to create something worth your hard earned money.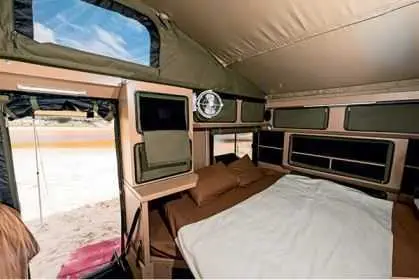 In this regard, Conqueror Australia blends its 20 years of past experience and patented safety regulations to ensure a smooth trip across water, land, mud or snow terrain. In addition, the UEV 490 retains the same high standard as that of its predecessors by featuring non-degradable material. It means you won't find any wooden paneling or a piece of wooden furniture inside the camper because wood is specifically susceptible to climatic changes.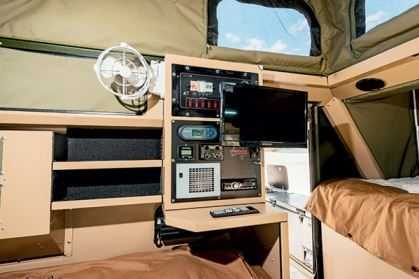 All in all, the UEV-490 will provide you and your family the satisfaction of a unique experience on your next off road adventure. I can say that you can look forward to spending some quality time with your loved ones in this camper without any concerns for running out of water, scorching summer heat or anything else for that matter.
TFB Latest Posts
---
---