W-32 64 Valve 32 Cylinder Functional Engine
Meet the mini W-32 32 cylinder engine. This little monster was built by José Manuel Hermo Barreiro, known to modelers and gearheads simply as Patelo, has built a 64 valves, 32 cylinders engine that runs off of compressed air otherwise known as, the Patelo 32 cylinder engine.
The W-32 refers to how the cylinders of this 32 cylinder engine is arranged. You've probably heard of V6 engine, or I6 (inline 6 engines). V6 or V8 engine have their cylinders arranged in a V shape such that the cylinders are arranged in 2 rows of 3 for a V6 or 2 rows of 4 for a V8. The cylinders are attached to the crankshaft in the middle (base of the V) and the cylinder heads are pointed outwards forming the two arms of the V.
In a W engine configuration, you basically have 2 V16 engines mounted beside each other, each with their own crankshaft, driving the 32 cylinder engine. As you can imagine, 2 V's (VV) mounted next to each other, looks like a W. Hence the W-32 engine.
This model 32 cylinder engine is made from 850 pieces, 632 screws and took about 2520 hours to put together. This little w-32 32 cylinder engine is by far the coolest little engine I have ever seen. Watch this little mechanical marvel in action and you'll see what I mean.
After this don't forget to check out another work of art, the Do Nothing Machine.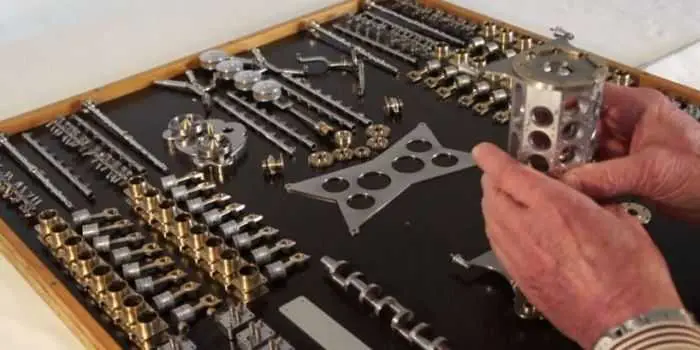 Is This The Epitome Of Amazing Craftsmanship? – This video is Oddly Satisfying To Watch
32 cylinder engine smaller and unique world of these features built by artesanal method. Patelo dedicated this engine to all his friends and followers of "Engines Patelo" translated as "Patelo Engine" worldwide.

Displacement-Displacement: 47.5 cm3
Diameter of the cylinders Cylinders-Diameter: 13,75 mm
Pistons race of the Pistons-Stroke: 10 mm
Parts & Pieces: 850
Bolts-Screws: 632
Working Hours-Work Hours: 2520
Here Is The man Who Built This Tiny Engine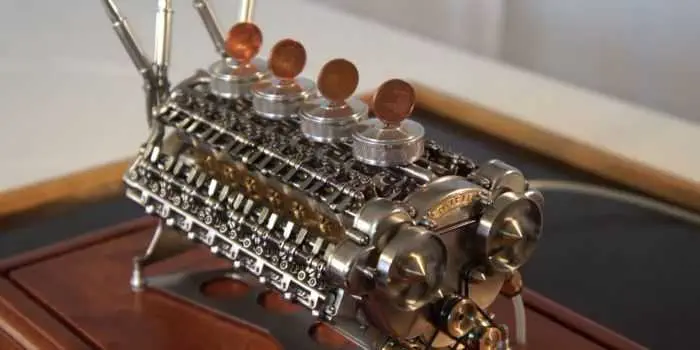 Also check out the Tank with the smallest and unique W-32 engine in the world.
TFB Latest Posts
---
---