You might want to show your friends that love Star Wars these porch light covers.
For anyone with a little love for the Galactic Empire, Star Wars Darth Vader Porch Lights are a marvel to look at. Things do get a little ugly when we go down this review, but as the visuals and striking resemblance to the movie's antagonist goes, it is remarkable. When Halloween is just around the corner, and you are looking to buy cheap, but cost effective, solutions to rejoice in the spirit of the occasion, this Star Wars accessory is a sound solution.
In fact, why restrict it to Halloween? Think of all your love for Star Wars movie titles, millions of products, and tons of film related accessories, and then focus it at one point – you will realize that these porch lights come in as a blessing. You'd be willing to put your ten bucks on it if there is a new upcoming Star Wars title where you'd like to express your anticipation in a show n' tell kind of way. The entire neighborhood will relate to your house with something that's common with Star Wars franchise.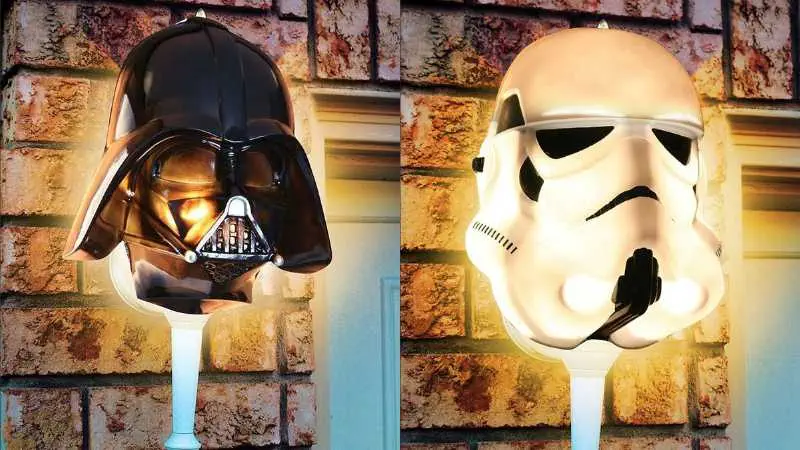 Pros:
Each individual order comes with a Darth Vader porch light. You can also go for the standard White Stormtrooper porch light too; the choice is limited to your taste.
Very lightweight and flexible plastic.
Measures slightly over 12 Inches in height and 12 Inches in width. The height is a little more in comparison to the width. This allows for easy accommodation of maximum 60 Watt standard bulb.
Officially licensed from Star Wars studios. Couldn't get any better because this product is authentic; otherwise they wouldn't be selling it openly at Amazon.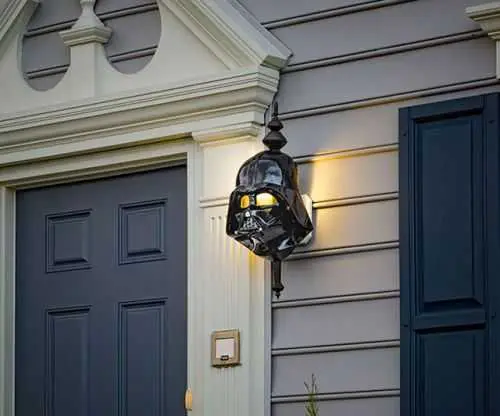 On a scale of 1 to 5, I will gladly give this a 3-ish rating. Wait, why? Seriously if you ask me, the quality of this product is not okay. The concept was great, which could have helped 'Seasons' (* the Amazon seller who is selling these light bulb covers) to make a lot of profit. However, all those verified reviewers are not too happy with the build quality.
For $10, the plastic will probably last for one season, and that's about it. Sadly, this Darth Vader porch light seems to lean in too much on the 'dark side' – and the "force" isn't strong here because this plastic will break easily if you are not careful with it. Your best bet would be to carefully slide this Star Wars porch light cover down your bulb and then use the supplied elastic ribbon to fix it in place.
What's it good for if the quality is So-So?
While it is true that they could have used a durable material to make the product last a little longer, these porch lights are a rare find. If you are a die hard Star Wars franchise collector, I am sure this light set will be another great addition to your arsenal.
Let's say you have an indoor museum or a room dedicated to your Star Wars item collection; you can hang this Darth Vader porch light right above where your main items are. The glowing effect falling on your shelves, or Star Wars action figures will make things seem more alive underneath all that ambiance. Speaking of Star Wars collections, you need to take a look at this sweet Tie Fighter gas grill review I did a while back.
Besides the usual porch related or indoor use, these lights are also a nice fit for hosting your home based comic con events. The point is not to mind the shabby quality because there are more than a few ways you can use these lights, and "not" end up cracking their plastic body.
TFB Latest Posts
---
---