TFB Short Clips
Like cooking on the grill? Like Star Wars? Well, here you go, meet the Star Wars TIE Fighter Gas Grill
Auto Amazon Links: No products found.
The Empire strikes again! This time you choose to burn those damn rebels with the officially licensed Star Wars TIE Fighter Gas Grill. Also, if your kids or friends are into Star Wars, this grill is a showstopper. All thanks to the high-grade Aluminum build, effective temperature dissipation, and 220 Sq. Inches of cooking space, we are talking about some serious stuff here. And yes, you get to brand your steaks with the official Star Wars logo. How cool is that?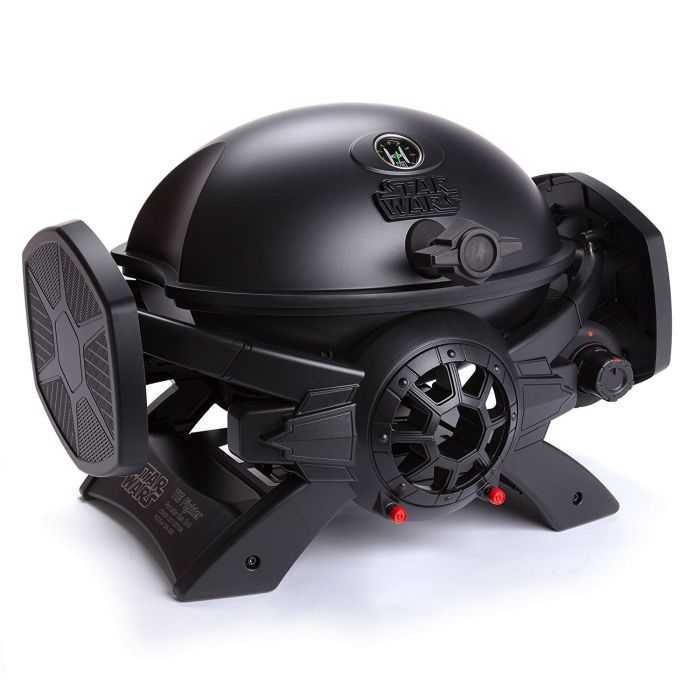 The Good Stuff about the Star Wars Fighter Gas Grill:
This is an officially licensed Star Wars product. The TIE Fighter design on this grill closely resembles its counterpart from the movie series. Yep, there is also the StarWarsTM logo in case you are skeptical about copyright. Don't worry; they got you covered.
The interior grill area is made of nonstick cast iron. Therefore, it offers easy cleaning and good cookin' at the same time.
25 Year warranty in association with the innovative minds at StarWarsTM.
Gas nozzle supports a huge range of propane tanks.
Custom TIE/ Star Wars themed temperature gauge.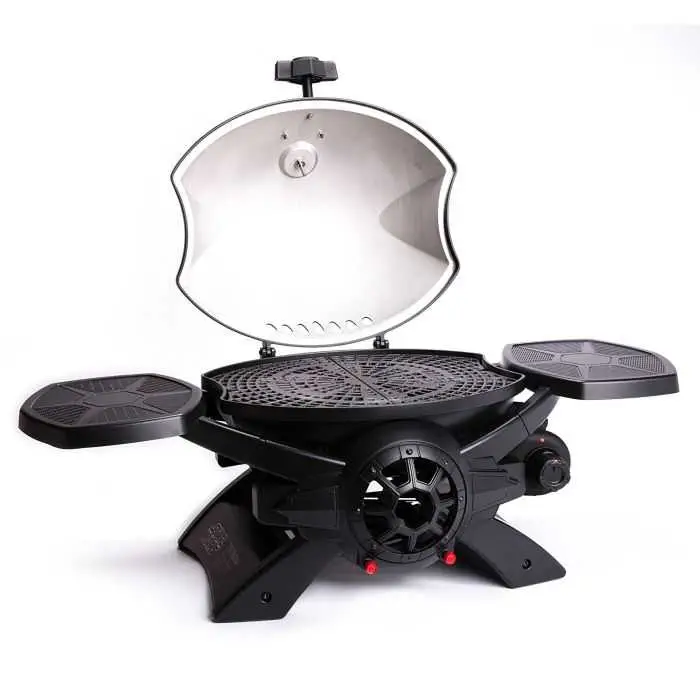 Starting off with the weight factor, it is somewhere around 40 – 50 Lbs. Therefore, you may want to select a space in your backyard and just set this thing up once and for all. I wouldn't ask you to move it around a lot because it could damage or scratch the unit's exterior. Moving on, you will notice the interior cooking area to be made from nonstick cast iron. It has strategically placed Star Wars trademark crests on it. You can place your food or steak on top of the crest, and while your meat is cooking to perfection, you can hard press it with a tong for the logo to set in.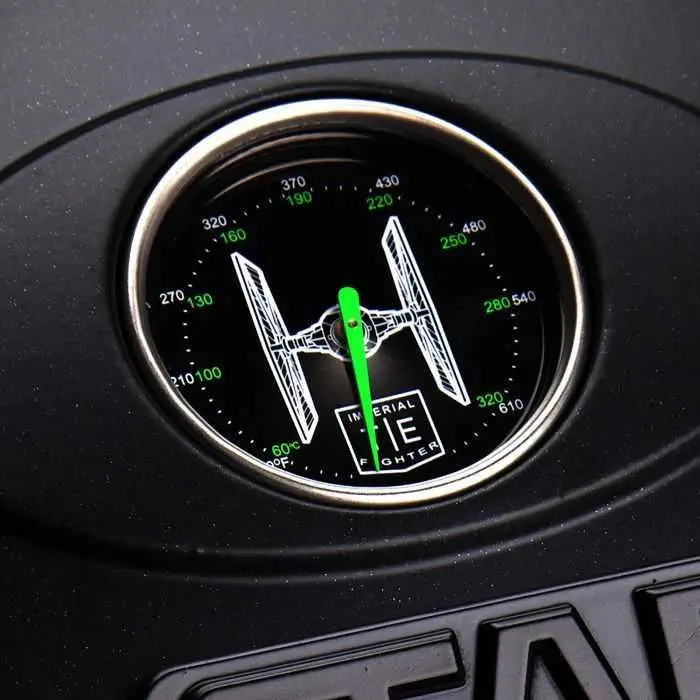 The outside of the Star Wars TIE Fighter Gas Grill has a small window like area on the front side, and a heat exhaust opening on the back side. The interesting thing about this opening is that it perfectly resembles the rocket fume propellants on the back side of the TIE Fighter jet as seen in the Star Wars movies. Likewise, the grill's temperature gauge is artistically created in green color with a space ship in the center. The temperature indicator needle looks awesome in there; it sort of looks like as if you are staring at a sci-fi gauge or something.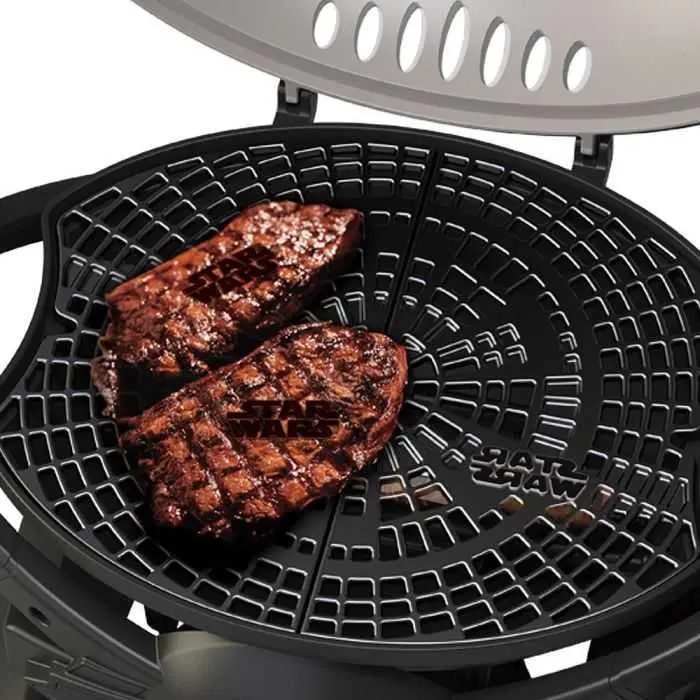 The side cooking trays can be spread out horizontally so that you can place any cooking ware, platters or mustard bottle on them. However, you can alos swivel these trays for vertical orientation. This way, you are at liberty to hang your tools, while the rest of your family members continue to tell you that the trays look a lot like TIE Fighter's wings.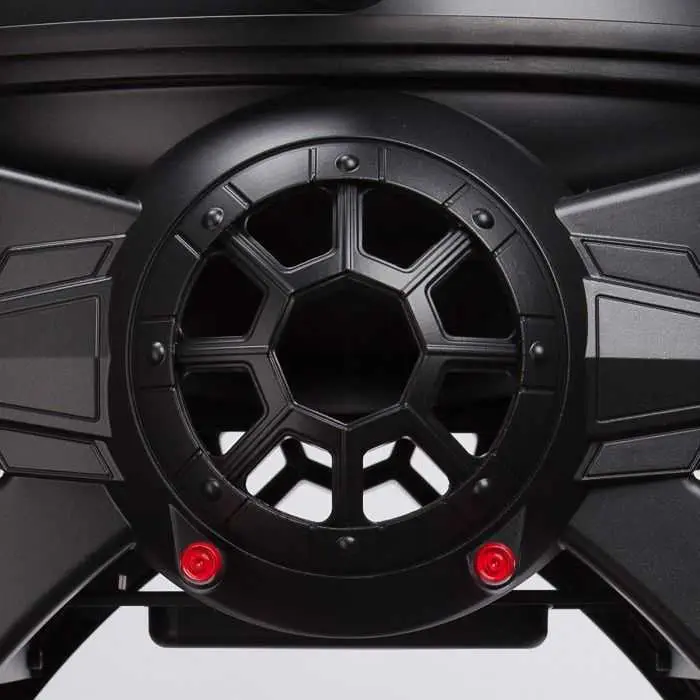 Sadly, at a whopping $399 price tag, the Empire could have done a better job. This grill does not offer the intricacies of a full-fledged BBQ grill. If you are more of a collector and a normal BBQ guy, this product is perfect for you. However, if you are looking for some serious cooking with just the right number of fancy bells and whistles; they are not there my friend. Besides, ain't nothing perfect in this world, so enjoy life. Live, love and adore time spent with your loved ones as you can serve some great homemade food with the help of this amazing grill. if you loved this grill then you should check out my Stormtrooper bluetooth speaker review and these Darth Vader and Stormtrooper porch lights.
TFB Latest Posts
---
---
---