The Star Wars Coffee Table – Millenium Falcon Asteroid Chase Coffee Table is a Must Have Item for Your Household
While your friends can mull around in darkness near a shabby sorry ass coffee table, you can increase your awesomeness levels with the official Star Wars Falcon Asteroid Chase coffee table. Yep, this baby is a reality; it is handmade and comes with a staggering $6,500 price tag. Gulp! But wait, the good news is that the look of perfection, alongside a gorgeous degree of attention to detail, is not the real steal here. Imagine all the praises you're going to get in exchange from cashing in a major chunk of your life's savings… Isn't it worth it?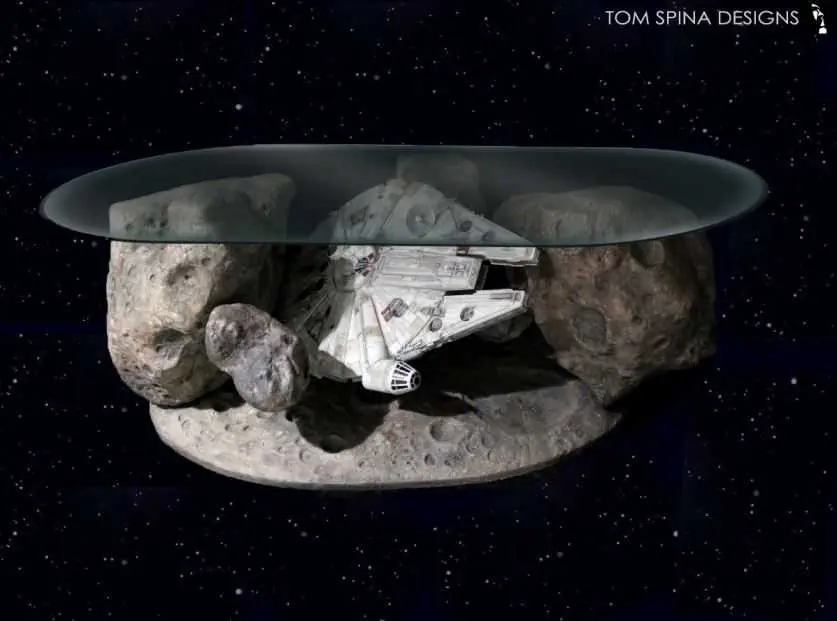 The fact that Richard Riley, the guy behind this original design, captured the Asteroid Chase scene within the embankment of something so simple and divine as a coffee table is what makes it worth every penny. FYI Richard works at 'Tom Spina Deigns', and has a few more marvelous Star Wars dioramas in his portfolio. You can check them out at your own leisure later.
What's that you said? Chase scene? Yeah, it's the one from 'The Empire Strikes Back'. Our man Han Solo is piloting the massive Millennium Falcon and minding his own business until a bunch of Tie Fighters show up. Casual banter ensues and the next thing you know is that Han decides to take the Millennium Falcon head first into an asteroid belt.
Some even say that it was Leia who was piloting the Millennium Falcon while Han was busy repairing the Hyper Drive Motivator. Whatever the case may be, the scene went down in the history for an adrenaline filled ride across meteor chunks spread around every possible corner. As you can see, Richard Riley successfully captured the intense chase with a Tie Fighter ship tailing the giant Millennium in hopes of taking a shot. The table has drama and suspense right there in front of you – what more could you ask for?
The Star Wars Millennium Falcon Asteroid Chase table comes with a spacious 60''L X 36''W dimensions. The asteroids are hand sculpted with pockmarked craters. Rumor has it that Richard and his team were officially hired to create a limited number of these tables on special request from someone else who conceived the design.
It was said that these tables were never meant for open market sale, but Regal Robot and couple of other benefactors chipped in to make it a possibility for the open market sales to happen. Nonetheless, the table has pizzazz, persona and visual appeal that only a true Star Wars enthusiast can appreciate.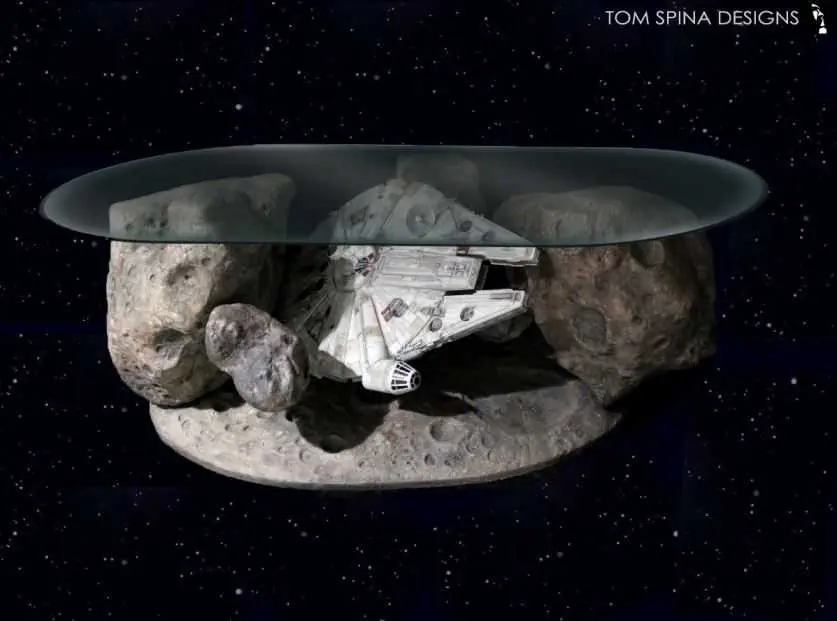 If you have already made up your mind to order this table, here's something to go along. You're looking at a custom made ceramic Star Wars Storm Trooper Coffee Mug. The mug comes with a removable lid to help compliment the Storm Trooper looks, and has a 24 ounce holding capacity for any beverage. Both, the cup and the lid house an elegant glossy look which accentuates the "feeling" of a real Storm Trooper helmet.
Prices pulled from the Amazon Product Advertising API on:
Product prices and availability are accurate as of the date/time indicated and are subject to change. Any price and availability information displayed on [relevant Amazon Site(s), as applicable] at the time of purchase will apply to the purchase of this product.
From the way I see it, the Millennium Chase table only lacks you and this custom Storm Trooper mug. You can kick back and bask in the ambience of a sci-fi world where Star Wars is no longer a figment of your imagination anymore. By the way, if I were you, I'd have piled the table with Star Wars comics and figurines to show my love for the galactic empire.
TFB Latest Posts
---
---