This article may contain affiliate links. If you make a purchase, we may make earn a commission at no cost to you.
Last Updated on
Give Your Kids the Gift of Star Wars Luke Skywalker Landspeeder Vehicle
The Empire strikes again; this time it's for a noble cause though. Folks at Radio Flyer have released the portable and fully drivable version of the official Star Wars Landspeeder. Technically, the concept is not brand new. However, every once in a while, companies tend to release products to "astound" us. As a parent, I can guarantee that this one's the real deal. Read more…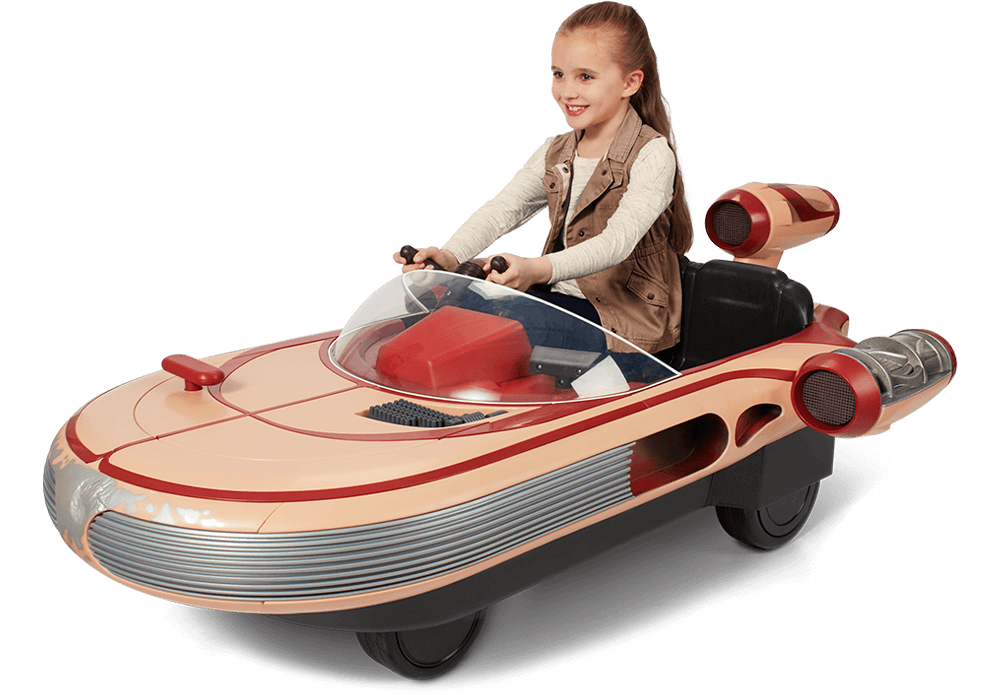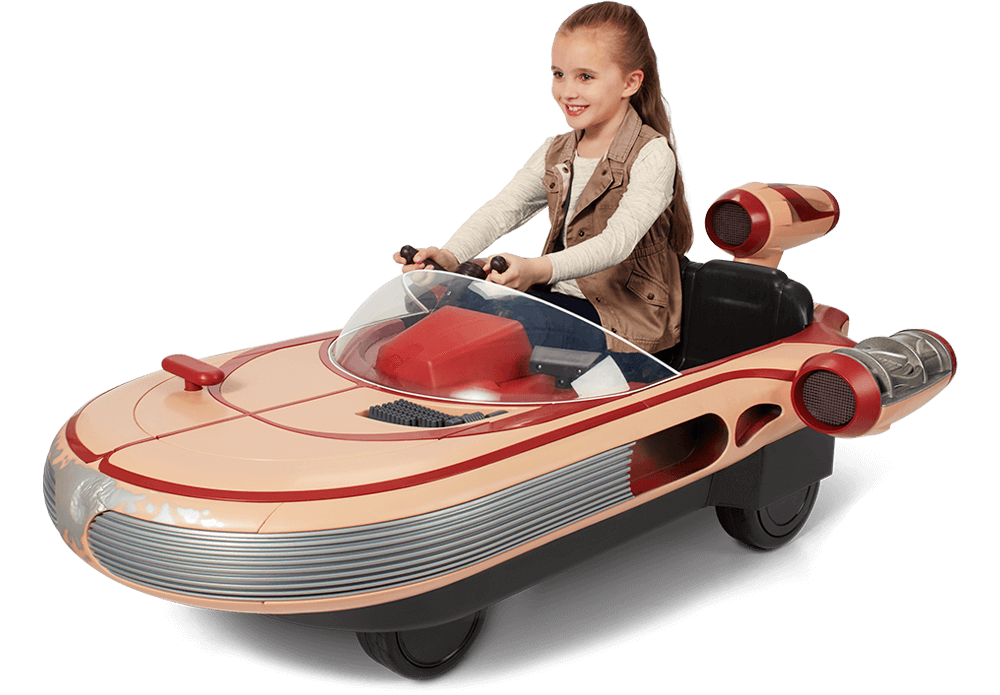 Good Stuff About Star Wars Luke Skywalker Landspeeder
The Star Wars Luke Skywalker Landspeeder is already enamoring kids all over the world. Parents couldn't be more excited to trust a high profile mini car. The Landspeeder is not only safe to drive, but can be depended on for a long time.
Luke Skywalker Landspeeder weighs in at 63 Lbs.
The cart's carry capacity is 2 kids at the same time. It can easily handle weight limit up to 160 Lbs.
Total length of the vehicle is approx. 65 Inches.
Star Wars Luke Skywalker Landspeeder features automatic gear transmission. (*2 FWD Gears, 1 Reverse Gear)
Rechargeable 12V battery. Maximum drive time is 4.5 – 5 Hours on full charge.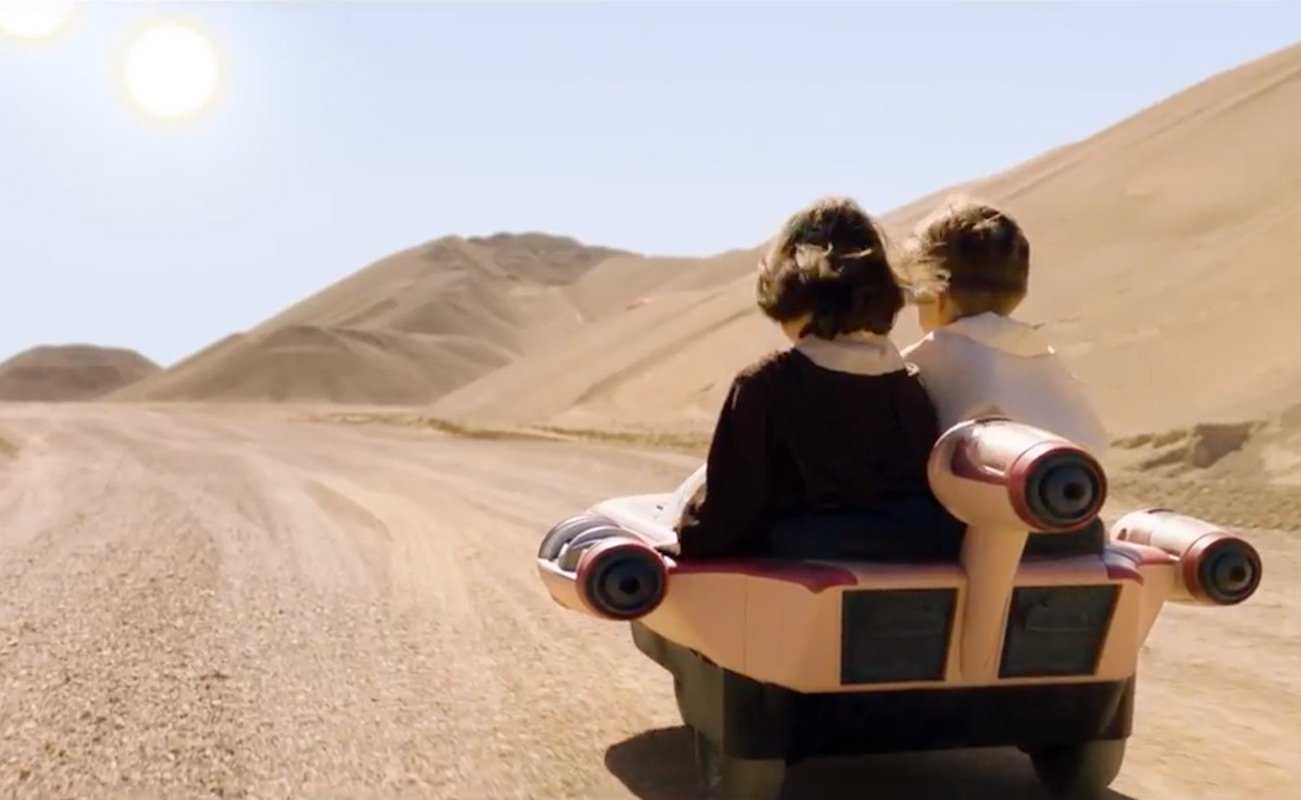 The "top" speed for Star Wars Luke Skywalker Landspeeder is 5 Mph. I guess this speed limit is more than enough for the sanity of your kids, and others around them. You don't want them to bump into other kids, or cause mayhem in the entire neighborhood. Radio Flyer used high grade chassis to ensure that the young riders remain safe and the vehicle is not prone to minor level damage.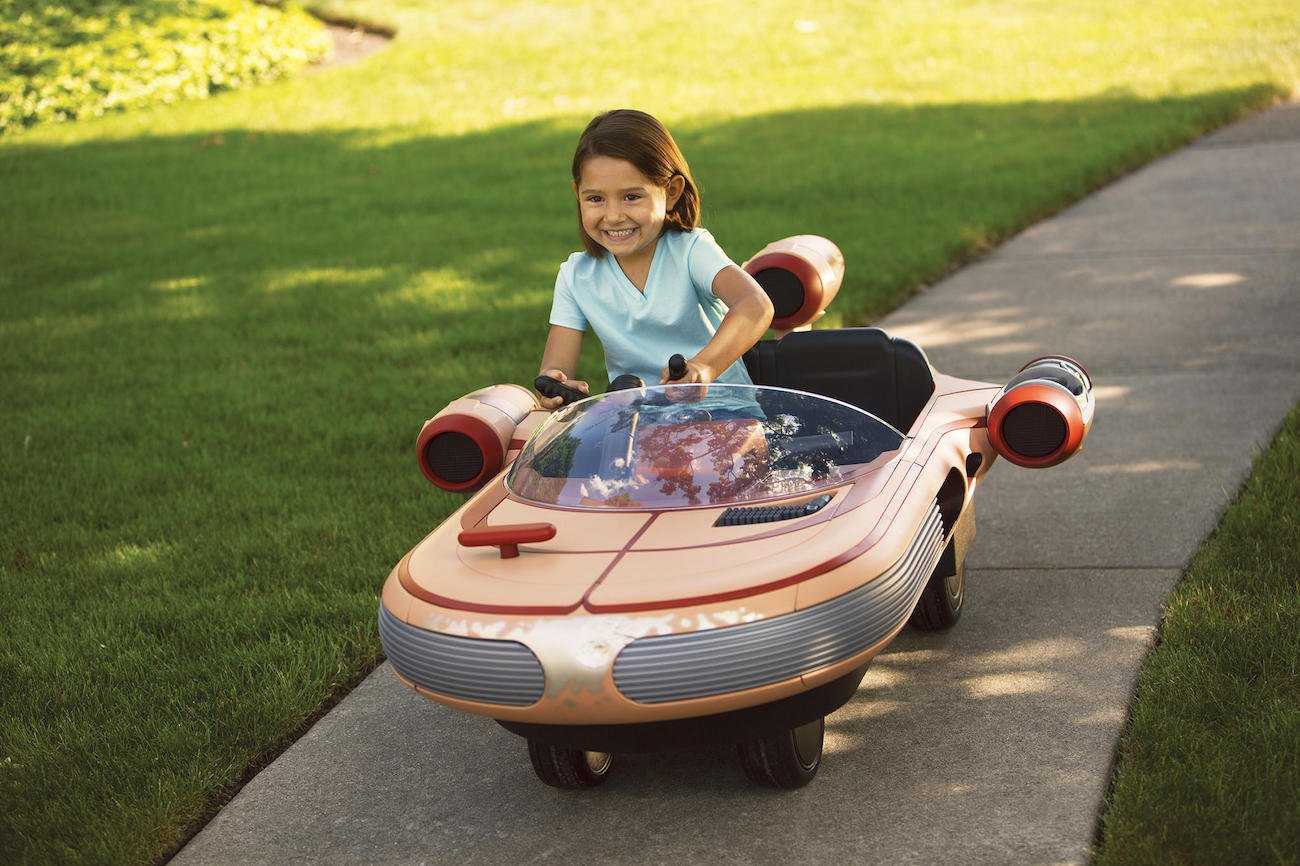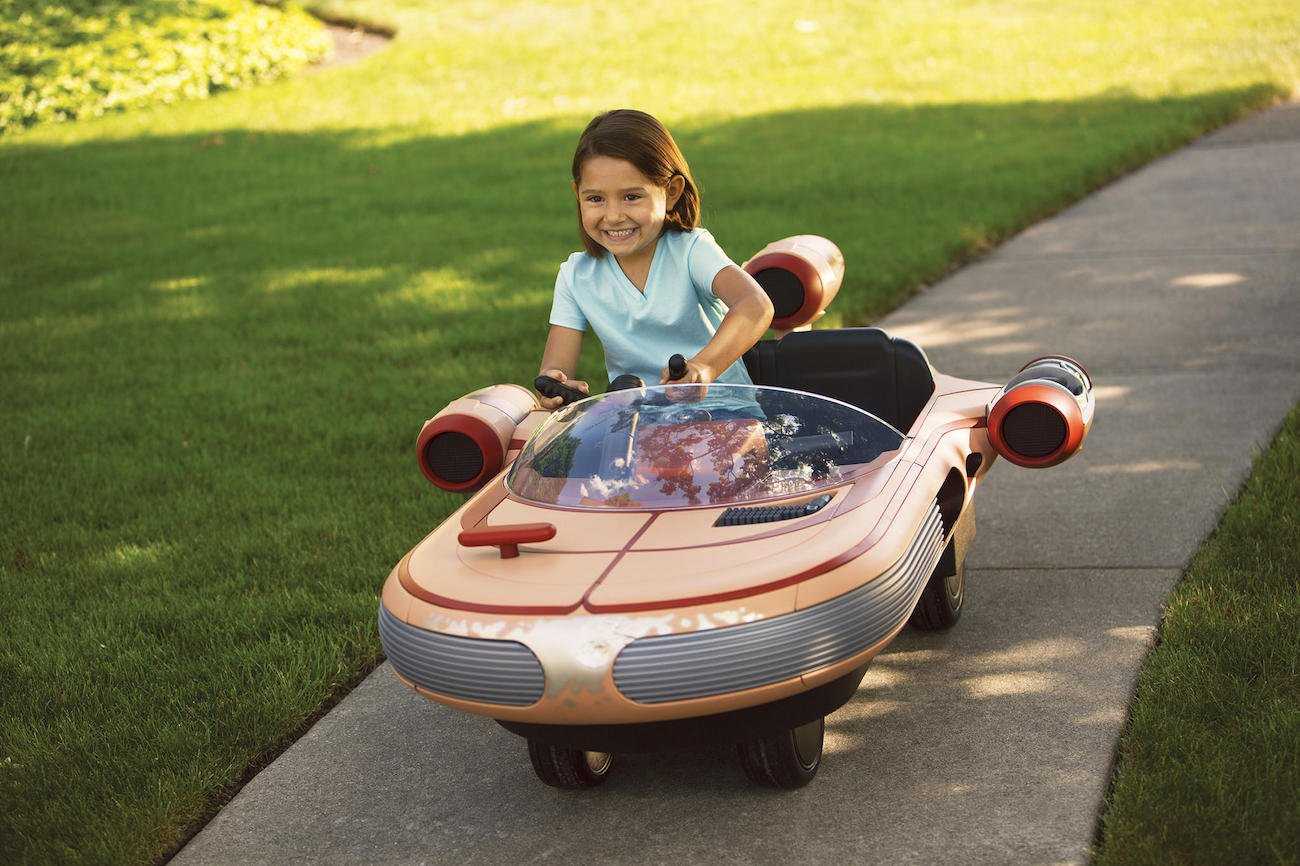 Overall Radio Flyer has done a marvelous job on modeling their version of the Star Wars Luke Skywalker Landspeeder. All the tiny little details, right down to the missing cowling on the left-side engine. They also worked hard to give the illusion of anti-gravity propulsion. The bottom of the Landspeeder was intentionally painted black. The four tires are installed slightly inward under this carts' body, so that parents and bystanders don't get to see the tires at first glance.
What Else Is In There?
The entire package is a solid deal. Although Star Wars Luke Skywalker Landspeeder will set you back by $500, your kids are going to love it. They will brag about the Landspeeder around the entire block. Other kids are in for a lot of ooohhss and ahhhs, and of course the good old fashioned jealousy factor. They will push their parents to buy them a Landspeeder at all costs. Think of all the sales you will be bringing to Radio Flyer! All it takes is to buy one Landspeeder and let kids be kids (bwahahahahahaha).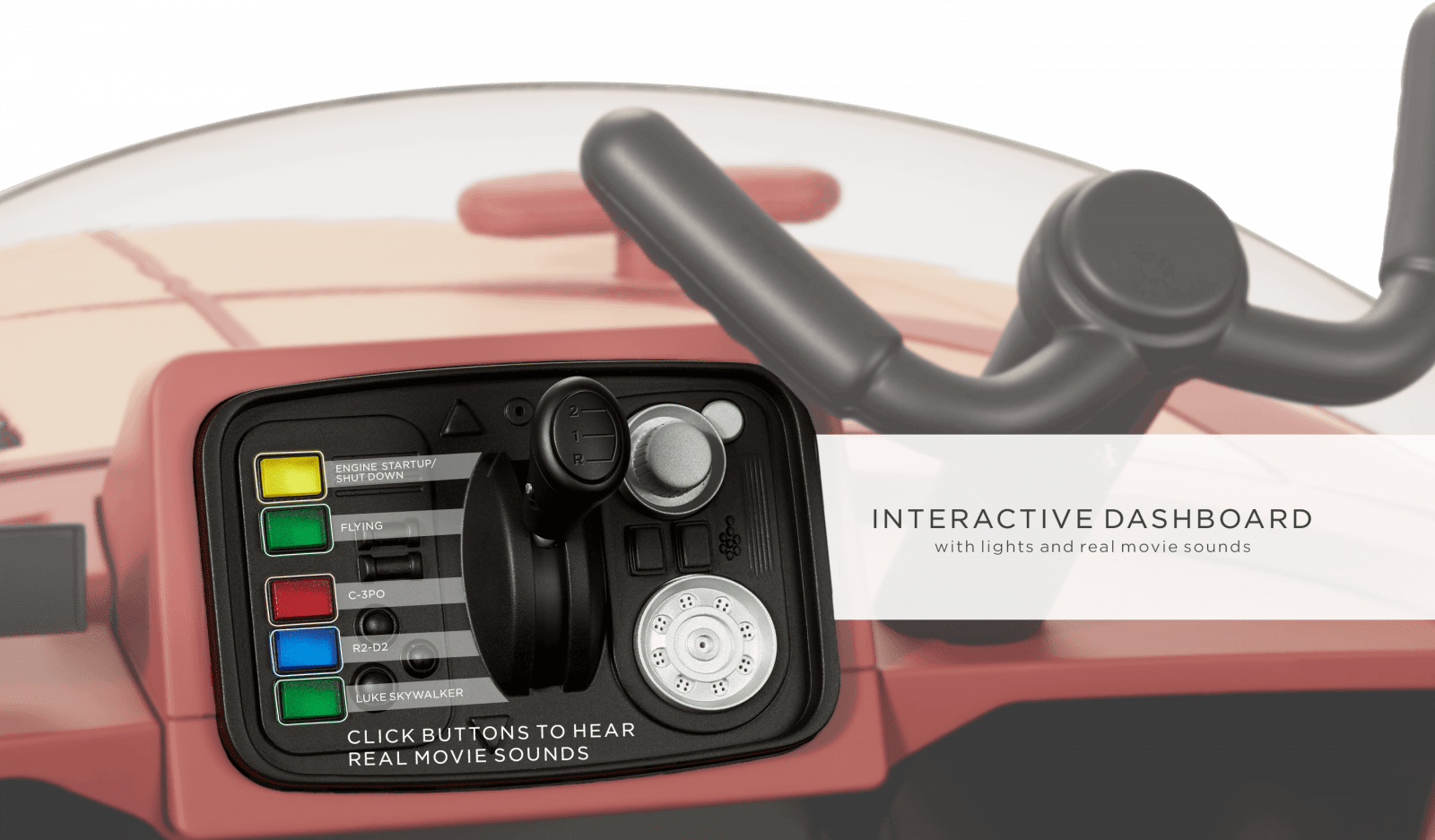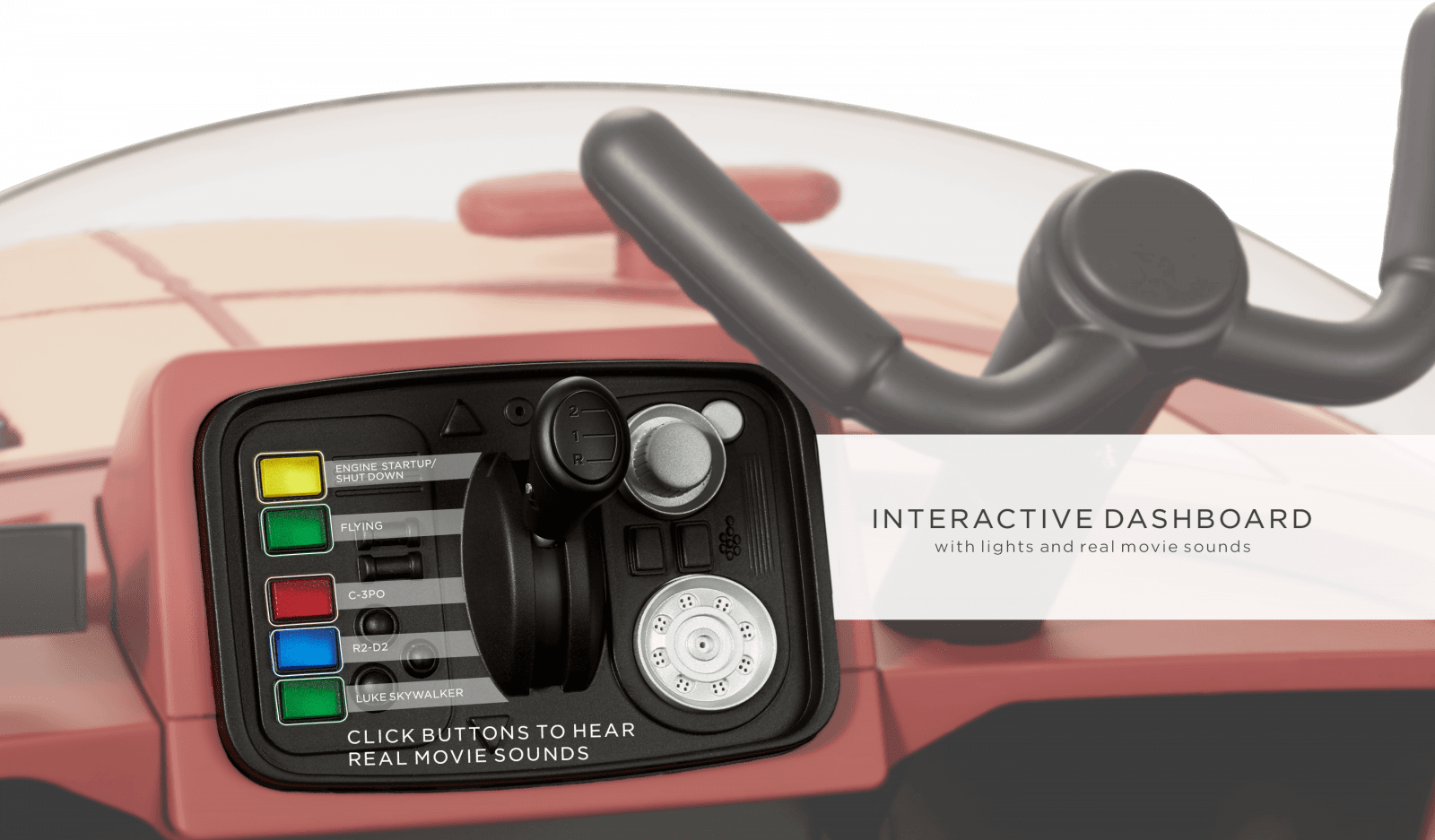 Last but not the least, Star Wars Luke Skywalker Landspeeder has dedicated tunes box installed behind the dashboard. On the front end, your kids will see a small control panel. Each button is responsible for a high quality sound effect to keep the riders glued to the seat for hours on end. After all, the idea of having kids sitting in the Star Wars Luke Skywalker Landspeeder without any sounds seemed a little silly to Radio Flyer.
The entire package is available for more or less $500. Shipping cost is not inclusive in the deal. You will have to contact Radio Flyer or an authorized retailer to get an idea about additional expenses. For full list of countries and any extra order details, please visit the Radio Flyer website today.