Auto Amazon Links: No products found.
If you've made a resolution or goal to use your time more productively, have I got a product for you. The is a visible time tracking device that sits on your desk. It looks like an 8-sided Dungeons and Dragons die but counts your time through tasks. Funded on Kickstarter in January 2017, Timeular is now available for purchase.

Timeular works with an app to help you see where you're spending the most time, document your time spent, and edit your time report. According to Timeular, executives at top companies like Google and Cisco use the device, so you'll be in good company this year. Using Timeular, you'll be able to see what's wasting your time and make changes for the better. You can even tag your tasks.
So what exactly is the Timeular? It's an 8-sided physical device that sits on your desk. You use the included erasable marker to label the tracker, connect it via Bluetooth to the software and let it start tracking once you flip it to the side for the current task. You can create and reassign tasks as much as you want, using it over and over. It works with all devices including Mac OS, Mac iOS, Windows, Android and iOS.  It's meant to make it easier to track your time without having to painstakingly enter each thing you're working on. The battery included isn't rechargeable but can be replaced and lasts around 1 to 1.5 years.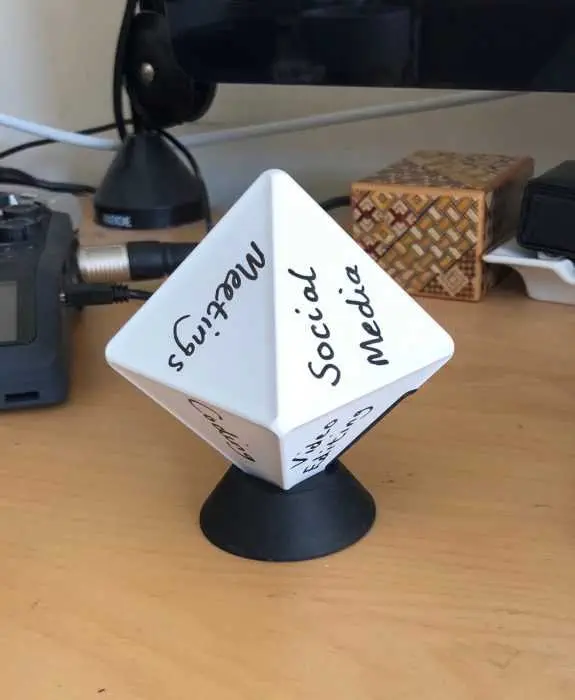 Timeular is available in two versions: Pro and Starter. Pro is for the professional user and offers all of the features below for $49 for a 1-time fee for the tracker, then $9/month and user.
Export your data for invoicing and planning

Optimize your workflows with our integrations

Receive your Weekly Time Report via email

Enjoy our priority support

Integrations with the following business apps:

Toggl, JIRA, iCal, Google Calendar and Outlook calendar
The Starter version is for those who just want to use the Tracker and costs $99 as a one-time fee. It comes with the ability to track up to 8 activities, and have data history access for one year, however, all of the other features aren't available. If you're a freelancer or contract worker, this might be a good option for you to help streamline your productivity or do hourly billing. I'd also recommend it perhaps for those who may do the Pomodoro method of work where you work for 25 minutes and break for 15, then repeat.
Each package comes with the tracker, base, labels, and a pen, plus free shipping and a 14-day money-back guarantee. Both also work with the Timeular mobile apps.
I've used multiple time tracking software including Toggl and Todoist but you're pretty limited in free or cheap services. I can see the appeal of the Timeular, especially since I'm a pen-and-planner person and like tangible things when it comes to productivity. You can download the software for free and take it for a test run to see what you think.
TFB Latest Posts
---
---