TFB Short Clips
Campers don't get much better than the Toyota Hilux Expedition V1.
Camping only enters the realm of "fun" the further you are from civilization. No one goes camping and thinks to themselves, "I hope I can see the road from my campsite." The idea is to get away from it all and what better way to do that than with a serious off-road camper like the Toyota Hilux Expedition V1.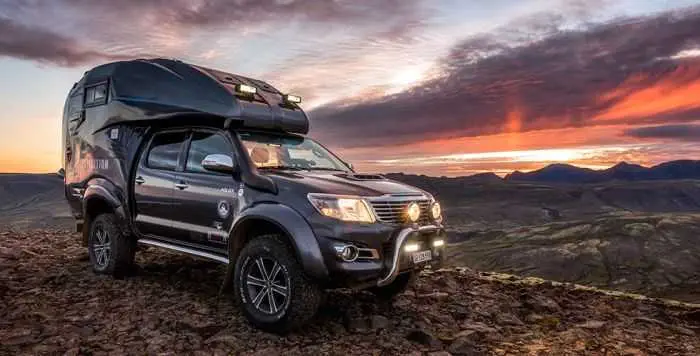 Nicknamed Úlfur which means "wolf" in Icelandic (because you're not cool until you have an Icelandic nickname associated with a vicious animal), the Expedition V1 converts an already awesome 4×4 off-road vehicle like the Toyota Hilux into the camper of your dreams with all the amenities you would need to make your stay in the wild as comfortable as possible.
This beast was built by Stefan Forster, a photographer, who wanted to explore the vast landscape of Iceland undeterred by the lack of roads and rugged terrain. It took him a year to get this guy built with a few companies like Hurter Offroad, Geocar, Fox and Arctic Trucks Iceland putting in the work.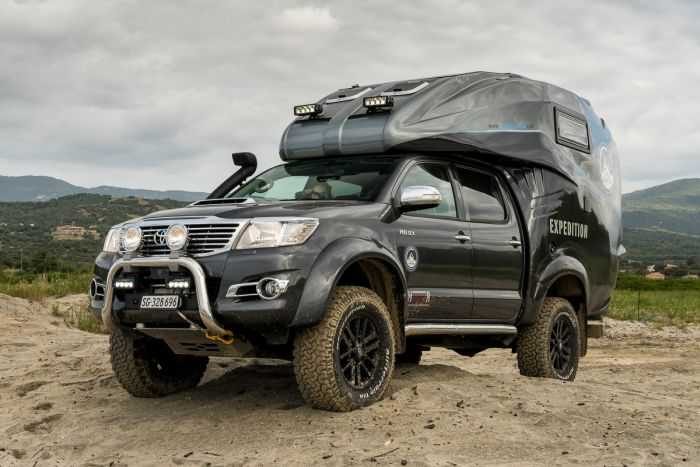 The transformed Toyota Hilux sits atop heavy-duty tires and is driven by a 3.0L 225hp engine. It has the clearance to get over the worst of roads and can even drive straight through water without so much as a single problem.

Additional off-road features that'll keep you trucking include HELLA lights, underbelly protection, a WARN cable and a TJM snorkel.
The real joy here though is the attached flatbed cabin and all the space it affords. We're talking real estate for up to five people. There's a full-blown kitchen, seating around a table and a bed for two just in case you want to…you know…play cards.
There's even a little shower set-up for the times you're out there so long you begin scaring away the animals with your stench. "Oh no, not me, Nick!" Yes, you.
Now I'm sorry if I've misled you into thinking this badass vehicle was for sale. It was custom-built by Stefan for his adventures. But the Toyota Hilux is available for purchase. If you have time and resources, this might not be a bad idea for a project.
It'll definitely be a one-of-a-kind vehicle for you to brag to your friends about. Ok, so two of a kind but that dude's all the way over in Iceland. It doesn't count.
TFB Latest Posts
---
---
---