How to make a great bacon wrapped grilled cheese sandwich – while you're working from home.
Due to the rapidly spreading coronavirus, companies around the world, large and small, encourage employees to work remotely or from home. Avoiding commutes on public transport and large group gatherings will minimize the human-to-human spread of COVID-19. Working remotely or from home, cuts out long commutes can save you hours in your day. With all that extra time, spending it on preparing your own food is an excellent investment.
With the right recipe and practice, you can prepare delicious meals in less than half an hour. You have control over your ingredients, you can cater to any food allergies you may have, you save a lot of money, and most of all, you get the satisfaction that you created the meal.
Making your own food at home that is as delicious as what you get when you eat out is very satisfying. This little recipe creates an amazing little bacon wrapped grilled cheese sandwich. You'll wonder how you ever lived without having eaten this all your life. This is a simple recipe with just 3 ingredients and takes 25 minutes. All you need is some bacon, bread, and cheese. Too easy. Thank you Buzzfeed Food for introducing me to this amazing bacon creation.
For more great yet simple DIY food recipes, check out our food section! For extended lockdowns, and you have to resort to scrounging for food, check out our roast squirrel recipe!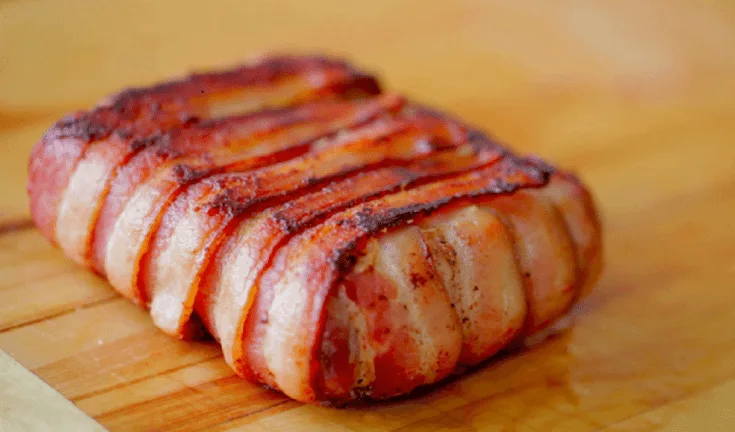 Yield:

1
How to make a great bacon wrapped grilled cheese sandwich
Ingredients
Bacon (10 strips)
Bread (2 slices)
Cheese (1 - 2 slices)
Instructions
Step 1

Lay 5 strips of bacon in a row.

Step 2

Place a cheese sandwich (bread, cheese, bread) in the middle of the bacon strips.

Step 3

Wrap the Bacon strips around the sandwich, all in the same direction.

Step 4

Lay 5 more strips of bacon in a row rotated 90 degrees from the first row of bacon.

Step 5

Fold the second batch of bacon over the sandwich.

Step 6

Place bacon wrapped sandwich onto a hot pan (medium high heat)

Step 7

Sear both sides until bacon is cooked, around 5–7 minutes per side.

Step 8

Slice open diagonally from corner to corner, watch the melted cheese ooze out and enjoy!
Nutrition Information:
Yield:
1
Serving Size:
1
Amount Per Serving:
Calories:

352
Total Fat:

22g
Saturated Fat:

10g
Trans Fat:

0g
Unsaturated Fat:

11g
Cholesterol:

62mg
Sodium:

906mg
Carbohydrates:

16g
Fiber:

1g
Sugar:

2g
Protein:

21g
Nutrition information isn't always accurate. Calculations are based on typical serving sizes. Products from different brands may vary in nutritional content. Consult a professional nutritionist for more accurate assessment of nutritional information.
TFB Latest Posts
---
---