Sony has brought back the Walkman and it has received a sleek new update. While it's not the portable Walkman of your youth, the DMP-Z1 Digital Music Player Signature Series is a high resolution digital music player that's custom-made for those who prefer their audio high-quality. The DMP-Z1 will take your digital music to new heights with Hi-Res audio thanks to it capturing and recording at a higher rate than CDs at 24-bit/192 kHz and beyond. The result is as close to the original studio recording as possible and should deliver the "ultimate" in the headphone experience, Sony promises.
Appearance-wise, this digital music player is something else. It's well-crafted and every detail has been well-thought. The exterior is made of aluminum as are the keys. This design choice adds a sleekness, though one does worry about fingerprints with that mirror-finish. But we can't fail to mention the elegant gold stylings, including that gold-plated rotary analogue control — that's a thing of a beauty.
A 3.1″ (7.8 cm), WVGA (800 x 480 Pixels) touch screen lets you operate all of the controls. There's a TFT color display and music searching options include All Songs, Artist, Release Year, Playlists, Album, Genre, Composer, Hi-Res, Recent Transfers, SensMe Channels, and Folder.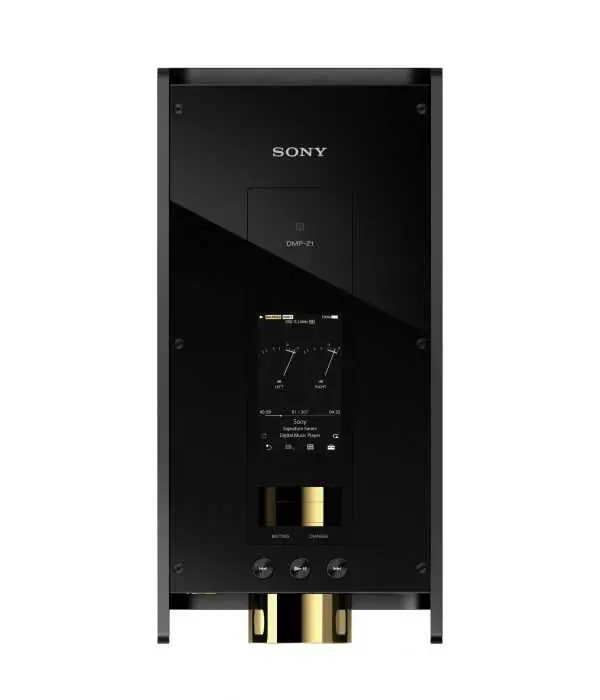 The coolest feature of the DMP-Z1 has to be its Vinyl Processor: Sony claims that you can add "the richness of the melodies and dynamics of your favorite albums by giving back the character of vinyl to your digital tracks." This is accomplished by doing a "subtle reproduction of the low-frequency resonance, tone-arm resistance, and surface noise deliver an authentic listening experience." Other sounds effects of the device include a 10 Band Equalizer/Tone Control, DSEE HX, and Dynamic Normalizer. You can stream all of your music through the DMP-Z1's included Bluetooth connection and a smartphone. When plugged into your laptop, the DMP-Z1 substitutes its audio hardware for your computer's sound processing system for high-end sound. These tracks will also benefit from the "digital to analogue audio conversion and DSEE HXTM upscaling, as well as the Vinyl Processor and Equaliser etc." Supported audio files include MP3, WMVA, FLAC, AAC, MP4, AIFF, DSD, APE, and MQA.  The DMP-Z1 reaches 1,500 mW for crystal-clear quality in nearly any pair of headphones.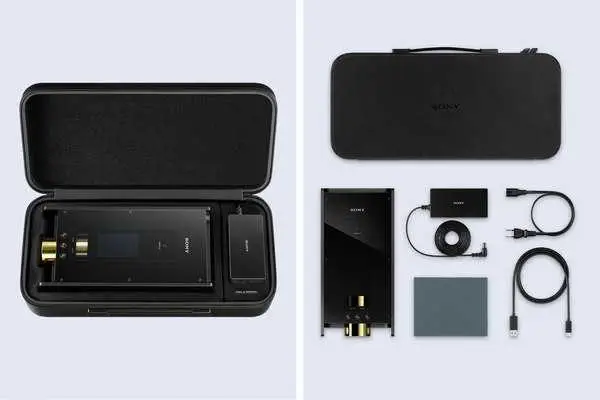 The DMP-Z1 comes with USB Type-CTM cable, AC adapter, AC power cord, carrying case, and cleaning cloth.  You'll definitely need the carrying case since this unit is no small portable device, it's big. The approx. measurements of the the DMP-Z1 are 5.44″ x 2.69″ x 10.98″ (138.0 mm x 68.1 mm x 278.7 mm). It uses a built-in rechargeable lithium-ion Battery that delivers  10 hours for non-hi-res music and 9 hours for hi-res music. There is no quick-charge nor is the unit waterproof. Internal memory of 256GB is built-in 256GB and it also features 2 External memory slots for Micro SD, Micro SDHC, and Micro SDXC.
None of this comes cheap, however. Expect to pay near $9,000 USD for the player at retailers like Best Buy, Amazon, and other stores that sell electronics. Serious audiophiles will likely dig it though, and they must, because it's out of stock in some stores.
TFB Latest Posts
---
---