Save $4.00 with Centrum Multivitamins Deals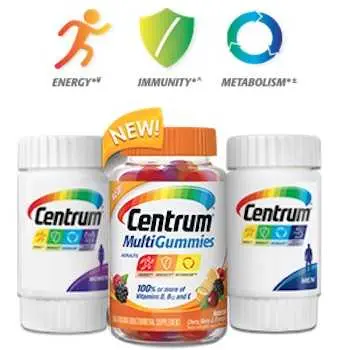 Save $4.00 off (1) Centrum Multivitamins Printable Coupon
(Click the above link to get this coupon)
Your health is of utmost importance. When you're overloaded with homeschooling your kids and working from home, you might be tempted to take a short cut with takeout and frozen meals. By supplementing with centrum multivitamins though, you can rest assured that you and your family can get all the nutrients you need… even with that extra pizza delivery on weekdays!
Centrum is the most complete multivitamin supplement available. It is packed with a broad range of micronutrients that are vital for cell health and growth. Specially formulated centrum for seniors as well as growing kids are also available. With this coupon, you save $4.00 off when you get one bottle of Centrum Multivitamins.
CVS Deal Matchup:
Buy (1) Centrum Multivitamins @ $9.79
Use (1) $4.00/1 Centrum Multivitamins Printable Coupon
Final price= $5.79 only!
Can't find the Centrum Multivitamins Coupon Deals?
If you still cannot find any coupons after clicking the link, that means all deals have expired!
We try our best to provide our readers with the latest & best deals but sometimes these deals and coupon offers have limited availability and can expire.
Other Deals or Coupons
Search all related deals here for all our Deals Categories. Check out search term "Supplements and Vitamins".
Looking for the latest Coupons? Click HERE to see a list of our daily updated Newest Coupon Offers.
Did you know that our daily updated Coupon Database has coupons for thousands of items? See what savings are available and check out our Deals Resource.
Looking for more Deals, Freebies, and Giveaways? Be sure to visit our daily updated coupon offers or visit Amazon.com to find out the latest trending deals!
TFB Latest Posts
---
---