Decorate Easter Eggs Like a Champ with The EggMazing Easter Egg Decorator Kit
Prices pulled from the Amazon Product Advertising API on:
Product prices and availability are accurate as of the date/time indicated and are subject to change. Any price and availability information displayed on [relevant Amazon Site(s), as applicable] at the time of purchase will apply to the purchase of this product.
It's Easter soon and if you have kids, that means you probably plan to decorate some Easter Eggs. Look at most stores and you'll see kits to decorate Easter Eggs that haven't changed since you were a kid. Traditional Easter egg kits are packaged with paper sleeves and smelly dye.
Once you open the package, you need to take the dye out, set it up with cups, and it becomes really messy. That's fine, but not to sound like an infomercial here, isn't there a better way? It seems so in the form of The Original EggMazing Kit to Decorate Easter Eggs, which promises all of the fun, none of the mess as it "utilizes a patent pending design that provides a new and creative way to decorate Easter eggs with the simple touch of a colorful marker."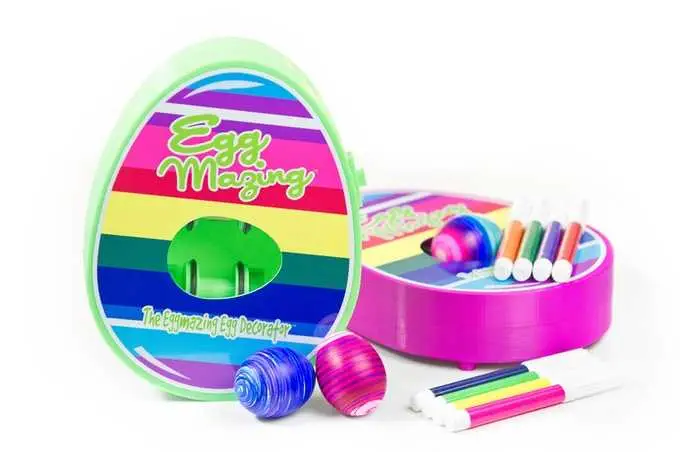 Funded on Kickstarter for over $7,000, The Original EggMazing Easter Egg Decorator Kit is an easy-to-use kit that includes 8 quick-dying non-toxic markers (ATSM D4236 lead-free) in dark green, purple, orange, pink, blue, yellow, red and light green, but the centerpiece is the Eggmazing Machine, an egg holder that spins. Instead of dipping your eggs into the dye of your choice, you just let the machine help you do the work.
The Eggmazing Machine uses 4 AA batteries and holds the egg, spinning it to let you get to work. You just hold the marker to your egg and as the machine spins, all kinds of designs like stripes, lines or checks can be formed. It's so easy to do a child could literally do it and should, since this is a great way to let kids be creative all they want.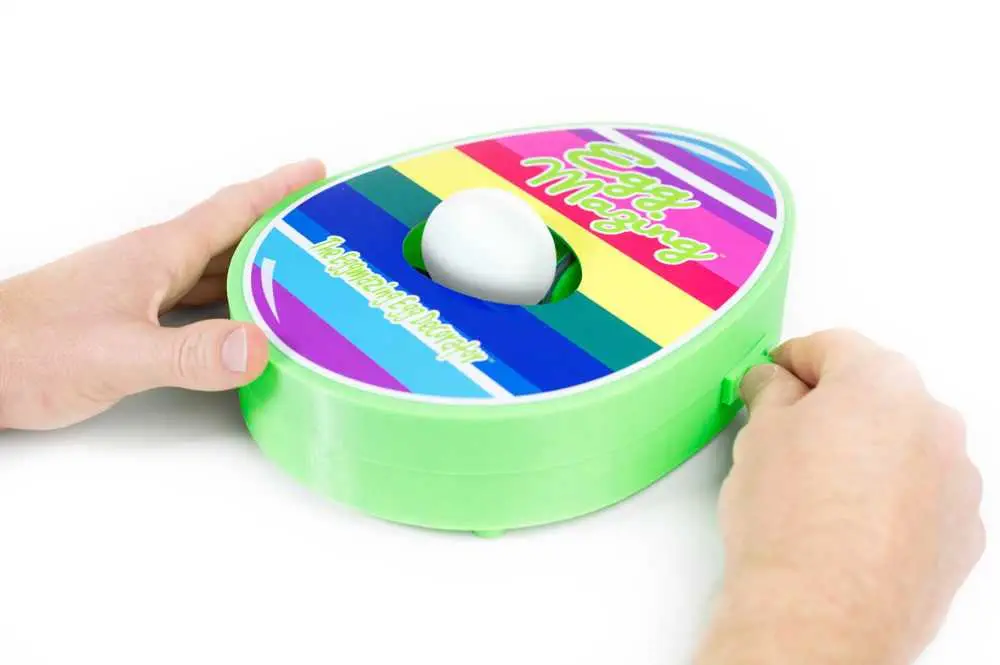 You're recommended to use large hardboiled Grade A eggs for the best results, according to the manufacturer. I have to say, this is a cool and efficient way to decorate eggs, and seriously, who likes dealing with the dye? This is a much better alternative to that.
I also like the way that this product can be reused again next Easter, compared to the Easter dying kits that are good for one use. You may just need to buy a new marker set if you run out of ink; permanent ink is recommended. The manufacturers say that they use the same market set at over 300 toy shows to demonstrate The Original EggMazing Easter Egg Decorator Kit and that the markers last.
The batteries aren't included in the kit, but the machine should give you around 30-40 hours of battery life depending on the brand.
The Original EggMazing Easter Egg Decorator Kit is available at the official website and Amazon, plus it may be carried at your local toy shop. You'll also be able to take the same decorating fun to their other product, Treemendous Ornament Decorator, which features a machine to hold a spinning ornament. Yes, their company is big on puns and fun, apparently. This year, decorate easter eggs like a champ.
TFB Latest Posts
---
---