KATRIS Modular Stylish Cat Tree
Prices pulled from the Amazon Product Advertising API on:
Product prices and availability are accurate as of the date/time indicated and are subject to change. Any price and availability information displayed on [relevant Amazon Site(s), as applicable] at the time of purchase will apply to the purchase of this product.
Let's face it, cat trees and cat furniture are pretty boring and they're kind of messy too. They're typically covered with carpet or furry material, which then gets all over your house and you have to vacuum it up. But luckily there's a new way of modern cat furniture made of high-quality wood, sisal and other natural materials.
The KATRIS Modular Cat Tree is a set of 5 wooden blocks that will let you build a cat tree or other types of modular furniture. Finally a set of cat furniture that takes into consideration your design needs too.
Cats are notoriously fickle creatures, so the KATRIS system was made to be changed up as you need to improve enrichment and environment. The whole system is made of heavy-duty cardboard for scratching fun, but is durable enough to sustain 300 lbs. One of my cats is about 20 lbs, so this is good for me.
There's a range of finishes so you can match the colors to your design scheme too, with maple, teak, white, multi-color, black, and kraft paper. Each block can fit together in a variety of ways to make a coffee table, cat tree, side table and anything else you can imagine — there's 10 clips included to secure blocks; you can even use it on the wall.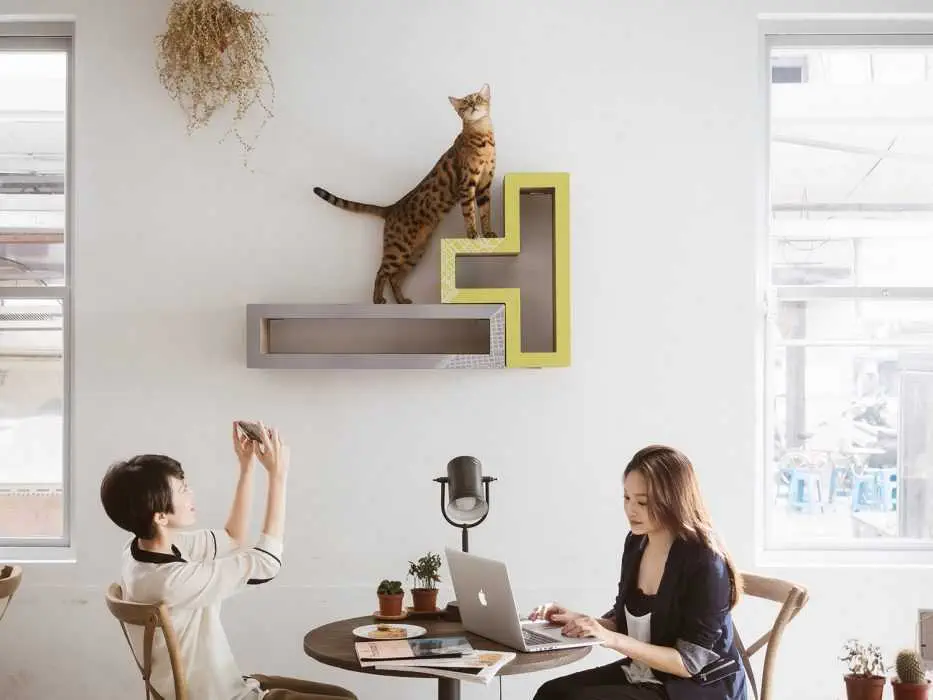 For those worried about sustainability, don't. The KATRIS system is made with 100% recyclable materials and soybean ink for the cover. It also comes with SGS certified glue used and FSC certified paper, plus with 90% post-consumers recycled content. It was all handcrafted to ensure strength too.
The shapes of the KATRIS break down as follows:
O shape=16 x 8 x 16 inches
L shape=24 x 8 x 16 inches
T shape=24 x 8 x 16 inches
Z shape=24 x 8 x 16 inches
I shape=32 x 8 x 8 inches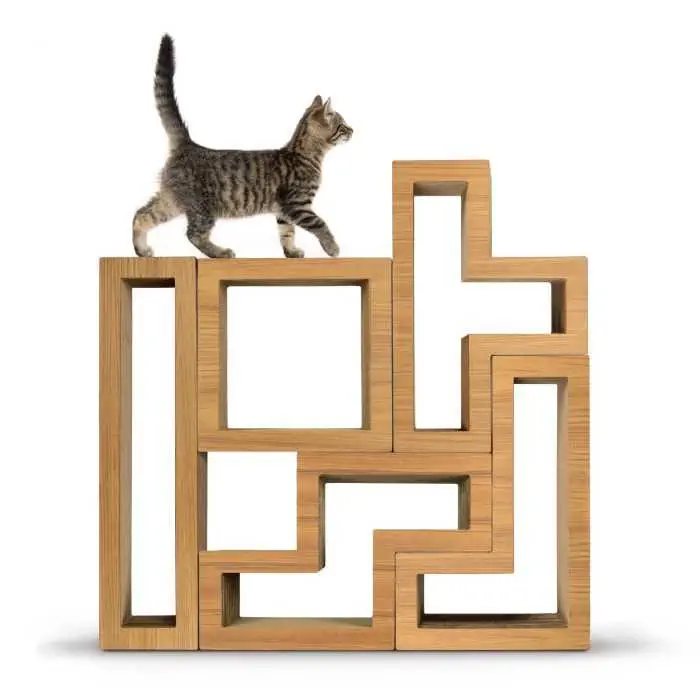 One of the biggest elements is to me is the scratching aspects, because this cat tree is intended to save my furniture. The KATRIS features cardboard but not those flimsy cardboard pieces that they promise that it produces a 10th of the shredding amount for one competitor company and 2 times less shredding amount than another competitor. I'd never heard of the KATRIS system before this year, but it's apparently been seen in My Cat from Hell, Catster, and other cat-friendly places.
The KATRIS Modular Cat Tree comes in 5 blocks, but then you can also opt to get the KATRIS Lynks system, modular cat scratchers that come in 2 pieces with real pieces of teak. These too can be shaped into furniture in conjunction with the KATRIS Modular Cat Tree system to form a cat bed, post, an incline, an inclined post and more.
Put your years of Tetris playing skills to use and rearrange the Katris Cat Tree blocks in impossible shapes! Keep your cats entertained, engage your brain and change your decor all in a way that keeps your house looking sleek and modern. Your cats will love you, your brain will love you, and have the perfect conversation starter with your friends and guests! The KATRIS cat tree will provide hours of entertainment for you and your favorite pet. Finally the rest of your furniture will no longer serve as temptation for your feline family members!
If you want to buy the KATRIS or just see it in person, you can find it at a store near you with the store locator. The KATRIS website features the bundle for sale under $200 or you can purchase it (or the Lynx set) on Amazon. Say goodbye to those gaudy carpeted cat trees and add some style to your cat's place…and yours!
TFB Latest Posts
---
---