The JCB GT Dragster Backhoe – The Fastest Backhoe Loader In The World
The Guinness Book Of World Records has confirmed that the JCB GT Dragster Backhoe is officially the fastest backhoe loader in the world. The over 1,000 hp JCB GT Dragster Backhoe is powered by a bigass supercharged Chevrolet V8 big block engine, has a pair of four-barreled Holley carburetors and eight, 20-in. straight pipes for it's exhaust. JCB claims top speeds of around 120 mph. The loader and backhoe ends are made completely out of aluminum. The JCB GT Dragster BackhoeWith is built on a light weight steel chassis and JCB Fastrac tractor rear axle.
The JCB GT Dragster Backhoe At The Rocky Mountain Nationals – Video
The JCB GT: The World's Fastest Backhoe – Video
Capable of attaining speed up to 115 mph, the JCB GT is impressive to watch. But to jump behind this machine, you really need nerves of steel and a love of speed.
The original JCB GT became the fastest backhoe in the world when it achieved a top speed of 114.6 mph, at the Santa Pod Raceway in England. The frame was designed to look like a backhoe, but the JCB GT was really a meticulously engineered racing machine.
Neil Smith, The JCB GT backhoe driver, attained a blazing speed of 115 mph to earn a place in the record books as the fastest backhoe driver in the world.
2014 Bathurst 1000 – JCB GT Backhoe – Video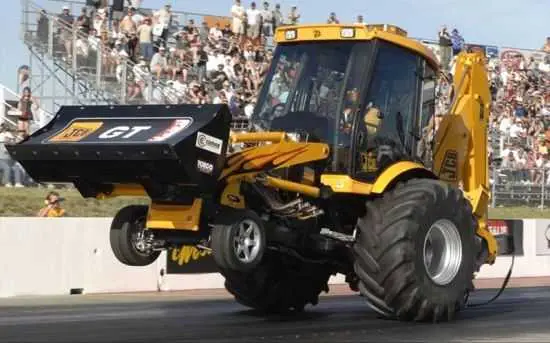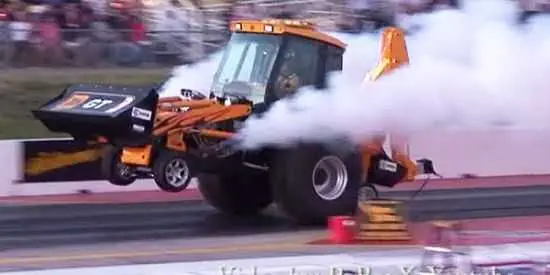 Follow Me On Google+
TFB Latest Posts
---
---