Modobag
Prices pulled from the Amazon Product Advertising API on:
Product prices and availability are accurate as of the date/time indicated and are subject to change. Any price and availability information displayed on [relevant Amazon Site(s), as applicable] at the time of purchase will apply to the purchase of this product.
Next time you're in the airport and you need to get to your gate in a hurry, don't run, just jump on the Modobag. The Modobag could be the coolest travel gadget you'll see because it performs two functions. First, you can use it as a traditional carry-on, but it's also a personal transportation device. Confused?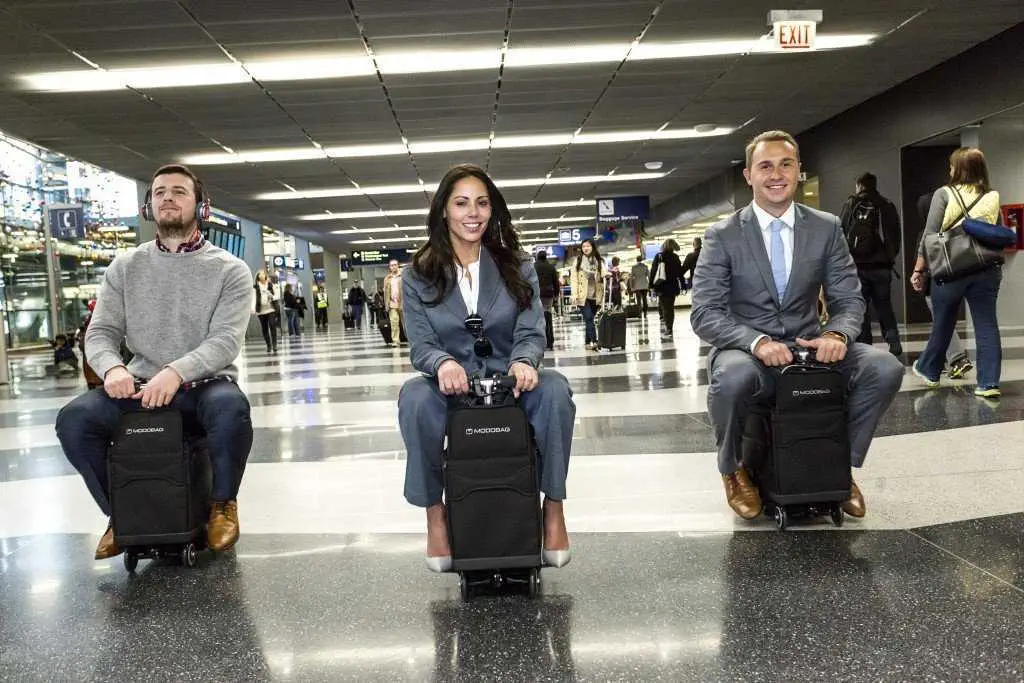 Modobag: Your Personal Airport Vehicle and Bag-in-One
The Modobag is motorized, smart carry-on luggage that was crowdfunded on Indiegogo. The first units of Modobag have started shipping so it's time to look at how this travel technology can help you. You have the option to roll your bag, or hop on and ride it through the airport, as it's completely motorized.
Equipped with a telescoping handlebar, custom high-performance polyurethane wheels, and custom precision brakes, it's tailormade for zipping to your destination in the airport. On top of the bag is a custom plush seat for comfortable riding and the bag is made to accommodate up to 260 lbs.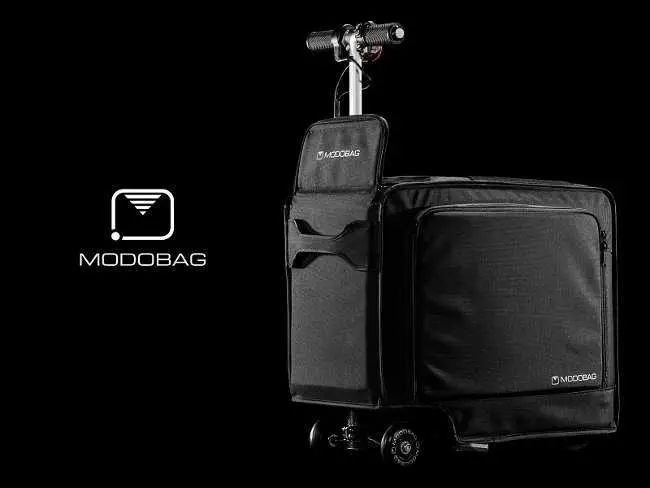 Once you're at the gate, just fold the telescoping handlebar, and you're good to board. The Modobag crew has promised that the bag is TSA, FAA and ITA compliant so travelers should be able to go through airports hassle-free — it's been test-driven at O'Hare, JFK and LaGuardia airports.
The design is even made to fit right into those measuring stalls to assure it's approved carry-on dimensions. The designer of Modobag, Kevin O'Donnell got the idea when he was toting his children through the airport and his kids were riding on the luggage. By working with a motorcycle designer, he was able to invent and design a piece of rideable luggage that can be charged within an hour at a standard household outlet. You can travel 6 miles without a charge and the Modobag goes 8 miles a hour outside/5 mph inside.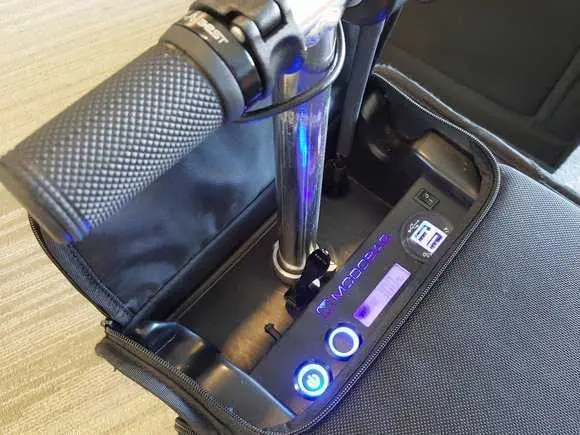 Because travelers need to be connected at all times, the Modobag team added 2 USB ports to accommodate simultaneous or individual charging. There's also a padded crush-proof compartment to protect your valuable electronics while charging and a light-up dashboard to monitor progress.
Switching from outside to inside speeds is easy with the dual speed control button. The included battery has the ability to have 4,000 full charges so it should last for all of your trips. On the front of the bag, you'll find two pockets for your phone and tablet so all of your devices are handy at once. There's even an optional GPRS/GSM proximity alert through a smartphone app.
I don't know about you, but I want to have a Modobag ready for my next trip to Atlanta or NYC's JFK. All of those airports are notoriously hard to race through at times, but with this bag, I'd be zipping around like something out of Mario Kart's Rainbow Road. The Indiegogo backers are getting their units first, and then we should expect to see additional units for sale online.
Want to see more? You can view pictures, see demonstration videos and read the manual at the Modobag website.
TFB Latest Posts
---
---