Must have Selfie Mirror light to Step Up your content creation
That Selfie Mirror light is the latest and hottest twist on the traditional photobooth concept to hit the event space. Whether it's a wedding event, birthday party, Christmas party, promotional event or any sort of private and corporate event, The selfie mirror light can be used for many events not just personal!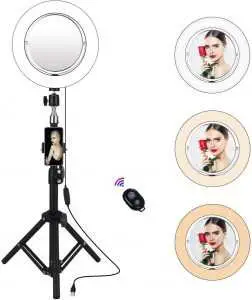 Being able to see yourself, while taking a photo or filming a video is crucial in getting a perfect professional shot. It's a lot more convenient than having to record then viewing them back on your camera. If you've taken selfies on your smartphone but are dissatisfied with the results, you may need some new photographic equipment. A ring light can help you take photos and videos that look pristine and beautifully lit.
A ring light is a circular lighting tool that evenly illuminates the subject of a close-up photograph. Ring lights are popular in portrait photography. In addition to overall studio lighting, a professional photographer or videographer may use a ring light to ensure their subject's face is evenly lit with a pleasing, soft light.
In the era of smartphone photography, LED ring lights are an increasingly common photography accessory. Some selfie ring lights attach directly to your smartphone. Other ring light kits may include a tripod stand, a gooseneck, and a charger in addition to the LED ring light itself.
When you take a photo using a ring light, place the camera lens in the center of the ring; this ensures that your subject is lit evenly from the direction of the camera. Other light sources may produce brilliant lighting on some parts of a subject while leaving others in harsh shadow. By contrast, a ring light that's properly set up on its light stand provides uniformity to the way surfaces are lit.
Fluorescent ring lights produce a relatively bright white light. (This is intrinsic to fluorescent bulbs, not ring lights specifically.) Most of today's ring lights use LED lights, which typically have a softer effect. Many LED ring lights are dimmable, either via an onboard dimmer or a smartphone app. Dimmable ring lights offer more versatility and greater control of color temperature, and they're typically the best option for professional photography and videography.
Photography professionals and hobbyists alike use ring lights in their work.
For macro photography: In macro photography—close-up photography of very small subjects—ring lights help achieve lighting that is evenly balanced in every shot.
For highly detailed close-ups: Ring lights are the best lighting option for close-up photography and videography projects like makeup tutorials. This makes them particularly useful for makeup artists.
For video production: Cinematographers and videographers often use ring lights in their lighting setup, typically in conjunction with other tools like a softbox, a fill light, or a sidelight. A ring light affixed to the front of a camera is helpful when you're filming a subject whose head moves around a lot. Provided the subject doesn't stray too far away, they'll always remain in the light.
For smartphone selfies: If you want to bring out your best facial features, try using a beauty ring light when you take selfies. The ring light effect helps you achieve consistent lighting with a relatively simple lighting setup.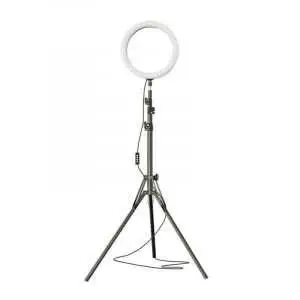 Neewer Ring Light Kit:18″/48cm Outer 55W 5500K Dimmable LED Ring Light, Light Stand, Carrying Bag for Camera,Smartphone,YouTube,TikTok,Self-Portrait Shooting, Black, Model:10088612
Please note: 1. The light stand is packed in a separate box inside the big package box (under the ring light box at the extreme bottom of the box)as shown in the 2nd picture. If you cant find it, please contact seller customer service; 2. Instructions for unfolding the stand are in the 8th picture. The legs are upwards, so please unfold the legs upside down

Kit includes: (1)18/48cm Outer 55W 5500K LED Ring Light+(1)61/155cm Light Stand+(1)Soft Tube+(1)White and Orange Color Filter Set+(1)Ball Head Hot Shoe Adapter+(1)Universal Power Adapter with Plug+(1)Smart Phone Holder+(1)Carrying Bag for Ring Light

Dimmable 18/48cm Outer 55W 5500K 240 Pieces LED bulbs with a wide dimming range from 1%-100%. Special LED SMD design, lightweight and portable

61/155cm light stand is constructed from aluminum alloy, giving it exceptional strength; The soft tube Makes the light rotate freely for the best position. White and orange color filters are made of high light transmission plastic material with steady color temperature

A hot shoe adapter is compatible with Most DSLR cameras and a smart phone holder for most smartphones (iPhone 8 Plus/8/X/7/6, Samsung Galaxy S9/S8, Huawei, etc. ). Note: the camera and the smartphone in the picture are not include
Prices pulled from the Amazon Product Advertising API on:
Product prices and availability are accurate as of the date/time indicated and are subject to change. Any price and availability information displayed on [relevant Amazon Site(s), as applicable] at the time of purchase will apply to the purchase of this product.
TFB Latest Posts
---
---