Personalized Firearm Art – Spell your name and hang it on the wall with this great personalized firearm art.
Movie posters, girlfriend pinups, and pop art is for pretty boys to decorate their walls with. If you're a man who lives on the edge or someone with a sliver of bevy for raw masculine stuff, the Personalized Firearm Art is for you. It doesn't get any better than this because each order is custom made and handcrafted to fill in clients' love for firearms. Eventually, they all walk away with a satisfied grin and a boastful piece of art that carries a personal sentimental value.
This alphabet art service is the kind courtesy of a bunch of people who are war veterans. First off, they decided to honor their love for their country by creating art for their colleagues and family members. Eventually, as time went by, it became more of a persistent habit.
Today, 'Personal Prints' is known as one of the very few companies that create top notch firearm alphabet art pieces strictly on demand. The only downside to their service is that their wall plaques take anywhere between a week or two to arrive. The first few days are spent fulfilling the order, while shipping companies consume the rest of the time.
Anyhow, it makes sense as far as taking the time to create the letter art. However, they can speed up the shipping process, and they should do this if they are looking to grow their clientele. Regardless, this alphabet art is a work of sheer brilliance. Sometimes they take custom photographs of firearms and gun parts at certain angles to make them resemble English letters.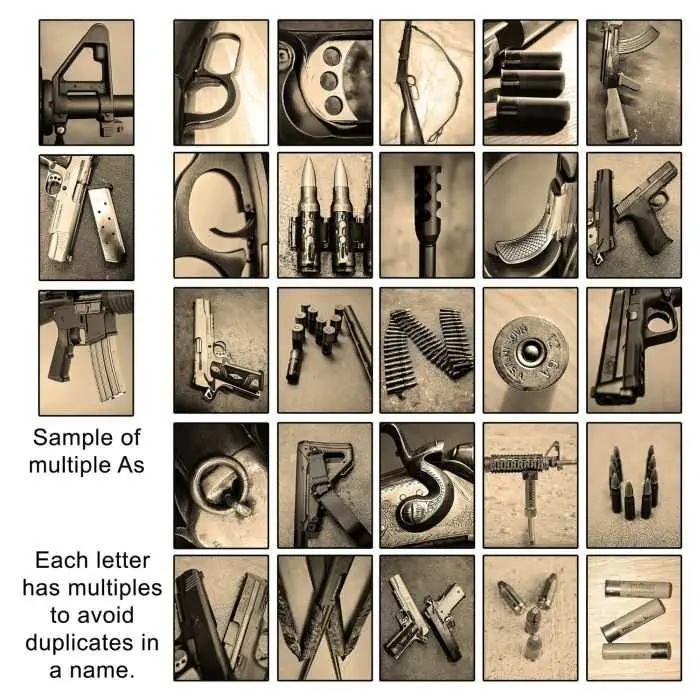 Here are some of the main highlights of this personalized gun art:
All art supports up to 11 alphabets/ characters. Some names are not possible to incorporate in the design because of characters' limitation. You will have to consult with the designer team to see if your order can go through.
Each artwork is available in varied size dimensions. The minimum size comes in a 6.5'' X 18'' block mount and goes all the way up to 13.5'' X 32.5'' high quality canvas mount.
The price range is not uniform. It depends on the number of letters in a client's name. You will have better chances of availing a discount if you have a short name.
Unique and non-repetitive photos in each order.
The way I see it is that the only discouraging factor would be your weird middle or last name. If it is simple, such as James, or Josh or something, you will have no trouble with your order. Oh, and one more thing: special Roman, Greek, and Russian characters are not supported right now. Maybe the company will add some additional character support later if the firearm industry releases some strangely deformed weapons – but for now, it's all there is to it.
TFB Latest Posts
---
---