Shittens Mitten Shaped Moist Wipes – When Normal Toilet Paper Just Won't Do The Job
If you're the kinda guy who tends to get a little poop on his hands when you're cleaning up after a monster poo, these Shittens are just what the doctor ordered. The Shittens mitten shaped moist wipes would also come in pretty handy for babys and pets. Get these HERE.
Shittens Mitten Shaped Moist Wipes
Get these HERE.
No One Wants Poop On Their Hands… Clean Up Any Mess With ShittensTM

These are the revolutionary new way to wipe up and clean up feces while protecting your hands, created by Richie Wilson and first announced on the Howard Stern Show

These are disposable, mitten-shaped moist wipes. While old fashioned, square wet wipes put your hands at risk for all kinds of accidental fecal contamination, the genius mitten shape of a

These provides not only safety from poop, but on a larger scale, emotional peace of mind.

Each eco-friendly wipe is FDA approved and safe for babies, pets and adults.

Each Package Includes 20 Disposable Mitten-Shaped Moist Wipes
Via – Amazon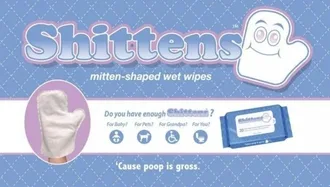 Get these HERE.
Spend lots of time on the pooper? If so this golf poppy putter should be right up your alley.
Be sure to follow Man Stuff on Google+
TFB Latest Posts
---
---