Sitpack 2.0 Gives You Portable Compact Seating in Your Pocket, Makes Waiting More Comfortable
I've never uttered the phrase "I wish I could take a chair with me anywhere I go" but this gadget certainly has me wondering about the possibilities of just that! It may look like a camera tripod, but it's a seat! It's called the Sitpack 2.0 Compact Lightweight Folding Chair. This is your very own compact lighting folding chair so you can sit everywhere you go. It was made to eliminate the need for cheap and cumbersome camping seats that are often left behind at music festivals, race events, and other places where one might need a handy seat.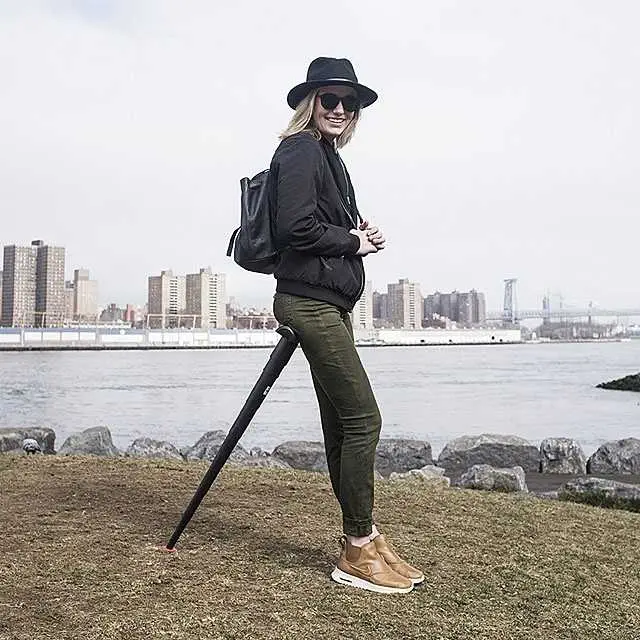 The Sitpack 2.0 is Your New Favorite Seat
The Sitpack 2.0 is the "world's most compact foldable seat" according to the manufacturer. Just like me, you can probably see a ton of uses with this little gadget. Waiting in line at the DMV. Hanging out in a field during a music festival. Watching your kids play soccer from the sidelines. Hanging out in the airport ticket line or at an attraction at Disney World. Yeah, the uses are probably endless! It's also good for people who get tired easily, such as those suffering from cancer, chronic fatigue syndrome, M.S, and other conditions. And if you're someone who can't stand standing for long period of time and find you get sore, this is definitely an answer to those troubles!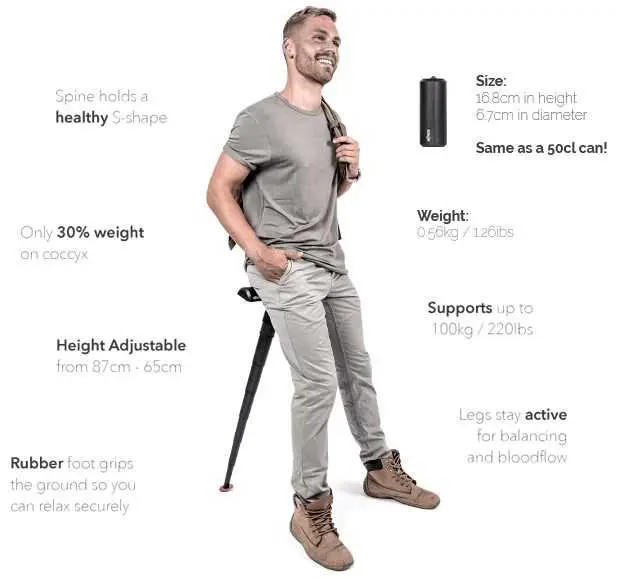 Sitpack 2.0 is Light Yet Strong
Designed for ergonomics, the Sitpack 2.0 has an adjustable telescopic leg that will work for both children and adults. The light and compact build of glass fiber reinforced polycarbonate helps alleviate back and leg pain, especially if you've been walking or standing for a long period of time. When you sit, your spine is properly aligned in an S-shape, reducing pressure on your legs, with only 30% of the weight on your coccyx. This portable chair's adjustability is pretty impressive. I'm 6'1, and it accommodates me fine, and can be elongated even more. What's remarkable, however, is that its folded size is only 6.6 inches (16.8 cm) high and 2.6 inches (6.7 cm) wide, about the size of a can! Throw it in your backpack, purse, or any other bag, and get going. The chair can support up to 245 lbs in weight so you shouldn't have to worry about any cracking or damage either.
Sitpack 2.0 is easy to use. You just need to unfold it, release the telescopic leg to your desired height, twist, and sit! It includes an interchangeable anti-slip rubber foot to ensure you don't slip on a tile or wood floor while sitting. This summer, I'd treat my back and legs to something new. If you're heading out to the games, the concerts, the festivals, or and anywhere else where you might need to stand for a long time, make it easy with this awesome portable seat. Sitpack 2.0 is produced in Denmark, but is available for US buyers on Amazon. It comes with a Premium Neoprene Cover that also functions as a seat cushion and carry strap. Find it on Amazon below and start sitting instead of standing!
Auto Amazon Links: No products found.
TFB Latest Posts
---
---