This article may contain affiliate links. If you make a purchase, we may make earn a commission at no cost to you.
Last Updated on
Originally posted on May 3, 2017 @ 8:17 pm
If you spend much time outdoors, the Suunto Traverse Alpha GPS Watch might be something you should look into.
Prices pulled from the Amazon Product Advertising API on:
Product prices and availability are accurate as of the date/time indicated and are subject to change. Any price and availability information displayed on [relevant Amazon Site(s), as applicable] at the time of purchase will apply to the purchase of this product.
If you have been craving an 'all-in-one-solution' kind of watch, especially during camping trips, look no further. The Suunto Traverse Alpha has got you covered – whether it is merely date-time monitoring, or a set of dandy features including GPS tracking, route settings, work logs, activity monitoring and wireless connectivity. This is one helluva' smartwatch that I'd recommend to any of my friends within a heartbeat.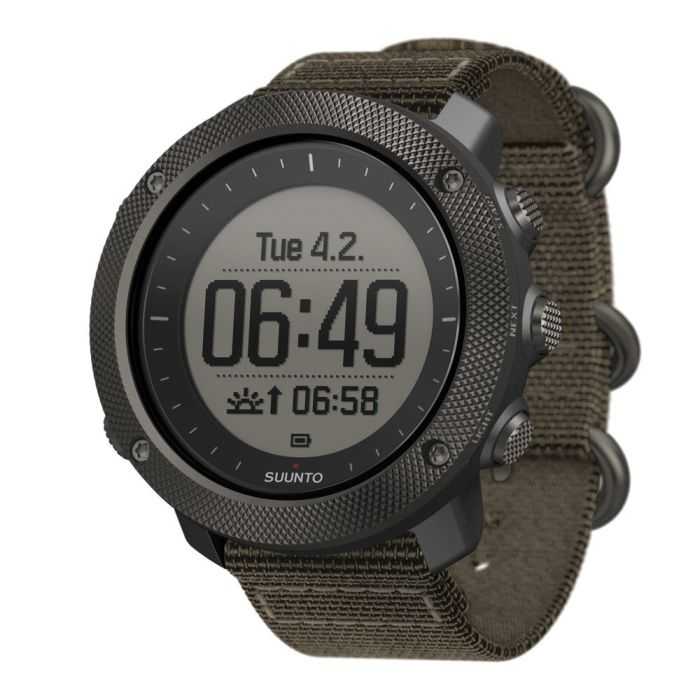 To be honest, I never heard of Suunto Traverse, or any of the company's other smartwatches, until very recently. I have been more of a Moto and Garmin user, but Suunto changed it. They are offering tons of latest features which most of the other competitor brands lack. Even if they do include some features, their price goes up the roof. Suunto, on the other hand, has created Traverse series smartwatches with the inclusion of many accessibility options, extra modes, and features at a steady price of $460 – $500.
Now before you take out your pitchforks because of the "intimidating" price, I'd like you to think of it as a one-time investment in a top-quality smartwatch. Obviously, $500 is too much to fork out in one go, and I know how hard it is to make a living in real life. But I can guarantee that once you have used this bad boy, you'd want to throw away your shabby Moto smartwatch for good reason.
Okay, I'm Intrigued…. I Wanna Know More?
Glad, you asked that. Suunto Traverse series come in different colors (* Five to be exact). Depending on the availability, or the color you're going for, pricing may vary. However, as far as the functions go, they are all the same. I'd recommend that you go for any color instead of just waiting for those that are not in stock these days.
The watch is a practical solution for those who usually go out, or indulge in following activities:
Camping
Hiking
Jogging
Exercise
Trekking
Hitchhiking/ Backpacking
Climbing
Hunting
You get the point here, don't you? This watch was made for outdoorsmen. On the outside, the watch offers stainless steel bezel finishing, high-quality strap and big buttons on both sides to assist in menu navigation, etc. On the inside, there are numerous functions & technical gimmicks, such as GPS locator, GPS tracking, route setting/selection mode, compass, temperature monitoring, Altimeter, Barometer – so on and so forth.
It may take you a couple of hours to thoroughly explore each main menu and sub menu for that matter. However, I am going to mention some of the stuff that is basic and matters the most for anyone who has never owned a Suunto Traverse GPS Outdoor Watch before.
Compass: Switching to the compass mode reveals a full-screen compass. It changes direction as you move along, or whichever direction you face. For user ease, Suunto also added the lock feature, which makes it possible to lock the bearing for accurate navigation.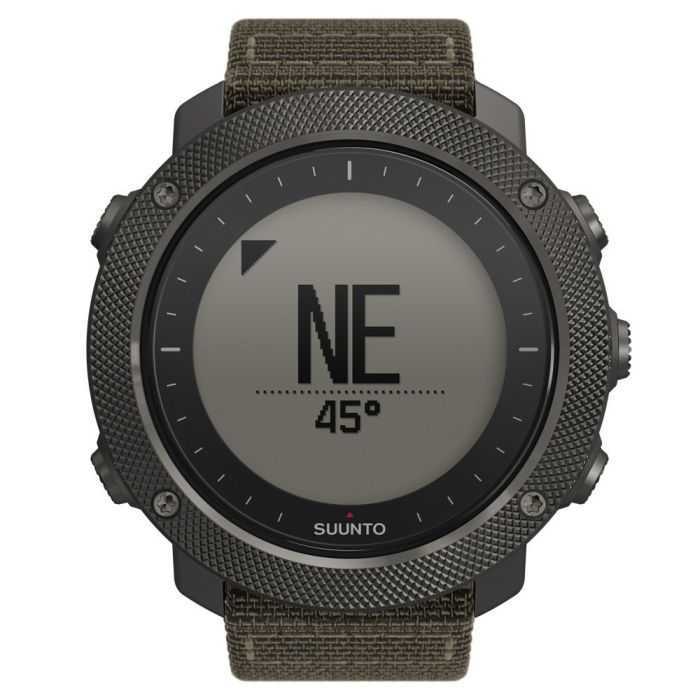 Altimeter and Barometer: These two features are not used regularly by average users. The watch will automatically show you either a barometer indicator or an altimeter indicator depending on your altitude. Let's say you are climbing a steep mountain; the altimeter will help you monitor your elevation levels.
As for the barometer, you just remain still in one place, the watch's display will reveal atmosphere pressure and a sea level pressure graph for general comparison. For latest up to date and accurate readings, don't forget to upgrade the Suunto Traverse software via internet.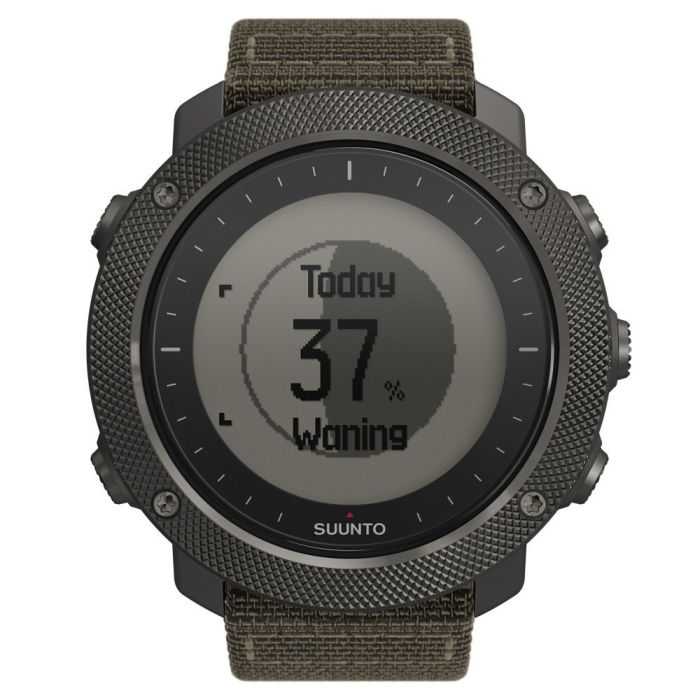 GPS Mode: The GPS mode is where Suunto blows the competition out of the water. They not only made the Traverse compatible with GPS mode but also added accurate support for GLONASS mode. GLONASS is the Russian version of the standard GPS. If you have recently purchased this smartwatch, I believe that Suunto has already released a software update to help increase GLONASS usability. Also, the update improves battery life by a small percentage because GPS mode, when enabled, consumes battery like water.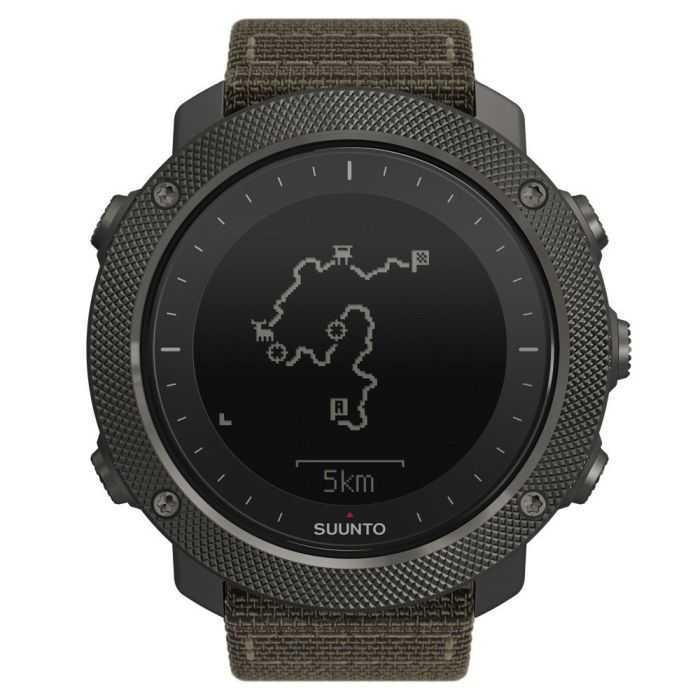 Furthermore, they added options for us to select and set up to three different GPS intervals. You can set an interval for waypoint navigation, you can set an interval for visual route navigation, and you can set an interval for any unknown terrain navigation. The options are unlimited in this sense. However, setting GPS intervals simultaneously also affect battery life, and it is not just about this smartwatch. If you enable GPS locator and open Google Maps on your smartphone, it will get hot after a few minutes. The device will also consume more battery to be able to give you real-time updates as you trot around on the road.
Waterproof? Yes, this smartwatch is water resistant up to 350 Ft. depth. You can easily take a dive in a pool or a lake; nothing will mess up with the internal circuitry in this watch.
Overall, I think it is a great watch. This small "review" does not do justice with what it has to offer. You can come back later for an updated version of this article, where I will highlight each significant detail separately for an in-depth opinion. From a general perspective, this is a great smartwatch. It may not look very attractive because it lacks the usual flashy colors and "awesome" looks. This thing is more like a real military device, made for real blokes who don't mind the lack of visual designs that much. The actual appeal factor is in the features, and that's where Suunto Traverse is worth every single dime.