This article may contain affiliate links. If you make a purchase, we may make earn a commission at no cost to you.
Last Updated on
Originally posted on January 23, 2016 @ 9:16 pm
This machine might be known as the "Do Nothing Machine", but you can clearly see it actually does quite a bit.
So this is the Do Nothing Machine that was built by Lawrence Wahlstrom, a retired clock maker in 1948. The Do Nothing Machine is made up of 764 gears and is not on display at the Craftsmanship Museum in Carlsbad, CA. After this check out these vending machine gun safes.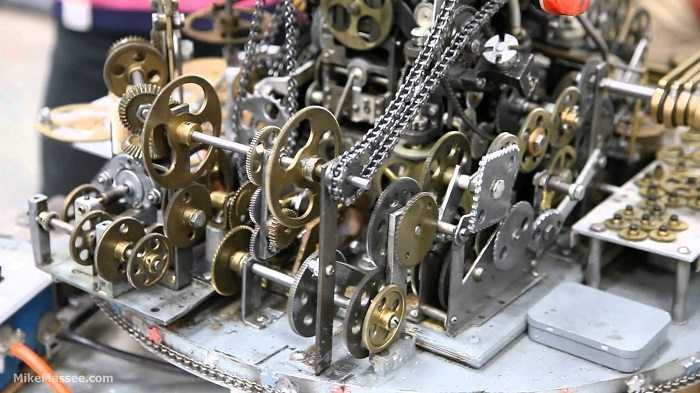 The History Of The Do Nothing Machine

According to a newspaper article (paper unknown) from about the early 1960's, the inventor of this engineering marvel was Lawrence Wahlstrom, a retired clock maker. He worked in the newspaper business and for the telephone company, while also acting as caretaker and landscape gardener for a Beverly Hills estate for 40 years. He always enjoyed tinkering with clocks and had attended a clock school to learn about their repair. Somewhere along the line he acquired a fascination for gears. After coming across a surplus WWII bomb sight containing a complicated cluster of gears, he got it working again. He also realized that people prefer to be entertained rather than educated, so he began adding more and more gears to his assembly over a 15-year period starting in about 1948. The first known publicity photo of it appeared in 1950.

Over the years, the number of gears continued to grow, reaching either 744 or 764 depending on which account you read. Like the motion of the machine, the actual figure is somewhat fluid. It attracted a lot of media attention over the years, appearing in magazine articles and on TV shows. It was seen on both the Art Linkletter show and the Bob Hope show. The family archives also contain a telegram arranging for Mr. Wahlstrom to appear on the Garry Moore show in November, 1954. Life Magazine gave it a full page in the April 20, 1953 issue, and Popular Mechanics gave it ½ page coverage in the February, 1954 issue. In February, 1955 it was also featured in Mechanix Illustrated magazine. There were also many other newspaper and magazine articles documenting its constant evolution.

Called by its inventor variously a "Flying Saucer Detector" or other nebulous and facetious descriptions, his goal was to add at least 50 gears each year to the constantly growing project. As noted in Popular Mechanics in 1954, "We all know someone who works harder doing nothing than most of us work doing something, but we can't possibly know anything that works harder at nothing that a machine built by a California hobbyist. The machine has over 700 working parts that rotate, twist, oscillate and reciprocate—all for no purpose except movement."

At some point after the Do Nothing machine came into the possession of the Antique Steam and Gas Museum in the Joe Martin Foundation's home town of Vista, CA. It was put up for auction, where Mr. Wolf purchased it in about 2003, repaired it and for years took it to several shows a year for the public to enjoy. Via – TheCraftsmanshipMuseum
Follow Me On Google+