This article may contain affiliate links. If you make a purchase, we may make earn a commission at no cost to you.
TFB Short Clips
Originally posted on October 28, 2015 @ 7:50 pm
Giant Diamondback Rattlesnake Caught In Arkansas
This snake was captured and killed by a man in southern Sebastian County Arkansas after it repeatedly attacked his dogs. The snake was estimated to be between 8 and 10 feet long. If that's true, that would make this the largest Diamondback Rattlesnake in the world.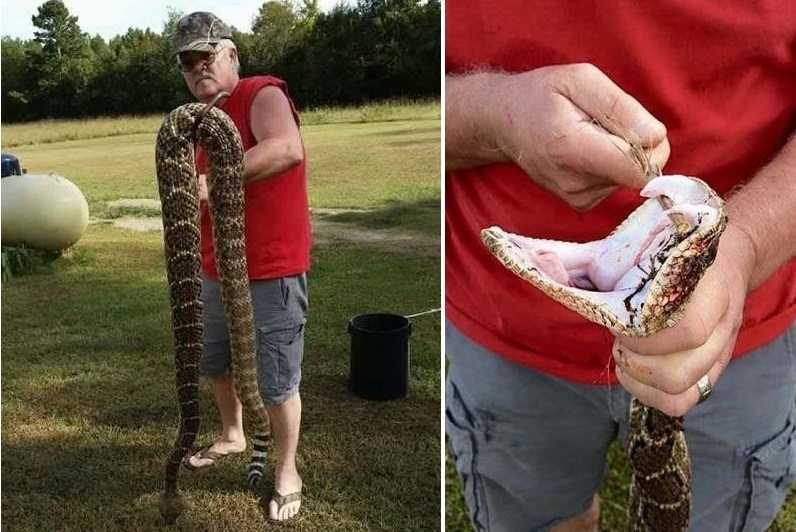 Via – 5NewsOnline

HARTFORD (KFSM) — Pictures of a giant rattlesnake killed in southern Sebastian County have circulated across social media.

The western diamondback rattlesnake was said to attack a man's dog, and that was when the man decided to kill it. It is illegal to kill a snake in Arkansas unless there is an immediate threat of danger.

The snake was estimated to be between eight and 10 feet long, although on average, the type of rattlesnake grows to be between four and five in length.

Pet store owner Dan Jones said one easy way to identify a venomous snake is a diamond-shaped head and slanted eyes. He also cautioned that some snakes should be welcome on home properties, as they can control rodents and even poisonous snakes that could be lurking around.

"A king snake will kill copperheads and rattlesnakes," Jones said. "So if you see speckled king snakes, you actually want those on your property."
TFB Latest Posts