With Zooheads Shower Heads, Your Kids Will Love Showering Again
Funwares Wash n' Roar T-Rex Shower Head, Gray – Shower Nozzle Shaped like a Tyrannosaurus Rex Skull
TAKE A DINO BATH : Modeled after a real Tyrannosaurus Rex dinosaur skull head, this decorative shower head gives a prehistoric jurrasic touch to shower-time that kids of all ages will love! Be a part of the Jurassic Era and always come out clean.

EASY INSTALLATION: All you need is an adjustable wrench (not included) and teflon tape (included). Follow the instructions youll have a generously sized spout coming from 9 jets in T-Rexs mouth!

SAFE, DURABLE AND HIGH QUALITY: Made out of durable, sturdy plastic, this carnivorous cleaner is made to fit all U.S. shower heads and works safely for both handheld and fixed showerheads.

EFFICIENT: Complies with the California water saver standard of 1.8 gallons per minute. This childrens shower nozzle saves you money every year and conserves water without sacrificing performance!

DINOSAUR BATHROOM DECOR: A unique and useful item that will make every child excited for bath time! This dino themed bathroom accessory is the perfect birthday idea for kids and dinosaur lovers.

ADD A PRE-HISTORIC TOUCH: Having this APEX predator around brings a whole new meaning to taking a shower. This T-Rex shower head can add imagination and excitement to any bathroom in the household!

DISCLAIMER: While the T-Rex shower head doesnt roar itself, side effects may include spontaneous roaring by user. Ro
Prices pulled from the Amazon Product Advertising API on:
Product prices and availability are accurate as of the date/time indicated and are subject to change. Any price and availability information displayed on [relevant Amazon Site(s), as applicable] at the time of purchase will apply to the purchase of this product.
Are you looking to make your showering a little more "wild"? Okay, not like that but if you're looking for a way to dress up your plain shower head in a rental space, dorm room or apartment, well, it's time to answer the call of the wild with Zooheads.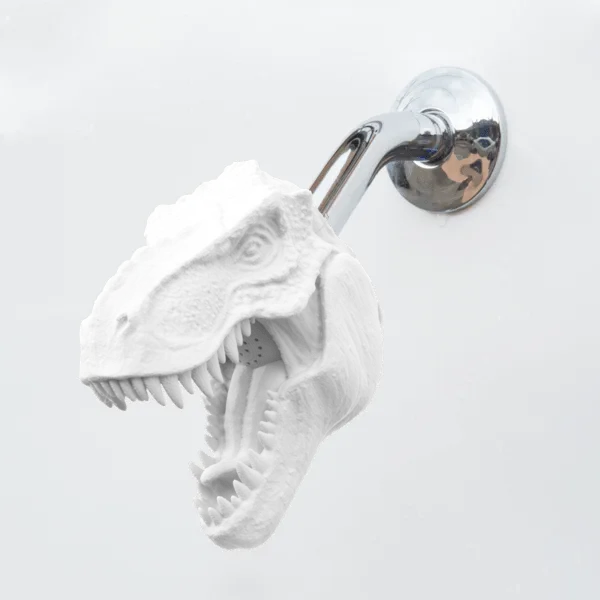 Voodoo Manufacturing, a popular vendor of 3D printing have found a new way to make showering fun…or at least give you something for your guests to talk about! Zooheads lets you have custom colorful shower heads in the shape of favorite creatures. So if you're ready to embrace your inner Daenerys and shower with a dragon shower head, you're in luck! Zooheads will offer you that with an eco-conscious feature as well.
Zooheads are designed and 3D printed by Brooklyn-based Voodoo Manufacturing. Each Zoohead is made on-demand when you order for less waste of material and energy. The Zoohead is crafted of PLA, a non-toxic biodegradable food-safe plastic made from renewable crops such as corn and potato. If you're wondering if a plastic shower head can survive up to your scorching shower, Zooheads says it will hold up to the hottest showers!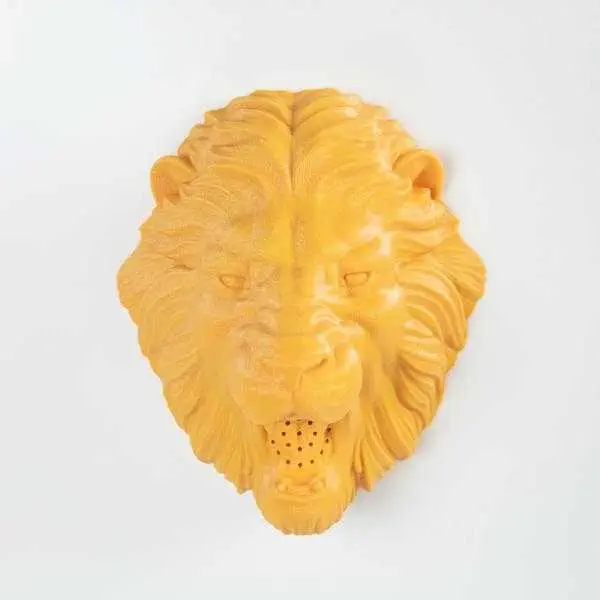 So far Zooheads come in a variety of creatures, and more are possible, as the company takes custom design requests. You can have your choice of T-Rex, Dolphin, Dragon, Dragon Skull, Eagle, Alligator, Monkey, Lion, Elephant, T-Rex Skull or Shark.
Each design is available in one of 20 colors. Installation of a Zoohead is easy: it fits onto a standard US ½ pipe or shower fixture. You remove the current shower head and twist on the ZooHead, plus the company sells a swivel ball adapter to help you adjust the water flow direction.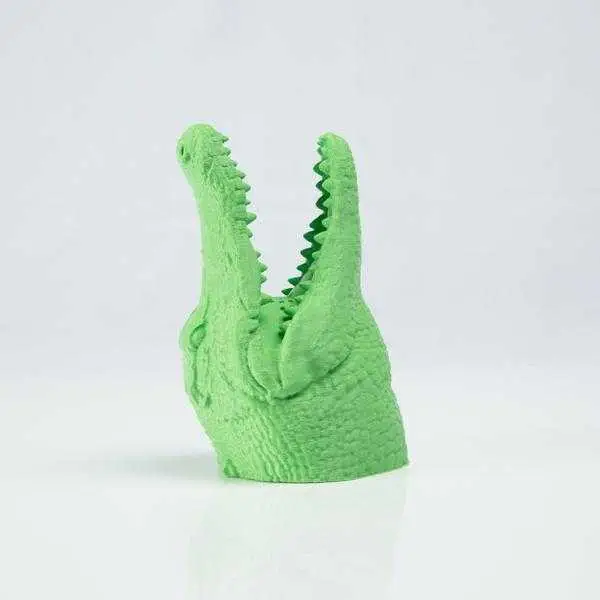 I can already see one application of this if you're a parent. Got a kid afraid of taking a shower alone? Let them choose their favorite animal and have a shower buddy. Soon they'll associate it with a fun activity, especially as it's still pretty badass to watch the T-Rex spray water. And let's face it, adults will love it too.
There's another eco-friendly aspect to Zoohead: 10% of each purchase is donated to WWF, the World Wildlife Fund, so they may continue their efforts in conservation. Having a fun shower, saving the planet and its creatures, and minimizing waste with a biodegradable 3D plastic? What could be better?
Each Zoohead shower head currently retail for $24.99 each and feature standard shipping with all orders. Bulk and custom orders are also available by contacting the manufacturer. Find the whole range of wild showerheads on Amazon now!
TFB Latest Posts
---
---