https://thefunnybeaver.com/wp-admin/options-general.php?page=ad-inserter.php#tab-6
TFB Short Clips
Elago's Mac-Inspired Stands
Prices pulled from Amazon Product Advertising API on:
Product prices and availability are accurate as of the date/time indicated and are subject to change. Any price and availability information displayed on [relevant Amazon Site(s), as applicable] at the time of purchase will apply to the purchase of this product.
You may not be old enough to remember the thrill of using a vintage Macintosh, but Elago gives you the experience with their line of iPhone stands. Designed to mimic the classic Mac computer, the M4 iPhone stand lets you charge and watch your computer through a screen that feels oh so vintage.

Relive the Early Days of the Mac
The M4 is manufactured and sold by Elago. It's a clever phone stand that's compatible with iPhones 6, 6s and 7. It comes in two colors, and of course, if you want that "real" Mac feel, you'll spring for the white, but a sleek black build is also available. You just install your lightning cable (not included), then put your iPhone in the stand and plug it in.
The stand features a scratch-free silicone surface so you can watch your movies or videos right on the "monitor." M4's design is best on a flat surface, such as a desk, so this will make a great desk toy for those boring meetings. If you've sprung for a newer phone, you're in luck, as the M4+ is the same design but sized for iPhones 8 Plus, iPhone 7 Plus, iPhone 6S Plus, and iPhone 6 Plus.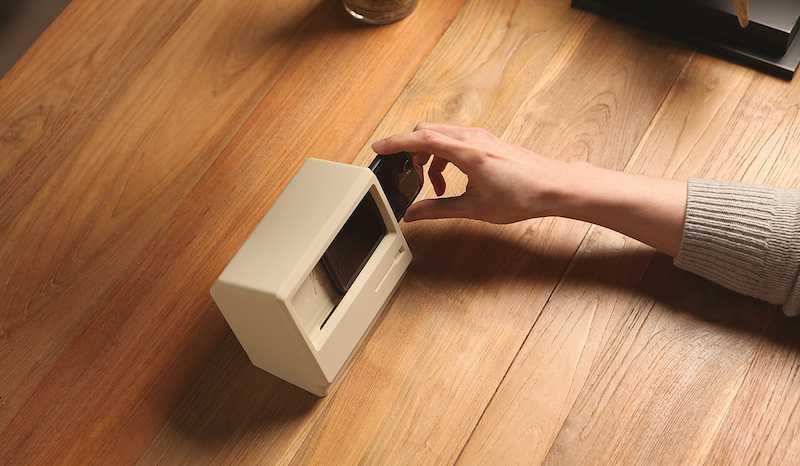 As someone who remembers the thrill of getting to be chosen to turn on the classic Mac in my elementary school classroom, this is a cool little gadget. It's soft to the touch and flexible, yet has the weight you to need to affix your phone to any flat surface. Elago has fully committed to replicating the original Mac design, but has included some modern conveniences: the groove design lets you access the volume buttons without removing the iPhone from the stand.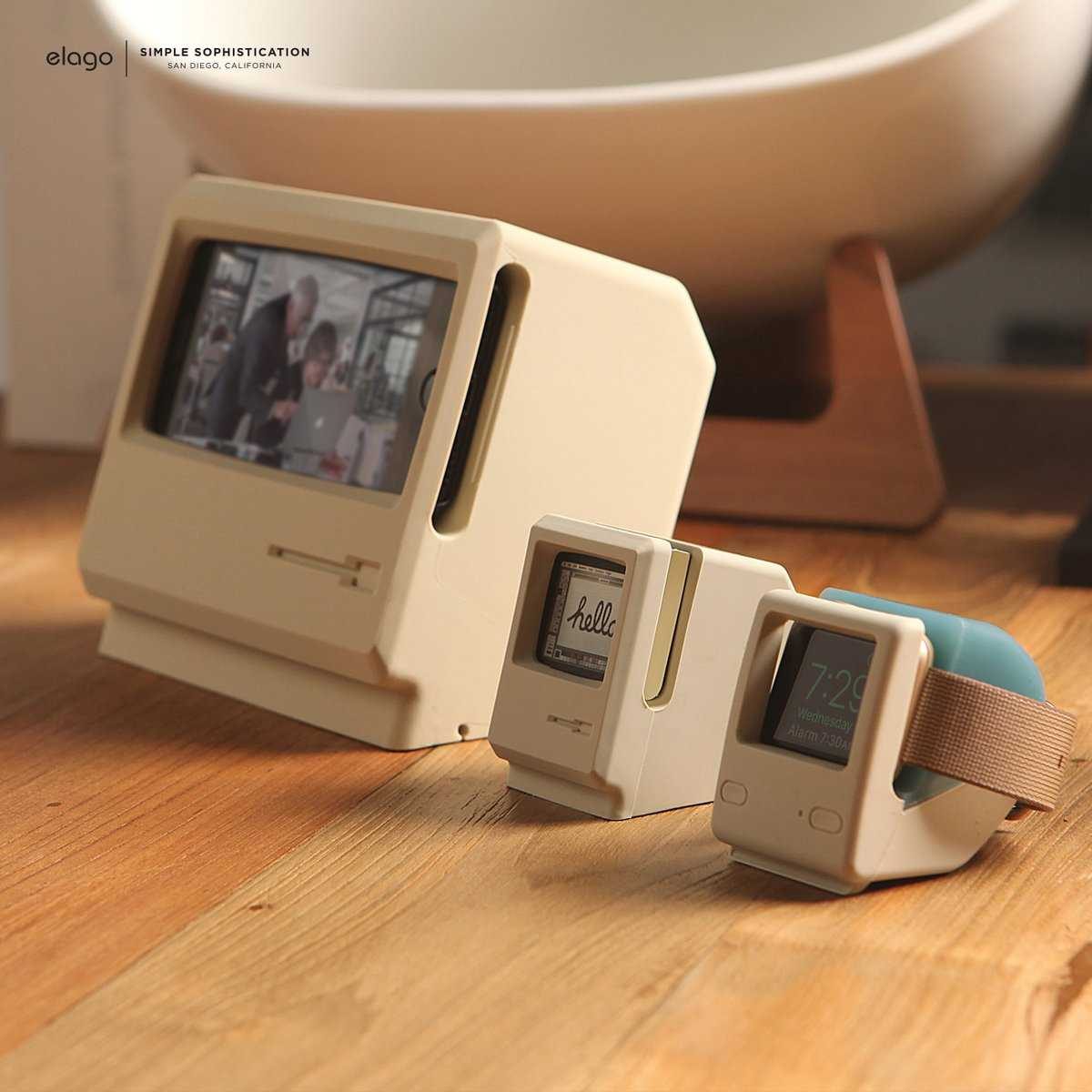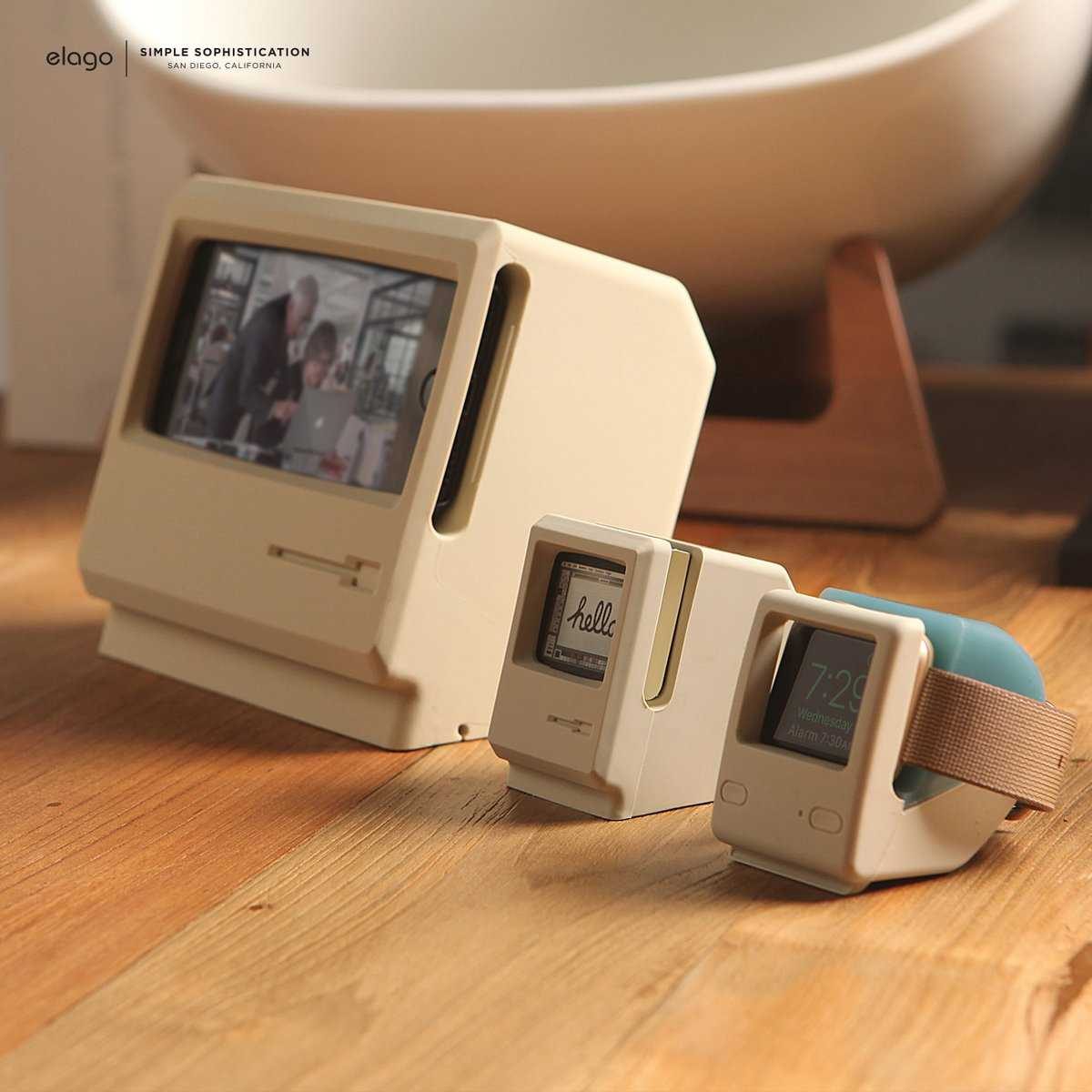 Now if you want to be steeped in nostalgia, you can spring for the rest of the vintage Apple product stands from Elago. The company has made other Mac-inspired Apple stands.
The W3 stand comes in a series of colors and is made for the Apple Watch series 1, 2 and 3 models; the design fits seamlessly with the watch face so it looks like you're really viewing an Apple 1998 iMac and it too is made with scratch-free silicone.
You can get the watch stand in the classic white or black, plus it's compatible with Apple Watch Nightstand Mode. The watch stand comes in a variety of bright colors, just like the original iMac, including pink, blue, and more.
The M4 retails for $29.99, the M4+ for $39.99 and the W3 Apple stand for $14.99 right now on Amazon. You can also find out more information at Elago.com. I'm probably going to pick up a few as stocking stuffers or gifts for my favorite Apple fan.
TFB Latest Posts
---
---