Does your kiddo want to be tacticool as well? Maybe you should get him/her a Evike Matrix Tactical Systems Baby Ciras Tactical Vest. Just a thought….
Auto Amazon Links: No products found.
This one's called the 'Matrix Tactical System Baby Vest' brought to you by Evike.
All the parents out there who are into the tactical side of life will appreciate this tough quality baby vest. It is not only comfortable to wear, but also a sheer pleasure for the baby to snuggle in.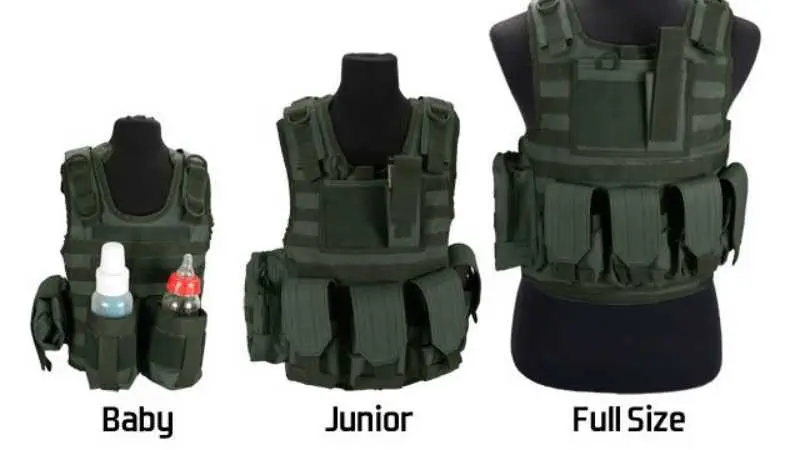 Some of the key highlights of the Evike Matrix Tactical Baby Vest are appended below:
Sturdy build quality with inner padding for full-on comfort factor for the baby. Also, the wearer doesn't feel a lot of extra weight or tension at the shoulders. The heavy-duty fabric is not susceptible to wear and tear after a couple of trips to the insides of a washing machine.
Built in front pockets to help you insert emergency or essential baby supplies. The feeder bottles can go in on the front side, while the side pouch can help you store extra diapers. The bottle and pouch belt is removable. If you have an extra bandolier style belt, you can easily replace it with the original one.
Compared to other baby carriers, the size is adjustable with buckles and latch support. Moreover, the supported weight limit goes up to 40 Lbs., hence insinuating that babies from 6 months and above can easily be accommodated in this vest.
High quality breathable Velcro panels with inner webbing to minimize sweating, rashes or skin inflammation for the baby.
Handle support at the back side to help parents carry the vest around easily.
From a scale of 1 to 5, the carrier is amazing when it comes to securing the child. This vest comes in different colors; if you are not okay with the default Strategic Tan color, you can go for the Tactical Black or Hunter Green color as well.
You may have to spend a couple of hours, or perhaps a few days to learn the adjustment mechanism. The shoulder straps need to be adjusted in accordance to your child's height and weight. You can ask your partner to stand in front of you to help out with the adjustment process. This will also make things a little operator in the family as he/she won't freak out at the sight of a new Vest.
Verdict:
With the addition of the handle at the back side, and the availability in different sizes ranging from Baby to Junior, the Matrix Tactical System Baby Vest by Evike will be a welcomed addition to your inventory. I'd say that whenever you are about to go out on a long trip, or an unplanned adventure, don't forget to take this baby vest with you – It'll make your baby look awesome and send out a bad ass vibe wherever you'll go.
Fun Fact: Want to add a little bit of feministic touch to the Tactical Vest? Well, you can stick a 'Hello Kitty' tactical patch or pink colored ribbon right there on the front side. Feel free to accessorize the vest with all kinds of colorful items until you are satisfied; the guys at Evike won't hold it against you!
After this check out these pretty great tacticool diaper bags.
TFB Latest Posts
---
---