Exclusive News Memes May 12th 2021
Exclusive New Memes – CATHAY PACIFIC CLOSES FRANKFURT BASE FOR PILOTS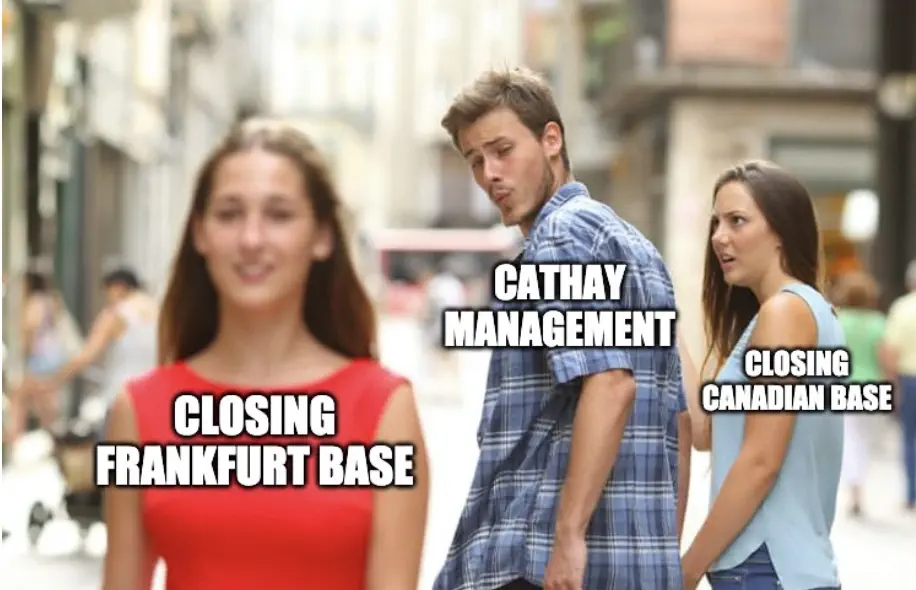 As illustrated in our exclusive news memes above… Cathay Pacific announced the closure of yet another foreign pilot's base today. In an email sent to employees based in Frankfurt Germany, the company cites the continual high cash burn as the reason for their decision to close the base. Over 50 pilots' jobs are at risk due to the closure of their base.
Cathay's latest base closure announcement came hot on the heels of their April 22nd announcement, where they announced their decision to close bases in Canada as well as their proposed closure of bases in Australia and New Zealand.
In their April announcement, it was mentioned that a review of other bases will take place later in the year. It seems that in this modern and fast paced world, later in the year means 2 and a half weeks later.
Cathay Pacific has been one of the earliest victims of the Covid19 Pandemic. They received HK$39 billion in government bailout funds in 2020, and just yesterday, successfully raised US$650 million in an unsecured bond offering.
Despite the funds raised, it seems the company's monthly cash burn rate of between HK$1.3 billion and HK$1.9 billion needed to be reduced immediately, thus leading management to decide on the base closure today.
TFB Latest Posts
---
---