Like candles? Well then you're going to want to make these teacup candles.
Making teacup candles is a crafty little project perfect for a lazy Sunday afternoon. Whether you have a few lone teacups from an old China pattern in a cupboard or picked up a few decorative treasures at a thrift shop, this is a great way to put them to good use. In addition to adding some visual interest around the home, these candles make lovely gifts.
Here is actually a really nice teacup candle on Amazon – if you don't have time to make your own.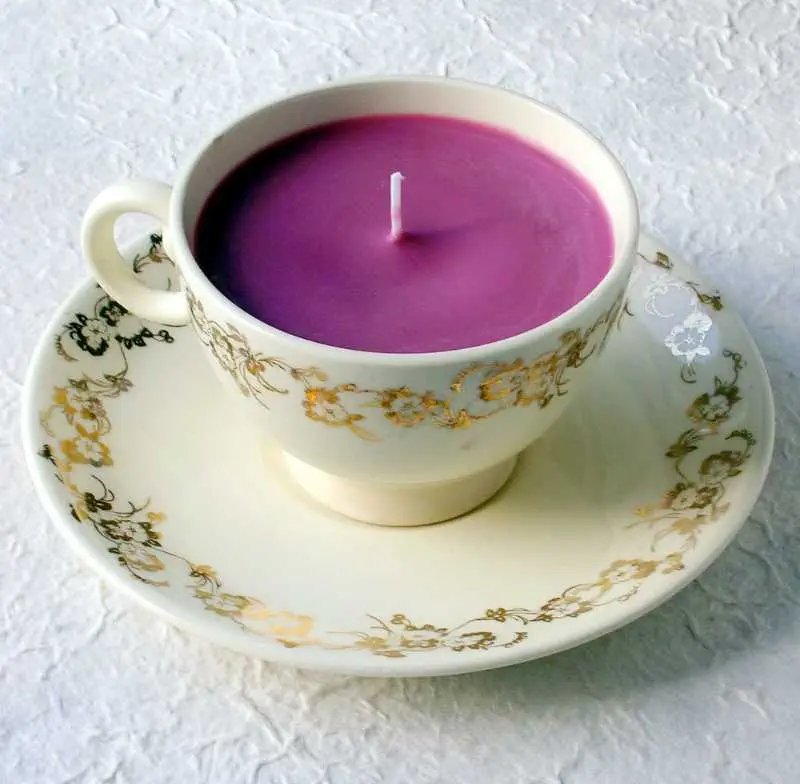 What you need:
Tea cups, vintage or old ones you have around the house will do
Soy candle wax flakes, soy is best since it does not smoke when burned
Candle wicks, measure the depth of your teacups to purchase the correct length
Wooden skewer sticks
Pouring pot for candle making or other heat safe vessel (preferably with a spout)
Tape
Candle dye, optional
Essential or fragrance oils, optional
Instructions:
Make wick supports by placing each candle wick in between two wooden skewer sticks and secure the ends with tape to hold in place (wicks should be a little longer than needed). Each candle needs one support.
Measure the amount of wax you need. This depends on the size of your teacup(s).
Position the wick in the center of each teacup so the metal base touches the bottom. As said, the wicks should be longer than needed.
Pour 2-3 inches of water into a saucepan.
Bring to a boil and reduce to a simmer.
Place your pouring pot/heat safe vessel in the simmering water.
Pour in your wax flakes.
Stir until melted. You can now add the candle dye and essential oils or fragrance oils selected (use both sparingly).
Use an oven mitt to remove the pot from the simmering water once the wax has completely melted and the desired color and scent is achieved.
Carefully pour the wax into your teacups while making sure to avoid the wooden skewer wick supports. Teacups should be filled ¾ of the way.
At this point, you should either immediately wash any wax out of the pot/heat safe vessel used before it hardens or return it to the simmering water if you need to melt more candle wax.
Leave your candles to harden for 3-4 hours. They should appear smooth and solid when ready.
Trim your wicks with sharp scissors and discard the wooden skewers.
Light and check out your beautiful work!
TFB Latest Posts
---
---