Super convenient, Portable Closet organiser for movers
A portable closet is a perfect solution to organize and store your clothing, especially if you constantly move from place to place. Not only are they lightweight, but these also typically cost only half the price of a traditional wardrobe!
They work pretty much the same way as their regular-sized counterparts and offer ample hanging space for you to keep your dresses, slacks, and suits wrinkle-free and ready to wear. You can easily protect your garments of any kind with this versatile standing closet.
Its hanging rods and shelves provide ample space so you'll be able to easily hang clothes and store shoes, toys, caps, and more. Moreover, its textured cover will shield your clothing from dust and keep them tucked out of sight until you need them.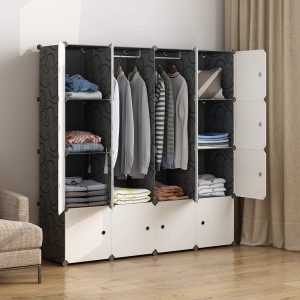 This standing closet is durable and easy to assemble. As it is made of steel, it's super strong and can hold up to 50 lbs of clothing. Moreover, it will help to keep your garments free from dust, bugs, and moisture.
Equipped with adjustable hanging rods, this product from SONGMICS is great if you are looking for more storage space. It consists of cubes that are large enough to fit baskets and folded garments among many other things. Made from plastic cubes, it's easy to assemble this closet once you figure out how to build one grid.
The end product is a complete wardrobe-closet that has ample space for you to hang clothes and store things in. Not only does it come with a sturdy steel frame, it is also available in different colors and sizes (ranging from two to five tiers) so you can choose the one that suits your needs/preferences best.
This cute wardrobe closet comes in two colors, white and beige, and is simply perfect for your kid's room. The closet is divided into sections which include four shelves, three hanger sections, and side pockets for greater accessibility. Its removable cover has a curtain-style design that can be opened and closed with ease.
A decent amount space between the floor and the closet makes cleaning/vacuuming a breeze any time. If you are looking for a compact portable wardrobe, try this durable option that is made from metal tubes. Thanks to its canvas cover with sealed bottom, your clothes will be kept clean from dust and moisture.
Not only that, but it is also lightweight and convenient to use. This lightweight closet looks great both with or without its cover. One of the options could be a total of five small and two big shelves for organizing your clothes. Apart from that, the hanging rod can easily hold dresses, suits, and other types of apparel.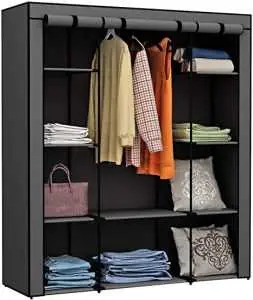 Not only does this unit look fantastic, but it is also quite easy to use as well. Openings with zippers make it convenient to open and close the closet. Also, a velcro attachment ensures that it can be folded up and kept open at all times. Assembly is quick and painless with this durable standing closet
TFB Latest Posts
---
---