TFB Short Clips
Royce Gracie vs. Ken Shamrock and Kimbo Slice vs. Dada 5000 At Bellator 149 – The Results
So tonight at Bellator 149 Royce Gracie and Ken Shamrock went toe to toe and Kimbo Slice fought Dada 5000. I am just going to leave all my personal opinions out of this and just tell you who won.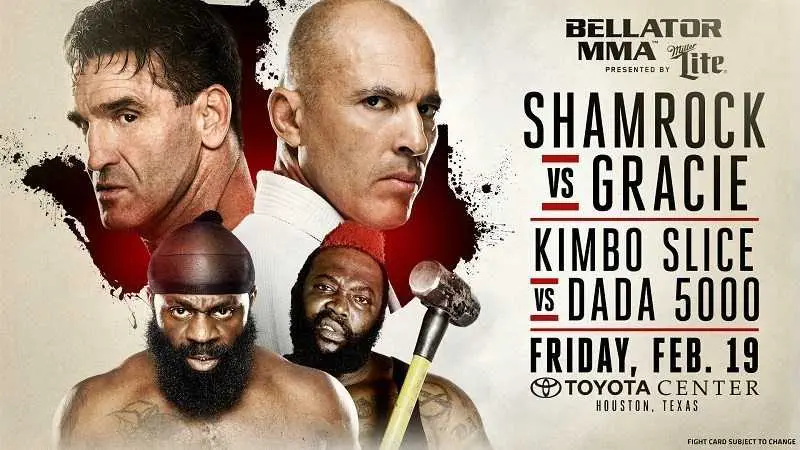 Royce Gracie vs. Ken Shamrock and Kimbo Slice vs. Dada 5000 At Bellator 149 – The Results
Kimbo Slice vs. Dada 5000
Kimbo Slice vs. Dada 5000
R1: Dada 5000 throws two strikes that vaguely resemble some type of kick. Kimbo smiles at him and changes levels when Dada 5000 bull-rushes him, hitting an easy double leg. Kimbo passes to full mount but has trouble shaking off the over-under head control. They stalemate long enough to elicit a warning from referee Big John McCarthy.
Kimbo finally postures up but Dada 5000 shoves him away, then onto his butt. Kimbo gets up and they clinch, trading knees with Kimbo's back on the cage. The ref intervenes again and Dada 5000 wades forward, slinging wide left and right hooks. He clinches again and puts Kimbo on the fence, landing a solid knee to the body. Kimbo punches his way off the fence, landing a hard left before putting Dada 5000's back on the fence. Another separation from the ref and Kimbo is sucking some serious wind. 10-9 Kimbo.

R2: Kimbo heaves a left hook and hits a takedown, then backs off and lets Dada 5000 up. They clinch or just somewhat stumble into each other, and Kimbo continues his momentum into a makeshift takedown. They do nothing and they're separated again.
Kimbo lands a trio of lefts on the reset and, despite the punches perhaps being the cleanest of the contest, they seem to sap Kimbo of his strength. Dada 5000 throws a knee and sort of gets a front headlock, prompting Kimbo to drop down to his knees for no apparent reason. The motive for Dada 5000 then rolling onto his back is equally mysterious. Kimbo crawls on top of him, gets full mount and lays perfectly still. They're stood up. Dada 5000 whiffs a punch and then leans back on the fence. Kimbo staggers forward and punches him in the face. 10-10 because equally lower scores are not viable.
R3: The competitors nearly need to be carried to the center of the cage on a stretcher. They manage, albeit at a snail's pace, to traverse the few feet of distance by their own accord. With hands at waist level, they sling what I will loosely describe as combinations. After an awkward instance in which the contestants find themselves staring at one another with exhausted and seemingly surprised glances, Kimbo swats Dada 5000, causing him to reel around the cage in a jagged half-circle before he collapses into a heap of shuddering girth and red hair dye.
Kimbo Slice defeats Dada 5000 by TKO (punch?) R3 1:32
Via – BloodyElbow
Royce Gracie vs. Ken Shamrock
Royce Gracie vs. Ken Shamrock
R1: Gracie stays light on his lead foot, flinging front and high kicks from southpaw. Shamrock answers with a glancing right kick to the body. Gracie continues to probe with the front leg in the form of side and low kicks. Gracie flicks a pair of outside low kicks to Shamrock's lead leg. Now an inside low kick for Gracie.
They clinch up with Gracie bouncing a surprisingly sharp knee to the head of Shamrock, who goes down awkwardly, looking like he took a groin shot. Gracie follows up with strikes and the fight is stopped. The irate Shamrock angrily approaches Gracie after the stoppage, claiming it was done on purpose. The Bellator replay does indeed show an unintentional knee that lands below the belt.
Royce Gracie defeats Ken Shamrock by TKO (knee) R1 2:22
Via – BloodyElbow
The Rest Of The Fight Card At Bellator 149
Main Card
Ken Shamrock vs. Royce Gracie
Kimbo Slice def. Dada 5000 via third-round TKO
Derek Campos def. Melvin Guillard via second-round TKO (0:32)
Linton Vassell def. Emanuel Newton via unanimous decision (30-26, 29-27 x2)
Emanuel Sanchez def. Daniel Pineda via split decision (28-29, 29-27, 29-28)
Undercard
Justin Wren def. Juan Torres via unanimous decision (30-27, 30-27, 30-27)
Jeremy Mahon def. Davis Sylvester via TKO (R3, 4:22)
C.J. Hancock def. Ruben Esparsa via submission (rear-naked choke) (R3, 1:26)
Adrian Yanez vs. Ryan Hollis via unanimous decision (29-28, 29-28, 29-28)
Isaac Villanueva def. Richard Knepp via knockout (R1, 0:42)
Mike Trinh def. Angel Zamora via submission (armbar) (R1, 3:49)
Jason Langellier def. Anthony Ivy via submission (anaconda choke) (R1, 2:09)
Manny Lozoya def. Jacob Norsworthy via submission (guillotine) (R1, 2:33)
Via – BloodyElbow
Follow Me On Google+
[irp posts="20451″ name="Holly Holm Knocks Out Ronda Rousey"]
[irp posts="16691″ name="The Crazy Brutal Beginnings Of The UFC"]
[irp posts="19716″ name="100 Deadly Skills – Pretty Much The Best Book Ever"]
TFB Latest Posts
---
---
---