Stray animals are a common sight for many, including deployed military members. One day while in the country of Georgia, Marine Billy Norris saw a dog that was badly injured. When his unit had to move on to a new city, he was heartbroken about leaving the dog behind and resolved to go get him. That decision led to an amazing journey across the world. Wait until you discover this dog's story.
16. An Injured Dog
Dogs populate the streets of Gori, a riverside city in the country of Georgia. Most stray dogs are fed and healthy despite not having a permanent home but U.S. Marine Billy Norris found one such dog who wasn't so lucky. The dog had a severe foot injury and couldn't really walk.
15. Leaving the Dog Behind
Speaking to USA Today, Norris described the dog as being unable to use the foot: "A bone was sticking out of its foot. It couldn't use it. It was leaving a blood trail everywhere." Billy's heart broke to see this animal in such pain, but before he could do anything, he moved to a new location.
14. A New City
The unit arrived in Tbilisi, an hour away from Gori. Norris and his fellow marine took up their new assignment but the dog still lingered in his mind. He couldn't stop thinking about it and decided to go back.
13. Going Back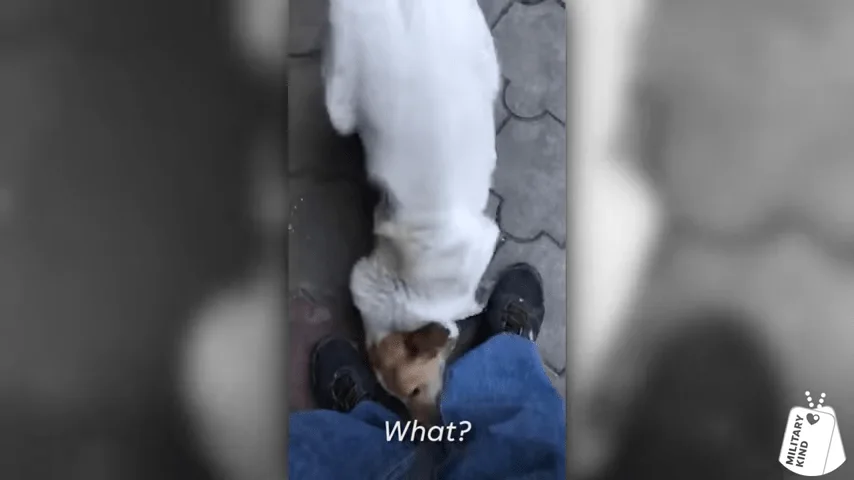 Norris informed his gunnery sergeant that he wanted to go back and get the dog. "We're going back tomorrow and getting this dog," he said. They found the dog within 5 minutes of reaching Gori in the exact same place where he'd last seen him.
12. Starving and Hurt
The poor dog was starving and still injured, and they knew it couldn't get too far dragging its feet around. Norris was sure it would bite him if he approached to help it, but he didn't care. His gunnery sergeant offered some beef jerky as a way to entice the pup.
11. Trying to Get One Dog
The beef jerky worked… too well. The dog picked up the scent but so did about 25 other dogs. "We can pick up every dog but the one we want. Finally, I just dive in on the skittish one and grab it."
10. Safe in His Arms
Once he had the dog in his arms, Norris realized the sweet dog really needed care. Fleas and dried blood were all over the fur but he didn't care. He took the dog into the van they had hired as transport and took the dog to Tbilisi.
9. The Vet's Diagnosis

Image: USA Today via YouTube
After arriving in the city, Norris took the pup to a vet but the diagnosis for the leg was severe: it had dead tissue and would need to be amputated. But Norris commented on how happy the dog was just by eating. He knew it would make an excellent pet.
8. A Happy Lucky Dog
"He transformed into this happy dog. I wonder if I could take this thing home," he remarked. He decided the dog's name should be Lucky — a perfect name because he was clearly lucky to meet Norris! Now Norris needed to find a possible local home for Lucky.
7.  Going Home
After looking for someone in Georgia who could adopt Lucky, Norris struck out before his deployment ended. He decided to bring Lucky home with him in Bonita Springs, Florida. He decided to take the pup on a flight back home, but the news stopped him.
6. Changes in the Plan
At the same time, he was preparing to fly back, United Airlines had decided to suspend animal transport after an animal died on one of its flights. Flying with the dog was the most economical option and now he didn't know where to turn. Lucky had survived so much, surely he could get him home to Florida? He found a new option.
5. Setting Up a GoFundMe
12A pet courier service was available but it would take $4,500 for the flight. Norris didn't have that kind of cash and decided to do a GoFundMe at the urging of a younger Marine. "I thought it was a scam but I put one up. I got like $1,900 in two days." Lucky would soon be on his way home but wait, there was more!
4. Puppy Rescue Mission Steps In
Puppy Rescue Mission is a nonprofit from Texas. The organization focuses on reuniting pets of soldiers that were found in battle zones. They also help with vet care and other expenses. They were willing to help and it would be at a much lower cost for Norris.
3. A Twist of Fate
15 Puppy Rescue Mission only asked for $1,000 to start the process. They would use their staff of volunteers to handle the rest. Fate was on their side too, because director Michelle Smith actually knew someone who was vacationing in Georgia to visit the mountains. She could pick up Lucky!
2. Bringing Lucky Home
Luck was truly on Norris' side it seemed. Puppy Rescue Mission got the process rolling, and Lucky traveled from Georgia to Istanbul, then on to San Francisco to Atlanta and finally to Fort Myers. Not only was Lucky safe in America but his days of living on the street were over!
1. A New Home
Lucky now loves his new life in Bonita Springs. He's a happy and healthy dog, reports Norris, and he loves being with Norris' dog, Rosie. He even got a cat sibling named Taco. Thanks to Norris, his Marine unit, the gifts of strangers, a vet, and Puppy Rescue Mission, Lucky is having a great life.
TFB Latest Posts
---
---