A small stray kitten turned up in Hout Bay near Cape Town, South Africa. The tiny kitten wound up stealing the hearts of everyone who has met her. Meet June, the little blind kitten with the great big heart and the dad she's hopelessly devoted to.
18. Rescuing June
According to a volunteer, the little cat was brought in as a stray. "She was brought in … by a member of the community who had found her, and I think her mum had been killed. There were no brothers or sisters." Abandoned animals are common around the animal rescue, so right away they went about caring for the new kitten.
17. Blind
However, the team of rescuers knew right away that something about June was different. She didn't move quite the same way and soon they realized she was born blind. June didn't seem to mind her condition or even notice it.
16. No Difference
"She obviously has no understanding or idea that she was any different than any of the other cats," said volunteer Holly Gilbert-Jones said. "She would be zooming up and down the hallway." Since the kitten was born blind, she didn't know any other way.
15. Foster Mom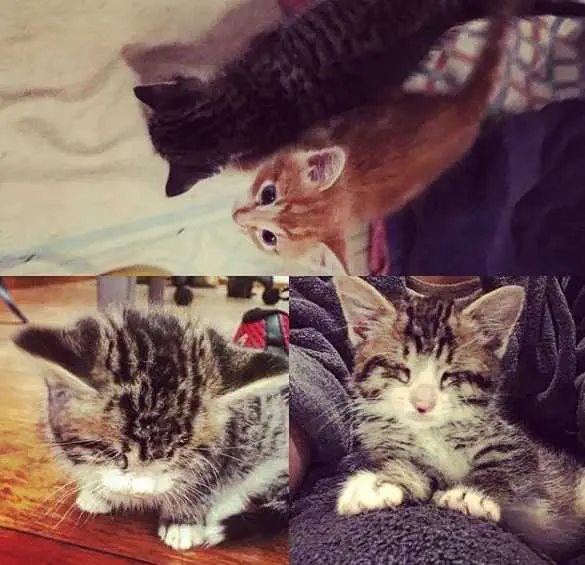 Gilbert-Jones fostered June for a few months and she was totally in love with the kitten. June was energetic and playful, but also seemed to crave attention from all the people who came to visit her. They were happy to give her attention and play time. She even loved to be around other cats, including his orange kitten that they dubbed her "seeing eye kitten."
14. A Gift
"There's something about her," Gilbert-Jones observed. "It's like she radiates this joyful energy from her. Everyone who sees her just kind of falls in love. She has this gift of winning people over." Just looking at her pictures is enough for most people to want to meet her.
13. Love at First Sight
Andrew Duff and Rebecca Warner first got wind of June by seeing a post on Facebook about her situation. They fell in love immediately and decided to adopt her before they even left the house. They simply knew she was meant to be their cat.
12. Adoption
"From the word go, we fell in love," Duff told The Dodo. "She curled up in my arms, and I gave her a nice cuddle, and since then, we've been very, very tight. She's very loving — she's probably the most loving animal I've ever come across."
11. Home
On the way home from the shelter, June jumped into Duff's arms. As the car moved toward their home, June snuggled into Duff, ready for a relaxing ride. She curled into his neck and made herself at home. Their hearts melted watching June feeling so comfortable with them already.
10. Daddy's Girl
"On the way home, I got a little tag that said 'Daddy's Girl' because I realized, 'Well, that's it. He's become hers.'" Warner was so excited that the little kitten felt safe and loved with her husband. They knew they made the right choice to bring her home.
9. Sisters
Not everyone was charmed by June. The couple's two cats, Leia and Leeloo, were initially not thrilled by her sudden appearance in their lives. "We were a little bit worried about June integrating with them, and the first couple of weeks, there was a lot of hissing and chaos," Duff said.
8. New Friends
Integrating a new animal into a household is never easy. But Duff and Warner were very patient with everyone, giving each animal the space they needed. June eventually won over the two older cats. It seems that she would not give up on being accepted by her new siblings.
7. Destiny
"She was determined to be with them, and was very persistent about playing with them," Warner said. "Now they're very much sisters, and they love each other." The three cats play and sleep together. They accepted June as one of their own.
6. She Smells Everything
June's quality of life is excellent. Her other senses are sharp. June learned to walk on a leash and she gets the harness on and goes on long walks with her family. She even stops to smell the roses – and everything else – on their journeys.
5. She Maps Everything
"She's braver than our other two cats," Duff said. "Despite the fact that she can't see, she just goes. She leaps off things and figures things out. We've taken her on holiday before, and within a couple of minutes, she's completely mapped the new space.
4. She Hears Everything
"When we take her for walks, it's amazing to see her react to sounds," Duff said. "She'll hear a bee around the flowers, and she'll leap at it. Or she'll hear birds and suddenly turn."
3. Life Lessons
But it's not just the cat who is having the time of her life. Duff and Warner feel that the kitten has helped them be mindful and present, enjoying each moment life has to offer. The kitten has taught them much more than she has learned.
2. Patience
"When she walks, she has to sniff everything," Duff said. "The outside world is quite large, so you have to have patience. It's actually quite wonderful because it calms us. I think she teaches us." The kitten even taught her big sisters a thing or two.
1. Family
June is now a key part of their family. The blind cat has made the household feel complete. "She's absolutely perfect, every little inch of her personality," Duff said. "I never met an animal so loving and so happy and so resilient. She's the most loving little creature."
TFB Latest Posts
---
---