TFB Short Clips
A young man had spiraled into depression after a bad breakup. After several weeks of feeling like life was useless, he decided to end his life. He even made the plans, made a noose, and wrote a goodbye letter to his family. However, the one thing he wasn't counting on was the love of the family dog. What happen next literally saved his life.
14. A Bad Breakup
Byron Taylor had recently experienced a terrible breakup with a girlfriend when he decided to end it all. He had many of the classic feelings of depression – not wanting to get out of bed, feeling like life was hopeless, and not being able to just snap out of it. However, Byron soon developed suicidal ideation, which is dwelling on the idea of taking his life.
13. A Sad Day
"My ex-partner left me. It was very horrible. I lost everything. I couldn't afford the rent," the Glousterman said. Many people experience moments like this in their lives, when they don't believe they can muster up the strength to go on for another day. As for Byron, he felt he couldn't fight it anymore.
12. A Terrible Decision
It is not abnormal to consider suicide, but once the thoughts turn to action, it is important to get help. Byron started thinking of suicide regularly. Then one day, after drinking heavily, he decided to do something about his despair. So he made a noose. Then he went downstairs and started to write a suicide note.
11. Highly Perceptive
Once this terrible task was over, Byron climbed the steps back to his room, ready to end his life. But he wasn't contemplating facing his dog, Geo, who as waiting for him with the noose clenched in his mouth. Could Geo have understood what was happening? Dogs and cats are usually perceptive about their owner's feelings.
10. Welsh Bull Mastiff
Geo is a rare Welsh Bull Mastiff. The breed's bloodlines are drawn from the English Mastiff and the extinct Old English Bulldog. The English Kennel Club recognized it as a purebred dog in 1924. The most famous Bullmastiff in the world is Swagger, the live mascot of the Cleveland Browns.
9. Found the Noose
The dog found the noose when Byron went downstairs, but who knows how long he had been observing his beloved owner hurting and upset. When Byron went to grab the noose, the dog refused to let it go. The harder Byron tugged, the more intensely Geo refused to give it up. This was unusual, since Geo is usually a very gentle dog, but he growled louder and louder.
8. Geo Left No Doubts
Byron started to wonder if it as just about Geo wanting to play. But the dog left no doubt about his intentions when he growled louder and tore the noose to pieces. There was no way Byron could use that noose to kill himself now.
"I came upstairs to find had the noose in his mouth. At first, I thought he wanted to play. I said 'give it here', and he started growling at me. He chewed up the noose. He never growls, but each time I tried to take it off him, he would snarl. I wouldn't be here now if it wasn't for him."
6. A Changed Life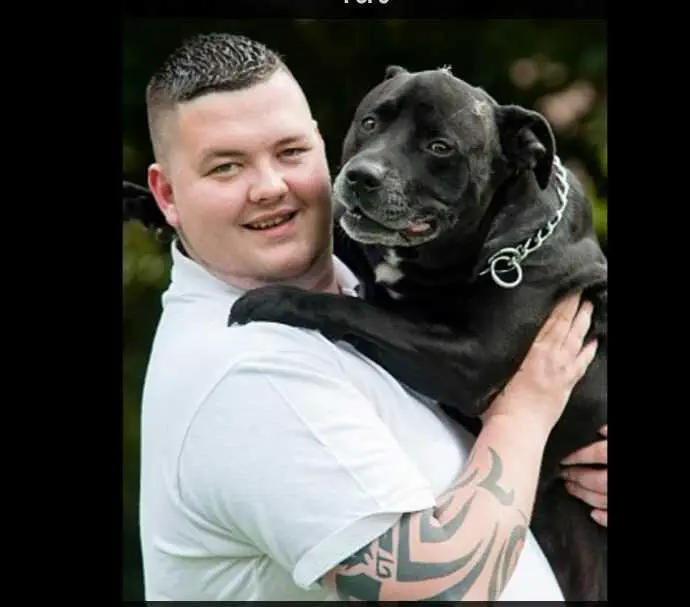 The moments with Geo profoundly changed how Byron saw the world. The dog sensed how desperate he was and stepped in to save his life. If the dog hadn't ripped the noose to shreds, Byron might not have made it. Byron doesn't think he would be alive today if not for Geo.
5. Amazing Dog
As Byron's story started to take the Internet by storm, he was able to help others in the same situation. "Geo is an amazing dog," Bryon told the Daily Mail. "He saved my life a few years ago. I was in a very bad place and I attempted suicide."
4. The Bristol Rovers
Geo became a very beloved member of the community for the football team Bristol Rovers. The pup would wear a special team shirt every game. He would bark every time the team seemed to score. Bullmastiffs are known strong, powerful, but sensitive dogs. Their instinct is to protect their owners against everything.
3. Making Each Day Count
A few years later, Byron received devastating news. Vets found a tumor in Geo's head. The six-year old dog had to fight for his life. Although Byron was committed to doing whatever he could for his dog, vets told him he only had days to live. Byron vowed to make each day with his dog count.
2. Spreading the News
Byron wanted to spread the news about how amazing animals could be, and how people could seek help. "In a way, I think Geo knew what I was going to do. They have a sixth sense about this kind of thing. He knew something was up."
1. How to Get Help
People who are struggling and need someone to talk to can call the Samaritans in the UK on 08457 90 90, or visit a local Samaritans branch. Americans can call the Suicide Prevention Lifeline, which provides 24/7; free and confidential support for people in distress, prevention and crisis resources. Their contact number is 1-800-273-8255.
TFB Latest Posts
---
---
---