A woman from Texas got more than she bargained for one day when she heard a commotion under a parked car and found a kitten in distress. But the woman calmly reacted and got the kitten aid. You won't believe what happened. 
16. A Kitten in Distress
Clarissa was walking beside a parking lot when she noticed a group of people crowding next to a car.  The Texas woman was floored when she looked under the car and saw a six-week-old injured stray kitten. The poor little white cat had one ear dangling by a thread. She was very badly injured. Clarissa knew she had to do something.
15. Vet Techs
Clarissa and her boyfriend quickly formed a plan. First, they brought her some water and food to try to coax the scared kitten out. Their next step was to call on the help of their two neighbors, who were miraculously both vet techs. The neighbors knew just what do do.
14. Emergency Rescue
The four people worked to coax the cat out from under the vehicle. Finally, she came out safely. She was wrapped in a towel and made an emergency trip to an animal hospital. It was clear that if she didn't get there in time, the little kitty may not make it alive.
13. Surgery
"It was understood by everyone that the ear had to be removed," Clarissa said. "Before leaving, they asked if we'd be interested in keeping her if she survived the surgery, and we said yes!" By that time, Clarissa was invested in the kitten. She even gave the kitten a name – Vespurr.
12. Recovery
Thankfully, Vespurr made it through surgery and was officially adopted by Clarissa. However, the road to health was much harder than it would appear. The recovery was rough. "Five days later, she stopped eating and playing, so we knew something was wrong. We took her back to the vet."
11. Diseases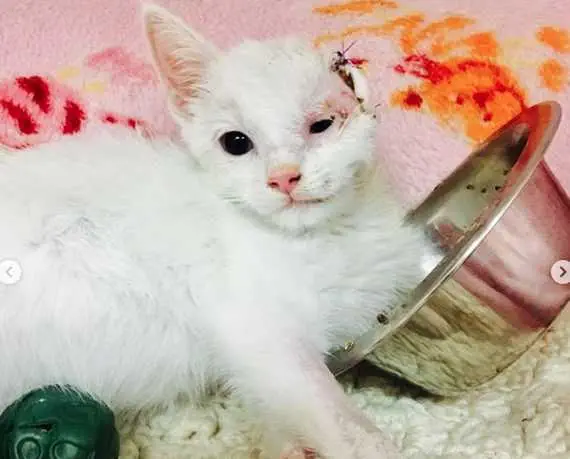 Vespurr was tested at the vet and she turned up positive for both coccidia (parasites) and Feline Leukemia Virus (FeLV). FeLV is a disease that impairs the cat's immune system. She would never have survived had she coped with the disease on her own in the wild. But Vespurr's problems weren't over.
10. Motor Skills
After the kitten returned from the vet, her new family noticed that she started losing some motor skills. She had some neurological problems from losing the ear. It caused her to have a wobbly gait and to be off-balance.
9. Spirited
Even though Vespurr has some problems and occasionally takes a tumble, she always dusts herself off and continues on her way. She keeps up her spirits, says Clarissa. "She doesn't know any different. She plays, jumps, and climbs like any other kitten."
8. One Day at a Time
Clarissa adores her one-eared kitty. She frequently takes time to celebrate each milestone. "If we hadn't taken her in, she wouldn't have made it. Every day she lives is a gift and a bonus day," Clarissa said.
7. Love
Clarissa and her boyfriend love their cat and will do anything for her. They don't know if the cat will have a long life, but they are committed to Vespurr for the long-term. The cat follows her rescuers everywhere.
6. Baby Tiger
"I'm thankful for every day I wake up and get to see her little baby tiger face staring at me or biting my toes wanting to play." Vespurr loves to be nearby, even when Clarissa is trying to work. Vespurr likes to help her get work done.
5. Always There
Even when Clarissa goes to the bathroom, Vesper is always nearby. She also enjoys hanging out in the laundry room, where she plays with the clothes. She even talks with her mom. The cat clearly owns the house.
4. Healthy
Now it has been a full year since Vespurr arrived into their lives. The cat is a beautiful white cat who even has two different colored eyes! Her personality is huge, and she is warm with everyone she meets. Who can resist?
3. Playful
"She is playful and curious. She wants to be around someone at all times and do what they are doing," Clarissa said. The fetching cat enjoys hanging outside, where she crawls through the branches of the bushes with ease. She is not shy about exploring.
2. Expert Pianist
Vespurr has many talents. She can play the piano, as shown here. She can also beg for watermelon! Obviously, her followers are charmed by her antics. She has an Instagram account that is very popular.
1. Work of Art
Like Vincent Van Gogh, Vespurr has only one ear, but she is a work of art. Clarissa decided she needed to learn to paint to be able to capture the fun cat's profile. Someone else drew the outline and then Clarissa filled in the colors. She captured the cat's essence perfectly.
TFB Latest Posts
---
---