Zara and Arnie look like a match made in heaven. But look closer: these are not two cats, or a cat and a stuffed lion. This is an ordinary ginger cat and a lion cub named Zara! Arnie was a legendary tomcat who lived at the Linton Zoo. Zara was a baby preparing to move to Uganda. Despite their differences, they became the best of friends. 
12. Baby Zara
Zara is a lion cub who was being rehabilitated as part of a program to release her to a sanctuary in Africa. Arnie was a formerly stray cat who showed up at the Linton Zoo and became a beloved babysitter for many animals. Zara spent the first six weeks of her life hanging out with Arnie.
11. Baby Zara and Ginger Arnie
Zara had been neglected by her parents at the Linton Zoo, located in Cambridgeshire. Safina and Zuri were unable to cope with raising a baby lioness. Zoo director Kim Simmons took on the task of raising Zara so that she could be sent to an environment where she would flourish. The final destination? Uganda.
10. Foster Mom
The Ugandan Wildlife Education Center, UWEC, is located on the shores of Lake Victoria in Entebbe, Uganda, East Africa. The entire zoo knew they would miss the adorable cub but, as Simmons noted, "As long as she's going to a good home with a good quality of life, I have to be happy. I'll find it a struggle to part with her but I know she will never forget me."
9. Bottle-Fed
While Zara was at Linton, she lived in the house and was bottle-fed every day. "She's got an absolutely wonderful personality and is very laid back and affectionate," said Simmons. Part of her youth was spent with Arnie the cat.
8. Arnie Loves Lions
Arnie the cat adores lion cubs. He was best friends with Zara, but zoo officials always kept an eye on the pair. "We'll have to guard him as Zara gets bigger and stronger." That's because Zara could've killed her mate accidentally just due to their size and strength difference as she grew.
7. We Bought a Zoo
The Linton Zoo has been around since 1972. It is run by a family, which gives it a homey atmosphere. There were five lions at the zoo when Arnie and Zara became besties. Zara's grandparents, Riziki and Karla were also on hand.
6. Growing Up Lion
Zara grew from a 2 lb cub into 10 lb bundle of playful fire. Simmons explained that "We only hand-rear the cubs if it is absolutely necessary, but this was Safina's first baby and she couldn't feed her due to her young age and inexperience." Arnie was more than happy to rear another lion cub.
5. World Famous
Zara's progress was filmed by Britain's Channel 5 in a documentary about her life. The joint project between Linton Zoo and Uganda was designed to bring more lion cubs to the West Midlands Safari Park and Paradise Wildlife Park in Hertfordshire.
4. A Ginger Tom
Schwarzenegger
As for Arnie, this special cat was named after Arnold Schwarzenegger after he wandered onto zoo property in 2000. He captured the hearts of the staff. He became friends and babysitter to four adult lions and countless numbers with cubs. Arnie went on to become the official greeter to all zoo guests.
3. Real Garfield
Arnie loved chasing mice and bugs, greeting guests (especially the ones who came bearing treats), and bringing a smile to everyone's face. Arnie peacefully passed away in his sleep in 2013 after making his rounds, greeting guests, and enjoying his breakfast. Zoo staff called him a "real live Garfield" and they miss him dearly.
2. Rest in Peace
Linton Zoo staff still miss the orange cat. And his friends also miss him too, especially the many animals who he babysat for over the years. The zoo will never forget his contributions to their mission during his 13 years of service. "He had a good and thorough life," Simmons said. "He was outstanding in everything he did."
1. Zara the Lioness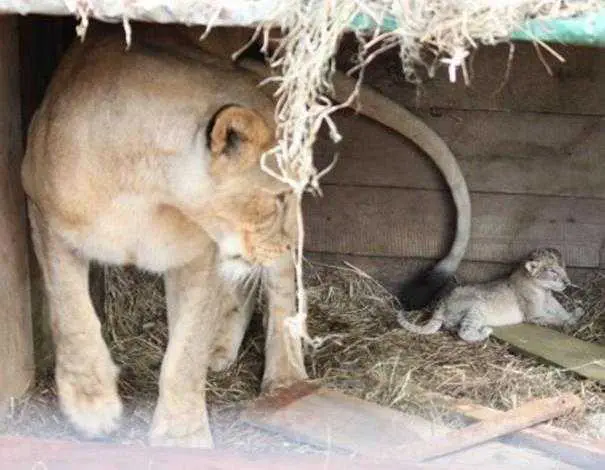 As for Arnie's old friend, Zara not only did well in Uganda, she thrived. She gave birth to her first lion cub in 2012. Apparently, she was such a good mom that she also helped to raise the cubs of another lioness. This makes Zara a supermom!
TFB Latest Posts
---
---