Now you can have a comfortable hammock in your truck or Jeep with the Jammock
Prices pulled from the Amazon Product Advertising API on:
Product prices and availability are accurate as of the date/time indicated and are subject to change. Any price and availability information displayed on [relevant Amazon Site(s), as applicable] at the time of purchase will apply to the purchase of this product.
The Jammock is the new "Hammock" for Jeep and Truck owners out there. It was specially made to fit a convertible without sacrificing the comfort and quality levels. However, I have mixed feelings for our new friend. Not that I don't like this product, I do, but my concerns are related to the comfort factor.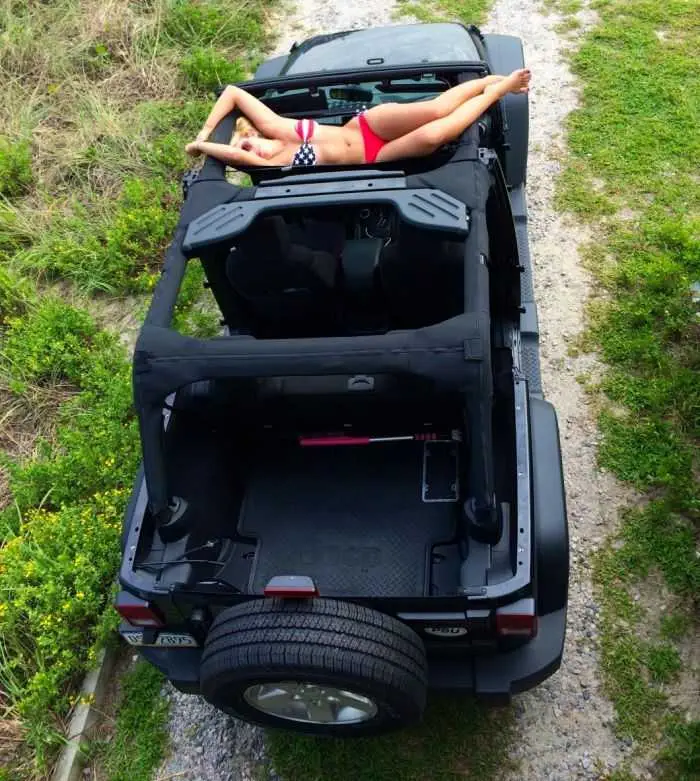 For people with normal height, i.e. 5'-5'' or 5'-9", the Jammock is an excellent portable solution. On the contrary, if you are more of a straight descendant from the bigfoot family, your head will be resting on your Jeep's overhead divider, and your feet will be lulling around freely on the tune of every single road bump out there.
Did I say too much? Let me just get to the good stuff first and let you be the judge of it. For starters, the Jammock is a fully functional laid back accessory to assist you on your wild unplanned trips. Seeing that you will be driving around rocky ridges, your back will eventually grow stiff, and you will need to rest at one point. There is no doubt about it. Now in case you brought the Jammock with you, all you have to do is install it over the roof and lie down in it – it couldn't get better than this.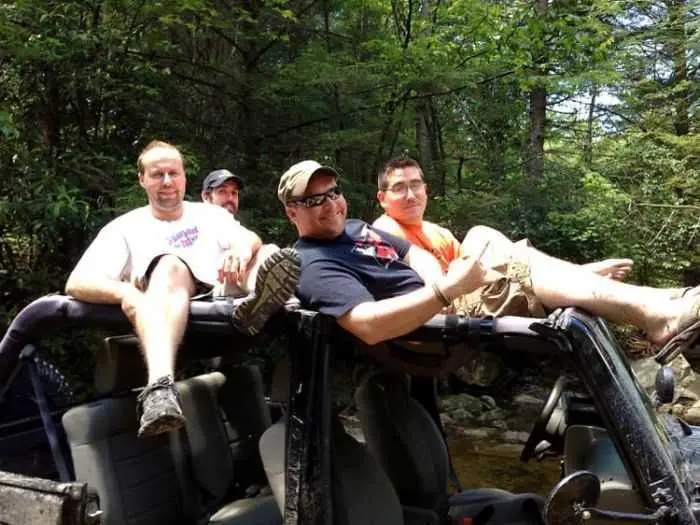 Yes, the genius voice inside you might suggest that why go for the Jammock when you can bring a travel tent with you? Well, it just happens that sometimes travel tents are prone to wild animal attacks, which could lead to loss of life or a serious injury. So, if you are hanging out in the Jammock Hammock for your Jeep or Truck, you have better survival chances, to say the least. Also, the stunning night view of endless stars will remind you of your childhood days when life used to be carefree.
Pros:
Compatible with latest Jeep Wrangler models, going all the way from 1987 classic to the latest 2015 editions.
Can withstand weight up to 350 Lbs easily.
You can also use the Jammock to store additional supplies, i.e. if you are not planning to sleep in it.
High quality fabric. It is a blend of water-resistant nylon and woven corduroy to ensure lifelong servicing.
Although the lack of installation instructions was a bummer, the Jammock is very easy to install. It will take more or less than a minute to fix it in place, using the straps and holder buckles at each end. If you are going to be sitting in the back, you can use the Jammock as a sunshade. Regardless, it is very comfortable and works like a real hammock when used for taking a nap.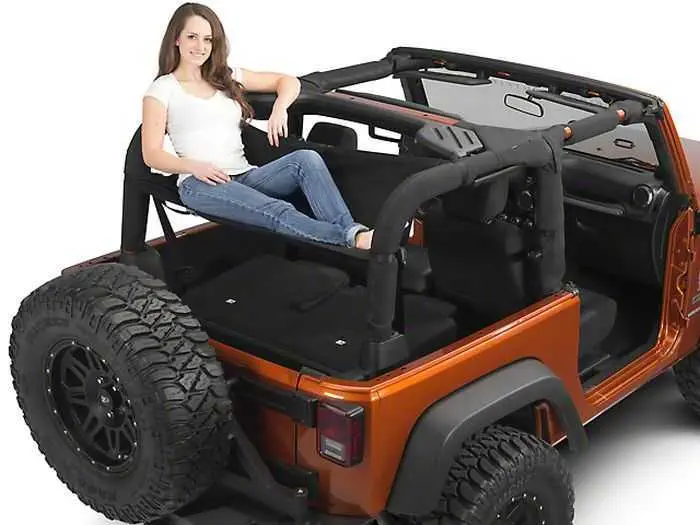 As I already stated earlier, my only gripe is when a tall person wants to stretch his legs in the Jammock, he may get a little bit of discomfort. I'd suggest that you take a head rest, or a small pillow with you because many Jeep Wrangler models don't have a cushioned overhead assembly/ divider. But that is a matter of opinion and height in this case – so I will leave you to it.
The Jammock is one of those products where I'd consider my money well spent. It is ideal for picnic trips, hunting trips, traveling, or a long drive across an uneven terrain. If you plan on driving across the Sahara or a dry area during summer, you should take the Jammock with you. Besides, there won't be a lot of trees out there to support a standard Hammock, so why not give Jammock a chance to prove its worth?
TFB Latest Posts
---
---