If you need a classy good looking place to store your liquor have a look at the Libation Station by Sean Woolsey
It is called the Libation Station for a special reason. Not only is this product the portable solution to space conscious fellas, this is the flagship creation from Sean Woolsey. Oh, and he's not related to the CIA director James Woolsey; I just wanted to clear that. Some people think that both Woolseys come from the same family, with the elder one being a responsible CIA director, and the younger one living a hippy lifestyle.
Anyhow, the Libation Station signifies beauty, aesthetics, and maximum liquor storage space within the confines of a small high-grade aluminum frame. If you look at the custom powder coated body, it looks small. However, as you go along with inserting one bottle after another, the inner spacing will continue to offer pocket areas, wide angles and small shelves for easily retrievable access afterward.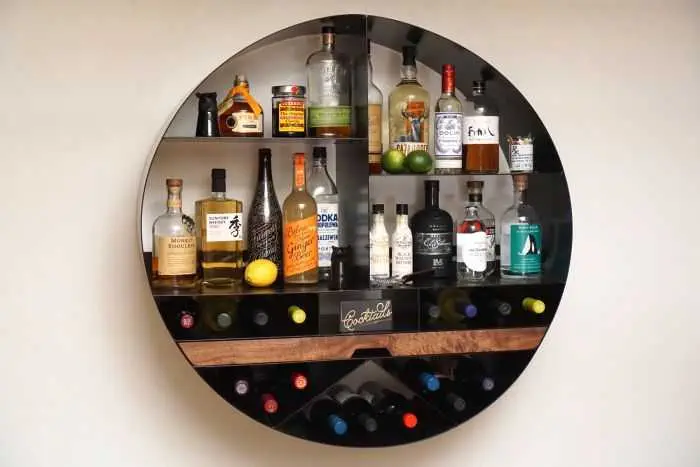 Okay, why is it so expensive?
Sigh… it's a Sean Woolsey trademark product. The guy practically makes a living based off on his name in the industry. If you haven't been actively following Sean's work at his official Facebook or Instagram page, then you have a lot to learn. As compared to the competitor designer furniture products, Woolsey relies on creating truly unique stuff that is not only usable but also worth showing off in every possible way.
The libation station weighs in at 52 – 60 Lbs. This is the actual product weight, which; the shipping weight is a lot more when accounted for the packing material. All add-ons and spare assembly mounting parts are included with a new order. You do not have to worry about rushing to the local hardware store for screws and bolts. Once you have this station mounted, it can store up to 25 liquor bottles.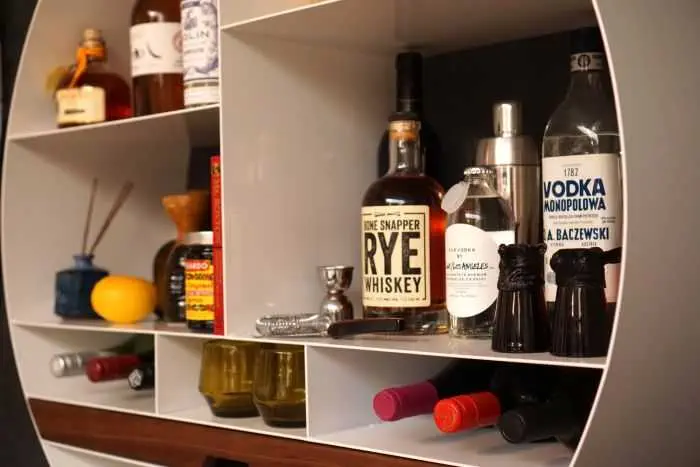 Now we all know that liquid weighs more when contained, therefore this product can withstand 3 times its weight. It will only fall off if your wall is not made from solid or high-quality concrete. At the moment, the Sean Woolsey Libation Station is high in demand. Occasionally, when it is not in stock, the station is specially made as the orders come in. It takes an average of 4 – 5 weeks for each order to complete.
So, don't be rude to Sean or the manufacturers if they take a little longer to create the perfect libation station for you. Depending on the orders in the queue or the available resources, they may take a little extra time. However, as far as quality goes, it will be absolutely benchmark standard. The libation station is priced anywhere to the tune of $1500. Some online retailers are selling it for $1250, but I can't comment on the authenticity. You can get this here.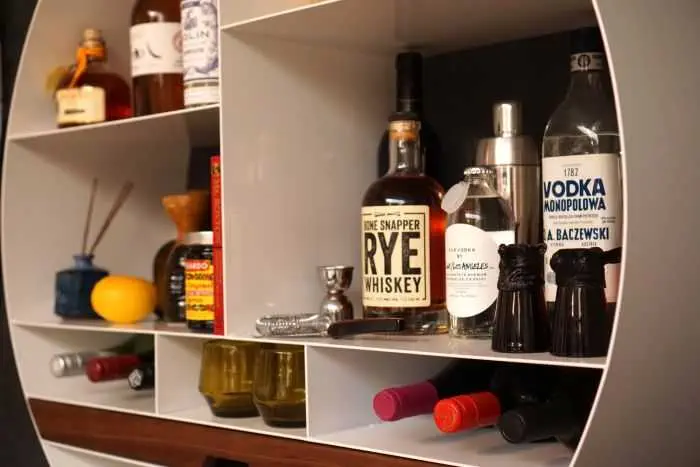 Are there any other Sean Woolsey Furniture Products?
Yes, and I am glad you asked that. The signature series Sean Woolsey Waterfall table is a jaw dropping masterpiece. The price is well beyond an average guy's range (* cough cough… $3800), but then again, there is no price tag for the hobbyist collector out there.
There's a dining/ ping pong table too. Sean thinks that when you are not eating, you should be playing ping pong to burn extra calories. What an intuitive way to promote his talent and weight loss altogether…
Oh, and before I part ways with you, don't forget to check out barware accessories at online stores. What good is a bar without perfect lighting, whiskey chillers and custom designer made cork openers?
TFB Latest Posts
---
---