This Retro Breakfast Station Cooks Bacon, Eggs, Toast And Coffee – All At Once
Ladies and gentlemen meet the Nostalgia Retro Series 3-in-1 Family Size Breakfast Station. This life changing piece of retro kitchen equipment cooks eggs, bacon, toast and even your coffee, all at once. The best part is, this costs less than a fancy coffee maker. Check this out HERE.
Check this out HERE.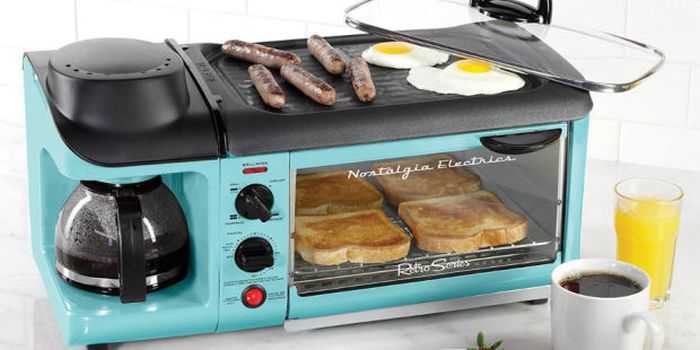 Check this out HERE.
The Nostalgia BSET300RETRORED Retro Series 3-in-1 Powerful Family Size Breakfast Station makes a complete breakfast with just one appliance. Enjoy a cup of coffee with the four-cup coffee maker, then treat the family to a variety of breakfast meats and eggs cooked on the large, non-stick griddle. The multi-functioning toaster holds up to four slices of bread at a time, and is perfect for 7-inch frozen pizzas, hot sandwiches, desserts and more. For added safety, a 30-minute timer is included with automatic shut off. When the meal is done, the griddle and oven tray remove for easy cleanup. Via – Amazon

Large family size non-stick griddle
Coffee maker brews up to 4-cups of coffee at a time
Toasts up to 4-slices of bread at a time
Removeable oven tray and non-stick griddle for easy cleaning
Multi-function toaster oven bakes, toasts and reheats food
Glass griddle lid
Includes 30-minute timer with automatic shut off
1500 watts

Via – Amazon

Check this out HERE.
Be sure to follow Man Stuff on Google+