Don't be caught eating your MREs without the Ka-Bar Tactical Spork Tool
Ever since the shanking culture became common in prisons all over the world, the knife market saw an increase in demand for sporks. They are the spoon+fork hybrid for those who go out on camping a lot. I would never suggest that you use one to shank your prison mate because they're usually made of plastic, which is non-lethal. No, I am not talking about your cellmate being made of plastic; I was referring to the material used for a spork which is supplied as a prison utensil.
Besides, prison sporks don't have a concealed knife in the handle. Good luck with that. By the way, I keep on mentioning prisons as the most common places where sporks are used. Let me set a good example by umm… mentioning airlines, schools, and welfare areas where plastic sporks are handed out with any substantial meal. The general purpose of a spork is to use it as needed.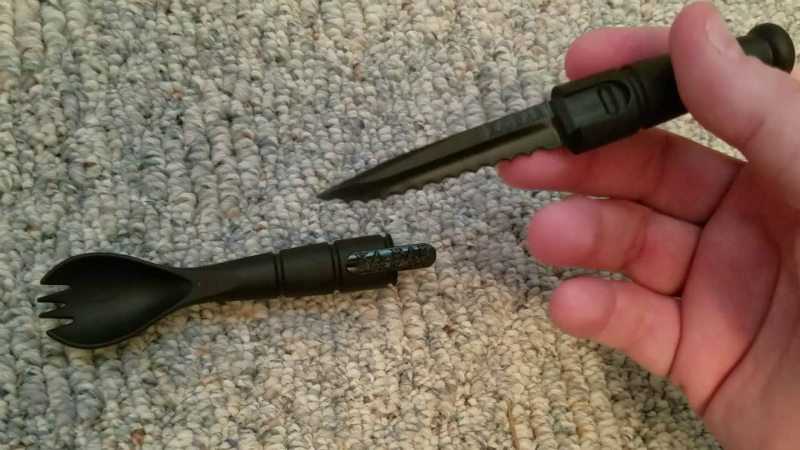 Say Hello to the Ka-Bar Tactical Military Sporks – Spoon Fork Knife Combo Set:
Ka-Bar wasn't messing around when they decided to build their version of the spork. If the high-grade build wasn't enough, they added a concealed 2.5" long knife within the spork's body. It is not one of those fancy steel knives to help you cut twigs and bushes on a camping trip; this is serrated razor sharp stuff that can gut small animals quickly on a hunting trip!
Pros:
Tactical spoon + fork combo with stainless steel build. Although technically, it is "Grilamid"; a plastic and nylon hybrid which is hardened to resemble steel. However, the thing works, looks, and does stuff just like a real steel spork.
Serrated 2.5 Inch concealed knife within the handle grip.
100% Made in USA product. Ka-Bar is loyal to its customers, so they generally don't outsource their work for cheap labor.
A great accessory as part of your hunting gear, camping tool, etc.
On the outside, this spork has the iconic Ka-Bar look. You can tell that by just taking one look at the Bowie handle grip. Most of the time, Ka-Bar sticks to one style and color theme, which is usually black, to help repeat customers into buying company products easily. Since the blade is the hot topic here, you can unsheathe it by pulling at both edges of the Ka-Bar Tactical Spork. You will notice the sharp knife's edge by running your fingertip against it. Feel free to cut meat and tender bone if you are out on a hunting trip. I did mention that it is like stainless steel, but not the same element. Ka-Bar used some polymer for the knife. However, it is sharp and can do severe damage in self-defense mode too.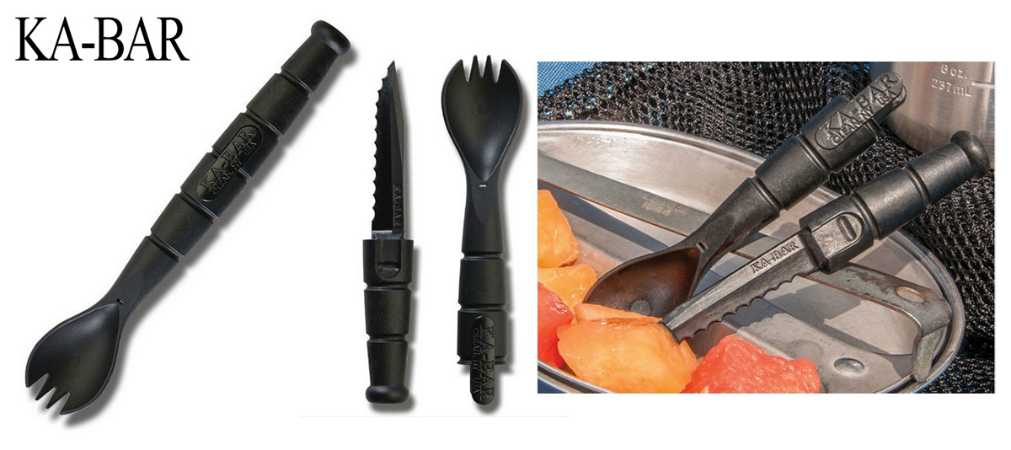 As far as the spork itself goes, I have to say that the company took quality factor seriously. The overall build is temperature resistant – so much so that you can cook, boil or stir a fresh stew right off the fire pit, and the spork won't even budge or bend out of shape. Ka-Bar specifically insisted that this spork is made for outdoor trips, which is why the overall quality is outstanding.
Finally, as far as pricing goes, Amazon is selling a set of two Ka-Bar Tactical Spork knives for the price of $15. If you are a prime member, I believe you can avail free shipping. If you are not an Amazon account holder, don't worry, you can go to the official Ka-Bar website to place an order. While you are at it, you take a good look at their entire inventory. You may find something else to add to your shopping cart.