This article may contain affiliate links. If you make a purchase, we may make earn a commission at no cost to you.
Last Updated on
Originally posted on April 12, 2017 @ 11:07 am
If you have been shopping around for the best EDC knives, look no further. Meet the Schrade SCHA5B M.A.G.I.C. assisted opening folding knife
Schrade knives have been known for their longevity, high-grade steel and several quality factors that make them a man's best friend whenever needed. In fact, if I were to rate them, I'd give them 4 out of 5 stars for creating truly durable products that have aided people in several scenarios. With Schrade, it is not just about hunting trips or survival; the knives are so well made that the owner regards them as an inseparable utility from day to day chores. Not to mention, this is the perfect EDC knife and would be perfect for anyone trying to build the best possible EDC kit.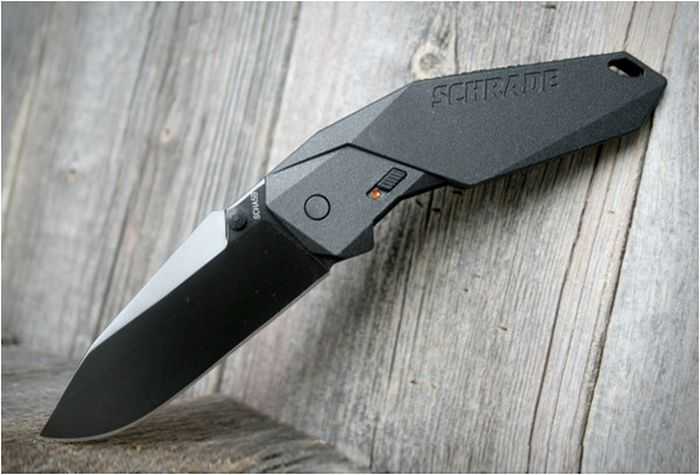 The SCHA5B Schrade is the knife made for quick deployment, concealability, and above average performance. If the liner on this little fella' were a little more prominent, I'd have rated it 5 out of 5. However, the liner's a little thin, which takes a bit of a toll on the product life factor here. Nonetheless, take a look at some of the highlights of this portable knife:
SCHA5B model houses 3.3" Blade Length.
Total knife length with blade amounts to approx. 8".
Very lightweight – The knife itself weighs in around half a pound or even less than that.
Added support for lanyards, and keyring chains.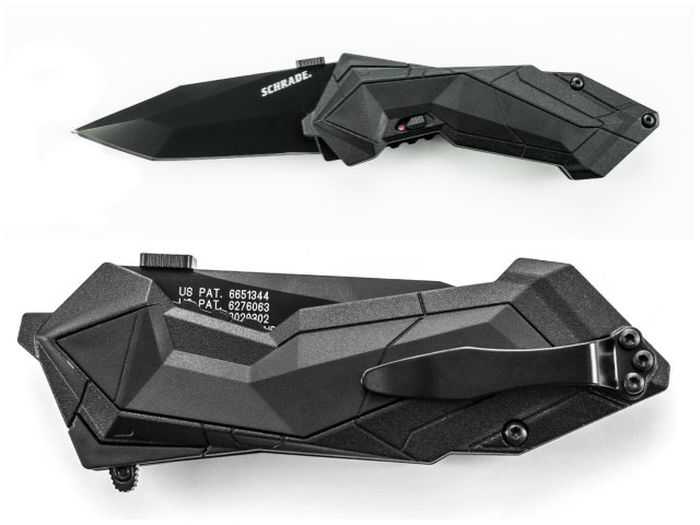 Another thing which impressed me was the safety mechanism on the Schrade SCHA5B knife. There is a small black and red colored switch that keeps the blade locked into place when it's folded. A lot of recent SCH series Schrade knives accommodate safety switches for owner welfare purpose. Also, if you mind your companion's life or well-being, the safety switch will help to avoid any unexpected incidents, unless it is an altercation that needs a bit of violent resolve!
Of course, I am not suggesting from my earlier statement that knives are meant to induce violence but sometimes there are certain incidents in one's life where you need to convince people via special measures. Anyhow, that's something philosophical and not every man's cup of tea. The point is that the knife itself is harmless; it comes to the wielder in the long run.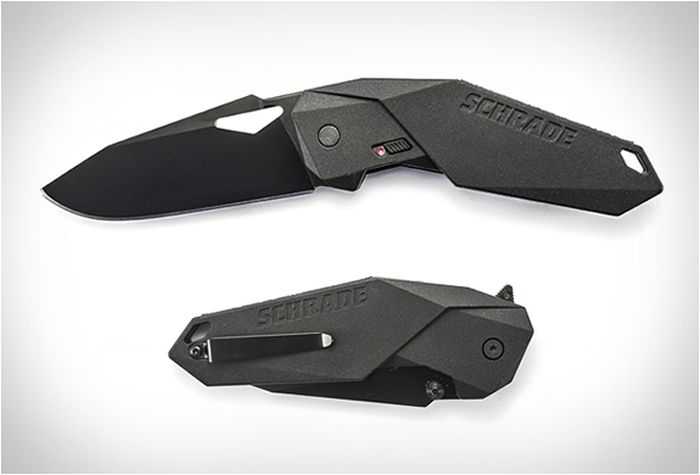 SCHA5B Schrade houses a finely serrated tip and a drop point. The fine tip is unyielding, and it is less likely to bend under pressure easily. I have tried this knife for several things, such as wood carving, fruit cutting, twig trimming, feathering and general cutting – Overall the results seem very satisfying. The appeal factor itself is good, seeing to the sleek layout and military style texture on the knives' body.
The stonewash coating ensures durability and resistance against rusting. For people who are always on edge, Schrade offers a varied portfolio of knives, hunting equipment, and survival accessories. Don't forget to visit the official retailer website or check out their inventory at the respective web store maintained on Amazon.