Mini Stormtrooper Bluetooth Speaker
Prices pulled from the Amazon Product Advertising API on:
Product prices and availability are accurate as of the date/time indicated and are subject to change. Any price and availability information displayed on [relevant Amazon Site(s), as applicable] at the time of purchase will apply to the purchase of this product.
For those who appreciate the little things in life, these Stormtrooper Bluetooth speakers are just what the doctor recommended. These speakers are cute, downright sexy and offer oodles of uninterrupted entertainment to anyone, especially diehard Star Wars fans out there.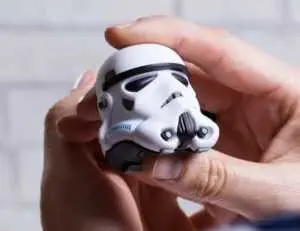 This small, but mighty in its own special way, Bluetooth speaker is compact in size. On a scale of 1 to 10, where 10 is definitely at the awesome side, each unit comes in spectacular packaging, and promises high grade performance. This is one of the many reasons as to why this speaker could be a great gift idea for kids, guys and girls who don't want to overspend on luxury gadgets, but still want to enjoy stuff at the fullest.
The Mini Stormtrooper Bluetooth Speaker houses a 2 Watt speaker unit inside. Yes, I know, it is too small a size for a regular speaker, but don't worry. Once you hear the sound in a small to medium sized room, you will be surprised at how much this thing can deliver despite of its size limitations.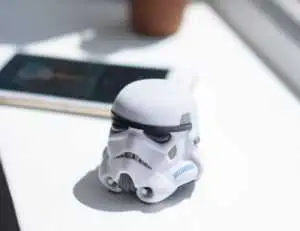 Another interesting thing about this speaker is the call compatibility. If you are in the middle of any work related task, you can divert your phone calls to this speaker. It maintains a rapid back and forth dual channel response over wireless connectivity with a long range of smartphones.
The Bluetooth range for Mini Stormtrooper Speaker is a little over 10 feet. In some cases, the range may work at extended length if there are no physical obstacles in the way. The power button on the back side also serves purpose as a remote shutter button for selfies. However, it doesn't seem very useful or practical to me because I tend to take snapshots through my handheld mobile phone/ device.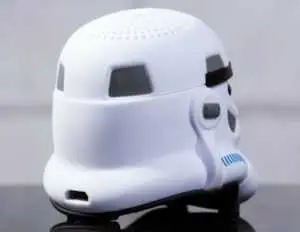 Rather surprisingly, Mini Stormtrooper Bluetooth Speaker's average battery life is up to 5 hours on one full charge. You can, and SHOULD, charge the unit through a USB cable prior to first time use. This will ensure that the battery is juiced up before any actual use. Seeing that most of the boxed products come with a low charge percentage on the battery, some people mistake it for a fault in the product.
Your little guy will come in a neat box packaging and a separate carrying pouch. There is also a small piece of cleaning cloth in there. But if I were you, I'd use my cotton cleaning cloth or regular tissue paper to clean the speaker whenever needed. I just don't want to mess around with original accessories that come with any product as it tends to devalue the product's price if I ever have to resell it in future.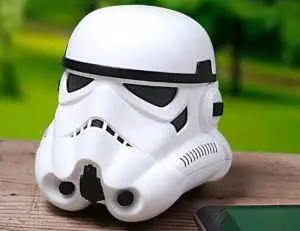 Overall, Mini Stormtrooper Bluetooth Speaker is a superb product. It is definitely not the best if you are considering matching its performance against 'Bose', 'Creative' or any other brands in the market. In its own way, this speaker is more of a legacy for hardcore Star Wars item collectors.
TFB Latest Posts
---
---